This Inflatable Kids Pool Has an Inflatable Slide and An Awning That Seals The Pool At Night
By Ryan on 04/21/2023 10:36 AM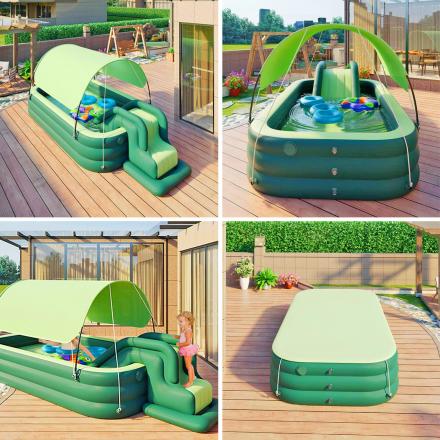 Are you looking for the perfect way to keep your kids entertained and cool during those hot summer months? Look no further! The new inflatable pool with an inflatable slide offers everything you need for endless hours of fun and laughter. This incredible kids' inflatable pool not only features a thrilling slide but also a convenient canvas top to keep the sun at bay and seal the pool when not in use.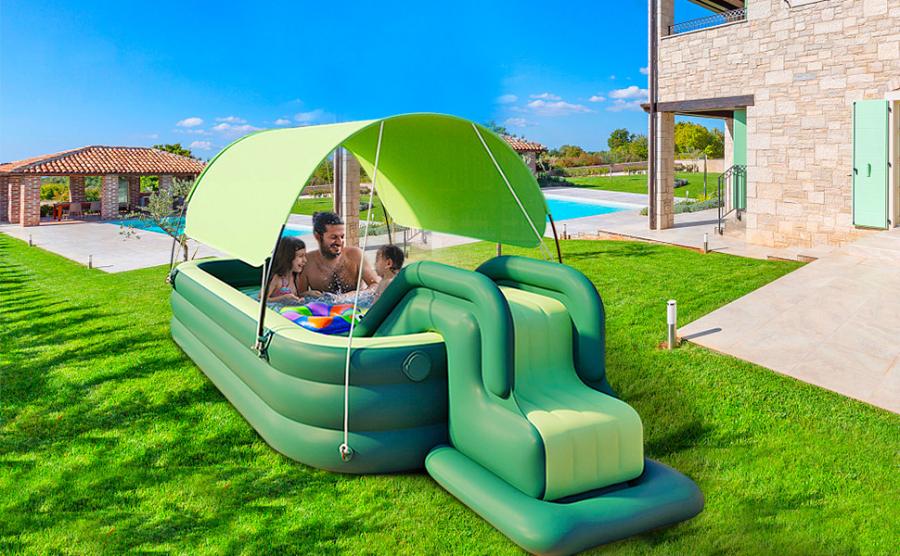 The innovative design of this inflatable pool with an inflatable slide makes it an ideal choice for families who value convenience and fun.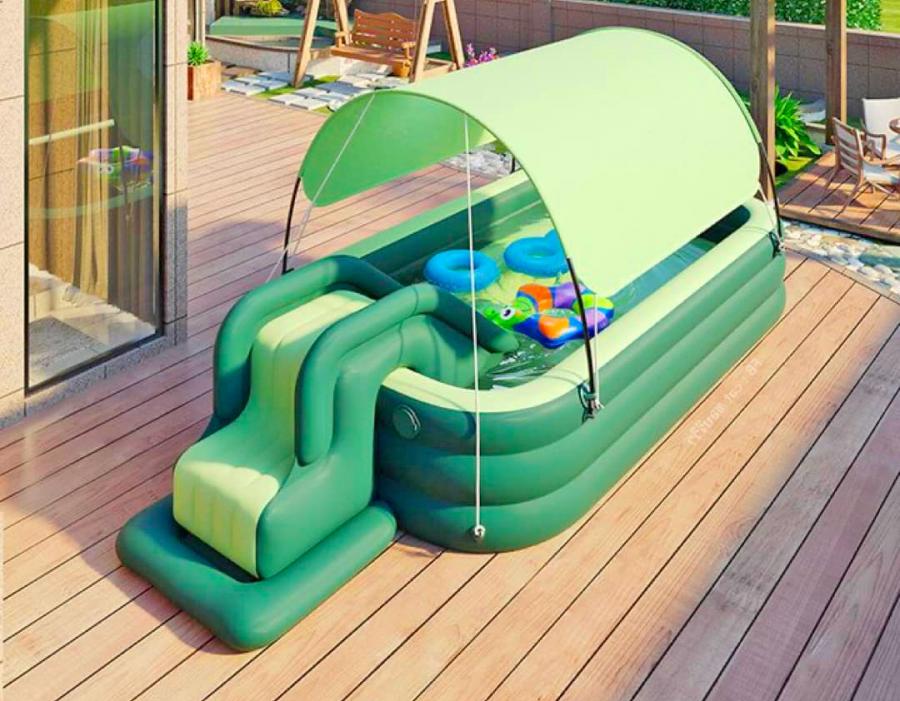 The pool is rectangular in shape, measuring 82.68 inches long, 55.12 inches wide, and 23.62 inches tall, providing ample space for up to four kids to play and splash around safely. Made from durable PVC plastic, this inflatable pool guarantees longevity and resistance to wear and tear. The pool comes in two vibrant colors, yellow and green, which will surely brighten up your backyard and delight your little ones. One of the standout features of this inflatable pool is the canvas top, which offers dual functionality. During the day, the canvas provides much-needed shade, protecting your children from harmful UV rays. The canvas awning boasts a new weaving process, resulting in a tighter and stronger weave that effectively blocks UV radiation. At night, the canvas awning top can be used to seal the pool, keeping out unwanted debris and bugs, ensuring a clean and hygienic environment for your children to swim in. The frame of the canvas awning is made from Polyvinyl Chloride, offering additional sturdiness and stability. This reliable material ensures that the awning remains in place even during windy days, providing constant shade for your kids. The inflatable pool with an inflatable slide also includes a unique feature: inflatable entry stairs that double as a pool entry slide. This innovative design adds an extra layer of excitement and entertainment, making it the perfect solution for keeping your kids engaged throughout the summer. Included with the pool is an electric air pump, which allows for quick and easy inflation and deflation of the pool and slide. This feature is perfect for those who want a hassle-free setup and takedown process. When the fun is over, and it's time to pack away the inflatable pool with an inflatable slide, a handy storage bag is provided for easy and convenient storage. The storage bag ensures that the pool remains protected and ready for use whenever your children are eager for their next pool adventure. This inflatable pool with an inflatable slide is the ultimate solution for families seeking a fun, convenient, and safe way to keep their children entertained during the hot summer months. With its innovative design, durable materials, and thoughtful features, this kids' inflatable pool provides an unforgettable experience that your little ones will cherish for years to come. You can snag this amazing kids pool with a slide from Amazon for around $200 bucks!