'I Love My Beard' - Wooden Beard Comb With Leather Case
Date Published: 11/30/2015 4:46 AM
You have a beard and you love it, we get it. But for those that don't get it, you might want to carry around this classy wooden comb, that has the words 'I [Heart] MY [Beard]' on it. The beard comb comes with a cool little wooden tray that has the exact same shape as the comb that allows the comb to nestle into it ever-so perfectly, and not only that but it also comes with a leather case that holds both the comb and tray so that they stay together. The leather case has an engraved beard on it so that you know for sure that the little leather case you pick up is your beard comb. The leather case also comes with a carrying handle for easy transport.
SITE ANNOUNCEMENT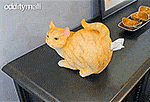 We Are Giving Away 6 Cat Butt Tissue Dispensers
The I Love My Beard - beard comb is a perfect gift idea for any bearded or mustachioed friend, family or loved one, is made from natural wood, so each one may look just a bit different from the actual pictures, and each beard comb measures just 2.15 inches long x 1.8 inches wide.