Grass Rug: A Rug That Looks Like It's Made From Grass (Hint: It's Not)
Date Published: 11/26/2015 4:52 AM
Buy Now

@Amazon
Find on Ebay

During Christmas we bring our tree indoors and our lights outdoors. If you weren't accustomed to such traditions you might think someone was insane if you saw them dragging a tree into their house. There's something quite intriguing about having nature indoors with us while we live our daily lives watching Netflix and eating Hot Pockets. This rug is made to look like it's actually grass, when in reality the plush, green, shiny pile of fake grass reflects light and is made from polyester to look and behave just like real grass. Perfect for any Earth loving hippy who just loves to spread their toes through fresh grass each morning, the grass rug is sure to give your home a unique look that is sure to grab people's attention.
SITE ANNOUNCEMENT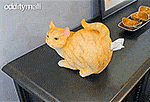 We Are Giving Away 6 Cat Butt Tissue Dispensers
The grass rug comes in three different shapes and sizes, the first two are both square/rectangle in shape, which includes a smaller one that measures 79 inches long x 55 inches wide, and a larger one that measures 79 inches long x 79 inches wide. The grass rug also comes in a circular shape that measures 59 inches in diameter which will save you 70 bucks.