Grandfather Clock Fish Aquarium
By Ryan on 05/10/2019 10:05 AM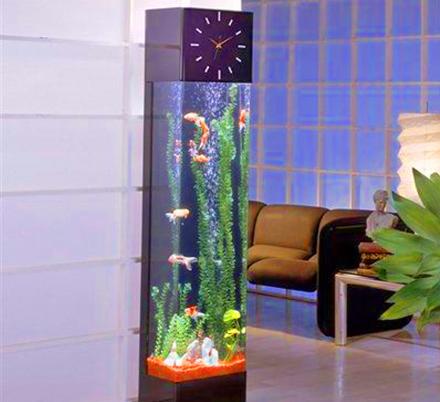 Grandfather clocks were so two generations ago, until the AquaTower Aquarium came into the picture. This grandfather clock allows you to be a pillar of class while satisfying your fetish for fish. Gone are the days of needing tons of floor or table space to rest your aquarium on, you can now use up the vertical wall real estate instead of your precious floor space. And with an ability to watch your fish swim from the front and both sides, you'll always have a good view of what is going on, no matter where you are in the room.

Versions: With Clock | Without
The aquarium has fluorescent lights that will illuminate the tank from the top and can serve as the fanciest night light you've ever seen. The high-quality filtration system makes this aquarium...I mean clock...no, I mean aquarium nearly maintenance free.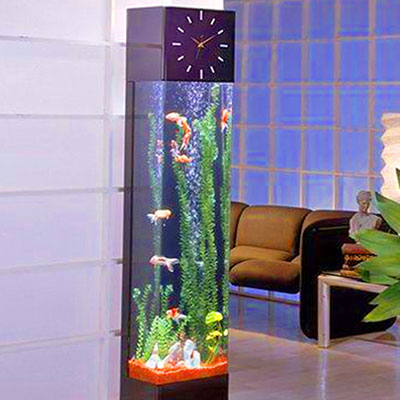 At a size of 14.5 x 10 x 66 inch, you'll need 30 gallons to fill-er-up.
What Is Included With the Aquarium?
Along with the tank, you will get one set of artificial plant decorations so your fishy friends have something fun to play with. It also comes with an air pump and one set of airline tubing. One outside power filter and one undergravel filter with lift tube are included to make sure the water stays crystal clear. Lastly, the fluorescent light fixture is also included. The clock header is optional, so if you prefer just a tank with no time telling, you have that option too! Thanks to this AquaTower Aquarium, you'll never forget to feed your fish again!