Football Shaped Beer Mug
Date Published: 04/25/2016 7:30 AM
Buy Now

@Amazon
Find on Ebay

Football season is almost upon us, well not really, more like 5 months away still, but you can never be too prepared for football season. This beer mug is shaped like a football so that your sweet nectar will not take the shape of a boring cylinder like a normal glass would do, but takes the shape of a majestic football that will surely help empower your team to the playoffs. Not only that, but the glass is double-insulated so it will keep your beer warmer for longer and it won't make your glass sweat as much. Win-win!
SITE ANNOUNCEMENT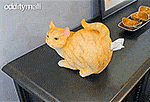 We Are Giving Away 6 Cat Butt Tissue Dispensers
Perfect for tailgating or just while watching the game at home, the football shaped beer mug can hold up to 18 oz of beer inside of it, is scratch resistant, has a handle that comfortable fits all of your fingers, is recommended to hand-wash only, and measures 5.8 inches tall x 5.2 inches long x 4.2 inches wide.