Eye Exam Chart Tights
By Ryan on 10/02/2014 2:01 AM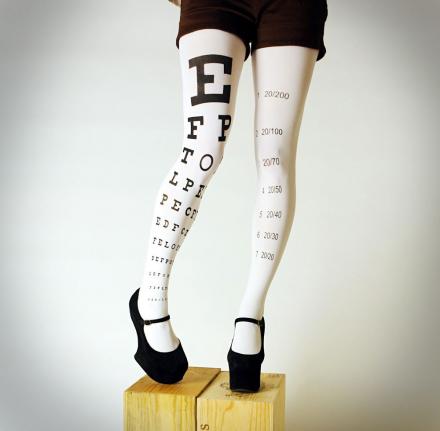 The Eye Exam tights are a pair of women's tights that have an eye exam chart printed on them, so that you test the vision of all the men staring at your legs as they walk past you. Plus depending on the length of your skirt or dress, you can hike up your skirt a little more to get a little more deeper and interactive with your patient. A perfect gift for eye doctors, eagles, or those people that just love taking eye tests to prove that their vision is better than yours, the eye exam chart tights come in white or black colors to choose from, are one size fits all, and are sold individually. The eye exam tights will stretch comfortably to 46 inches at the hips and 25 inches in the thighs, have a tube style footing that should fit most sized feet, are just sheer enough to show tattoos, and as a warning the lettering will begin to crack with excessive use.
Here is the creator's of the eye exam tights (Nylon Journal) recommended way to wash the tights:
The best way to wash your tights is to turn them inside out.
Put them in a sink with warm water and a gentle detergent, shower gel or shampoo
gently squeeze the tights so that the water is absorbed and the dirt comes out.
rinse the tights in clean water until the detergent is completely washed out.
gently squeeze the remaining water out and hang them to dry.
The tights can be put in a washing machine on the delicate or "hand wash" cycle, but must not be put in the dryer. Hang the tights to air dry. We recommend hand washing in order to keep your tights in the best condition possible!
Also, if you're into unique tights and leggings, be sure to check these out: