When I Dunk Cookies In Milk I Think Of You and Hold Them Under Until The Bubbles Stop
By Ryan on 08/18/2021 11:07 AM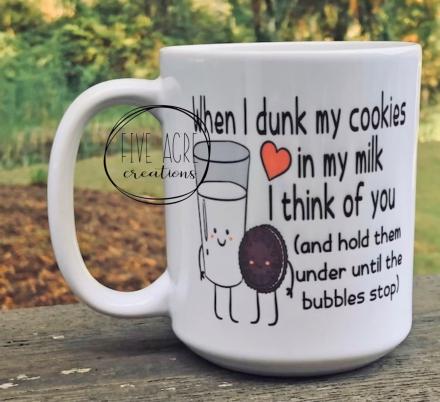 How much coffee is too much coffee? Even the coffee connoisseurs do not know. The truth is everyone wants a hot beverage, be it coffee or tea, first thing in the morning. The so-called Morning Blues are holding us hostage, and most of us are addicted, albeit in a good way to caffeine in the morning. Room temperature coffee is a definite no, especially on cold mornings. You need to invest in a coffee mug that will keep your favorite beverage hot enough while you're enjoying it and also one that is a sight to behold.
This Dunk cookies mug is the perfect addition to your morning routine. It can hold 15 ounces, and there is an image on the front of the mug of a cookie and a cute glass of milk. There is also a cheeky statement inscribed "When I dunk my cookies in my milk I think of you (and hold them under until the bubbles stop)"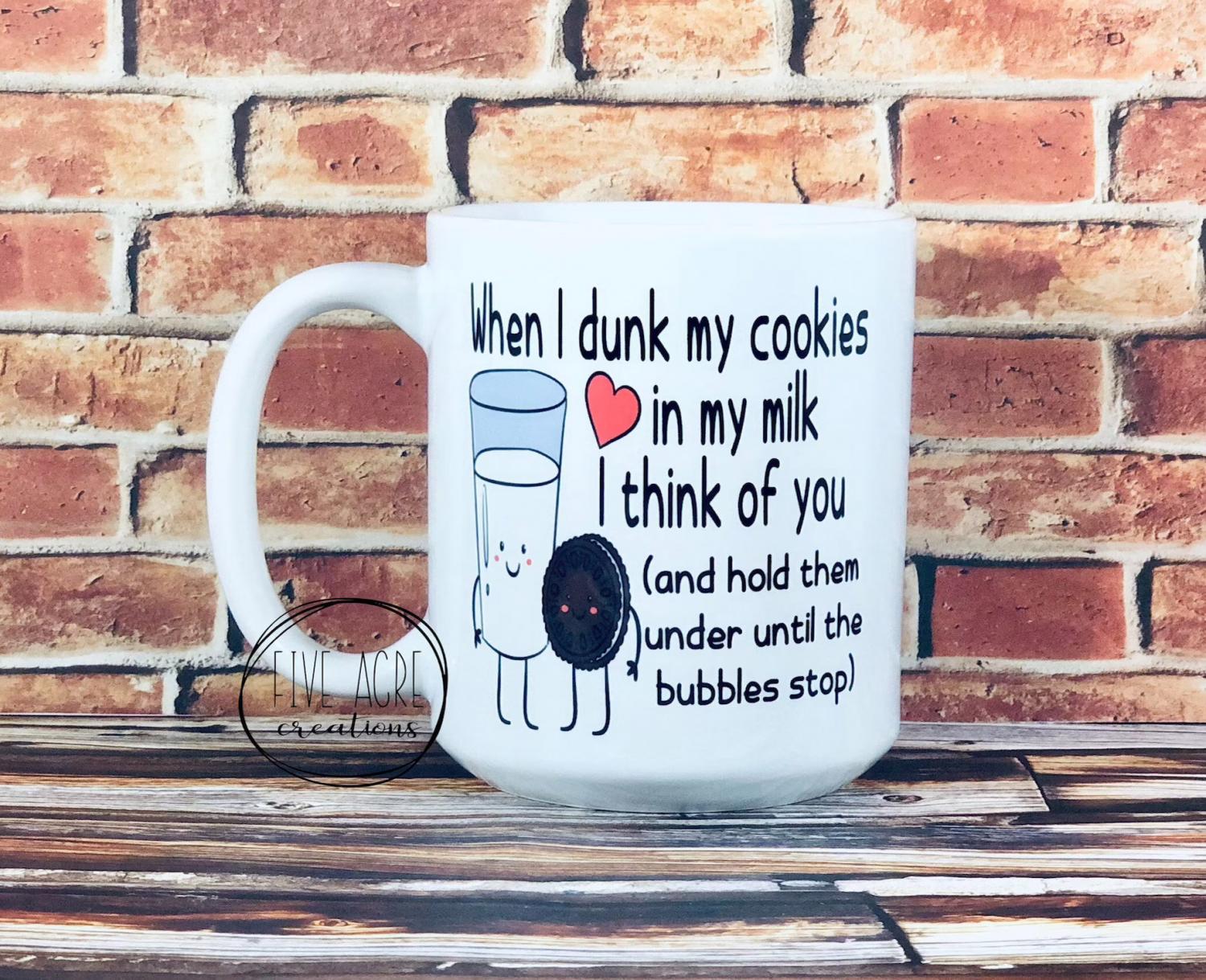 Source
The images and writings are sublimated on the mug directly so they will not be coming off after a wash. It's a classic c-handle mug made from hard-coated ceramic. It's comfortable to hold, easy on the grip, and the illustrations are very colorful.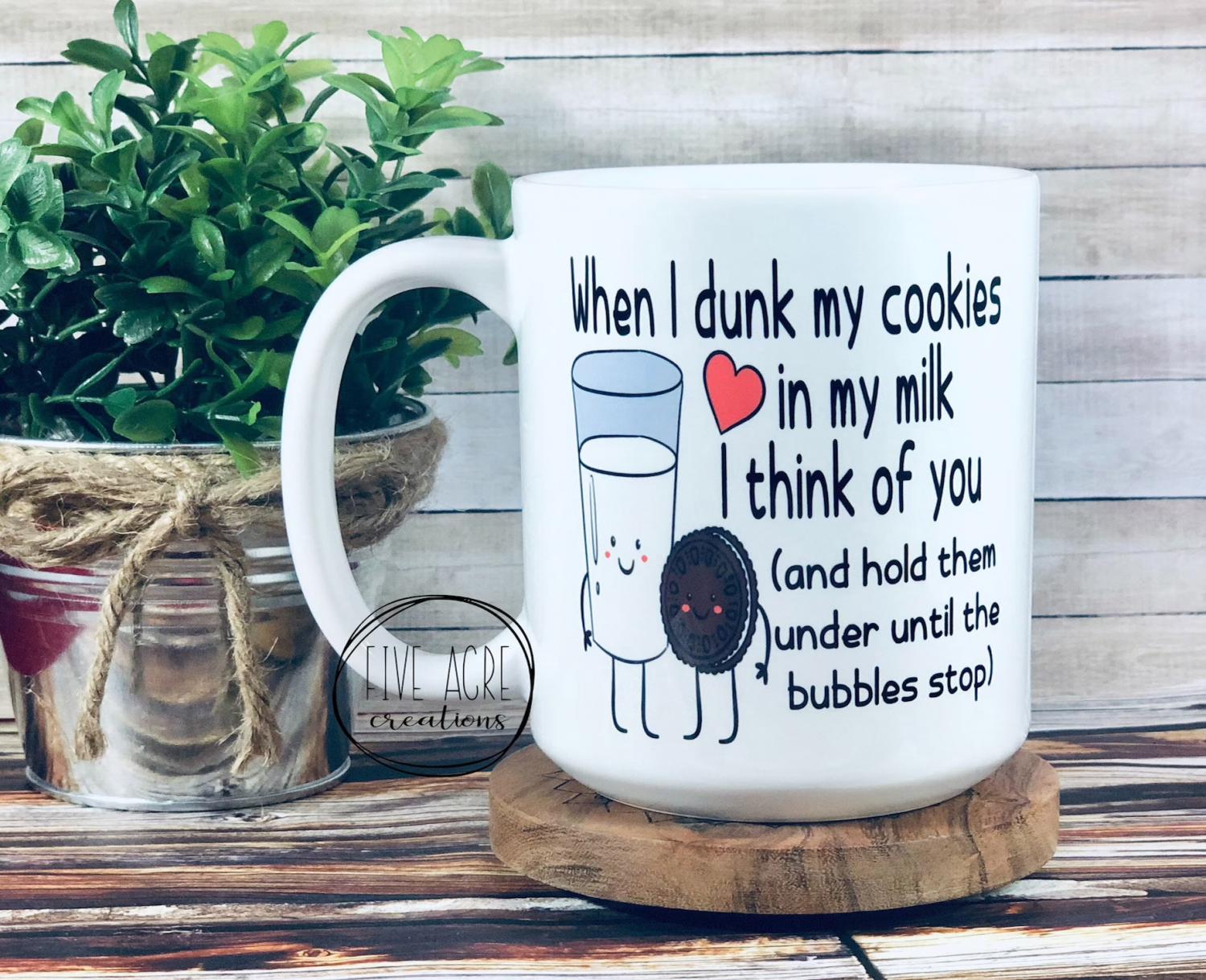 Source
This great quality coffee mug is the perfect size, it measures 3.5" x 4.75" inches. It's microwave and dishwasher safe meaning it's easy to clean or warm your beverage. The grip remains relatively cool even after microwaving.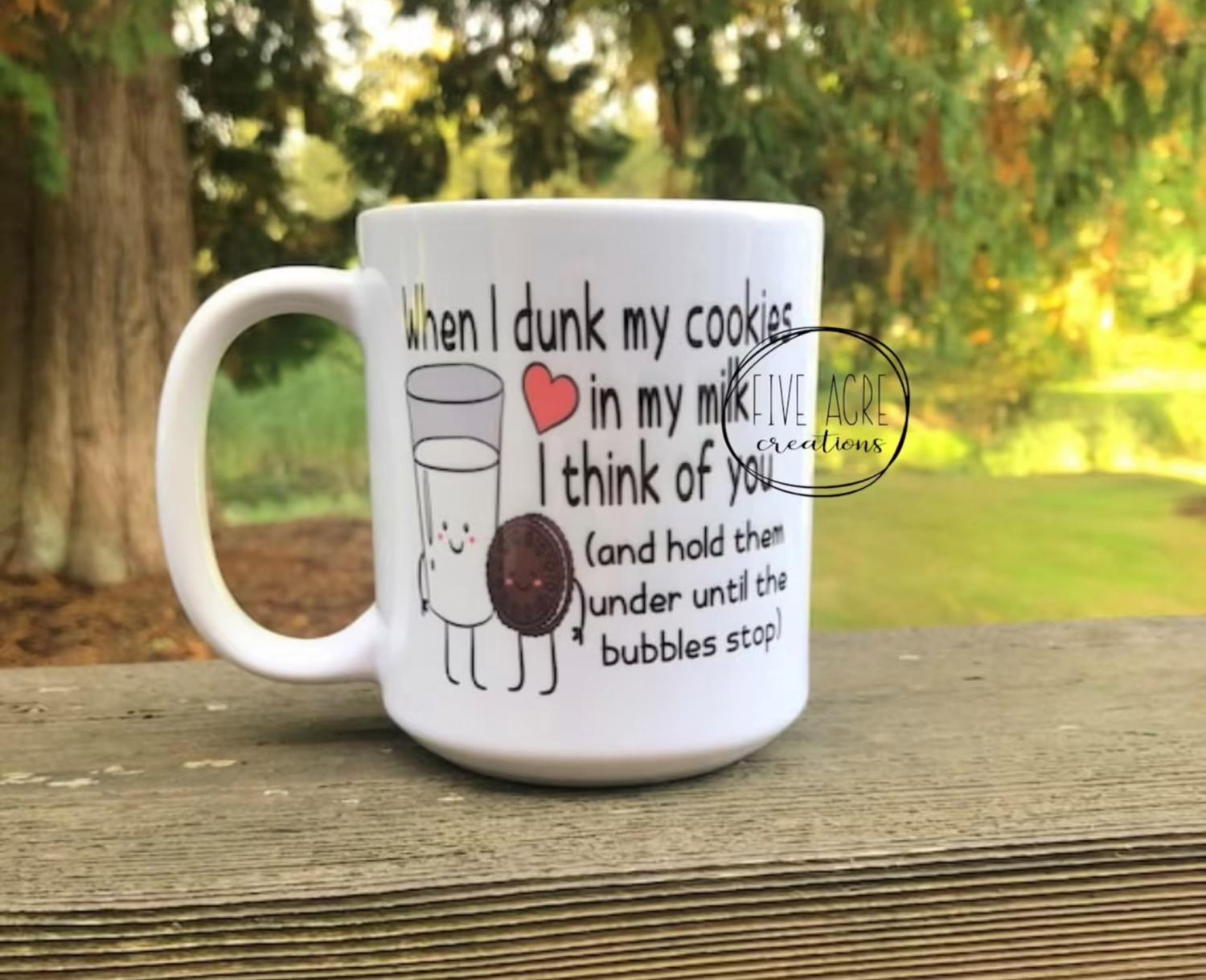 Source
It's sturdy, beautiful, and the writings plus images will not peel or come off no matter what. The bright graphics and colorful font will remain intact for years to come. This mug is totally worth buying and is a perfect gift for people with a great sense of humor.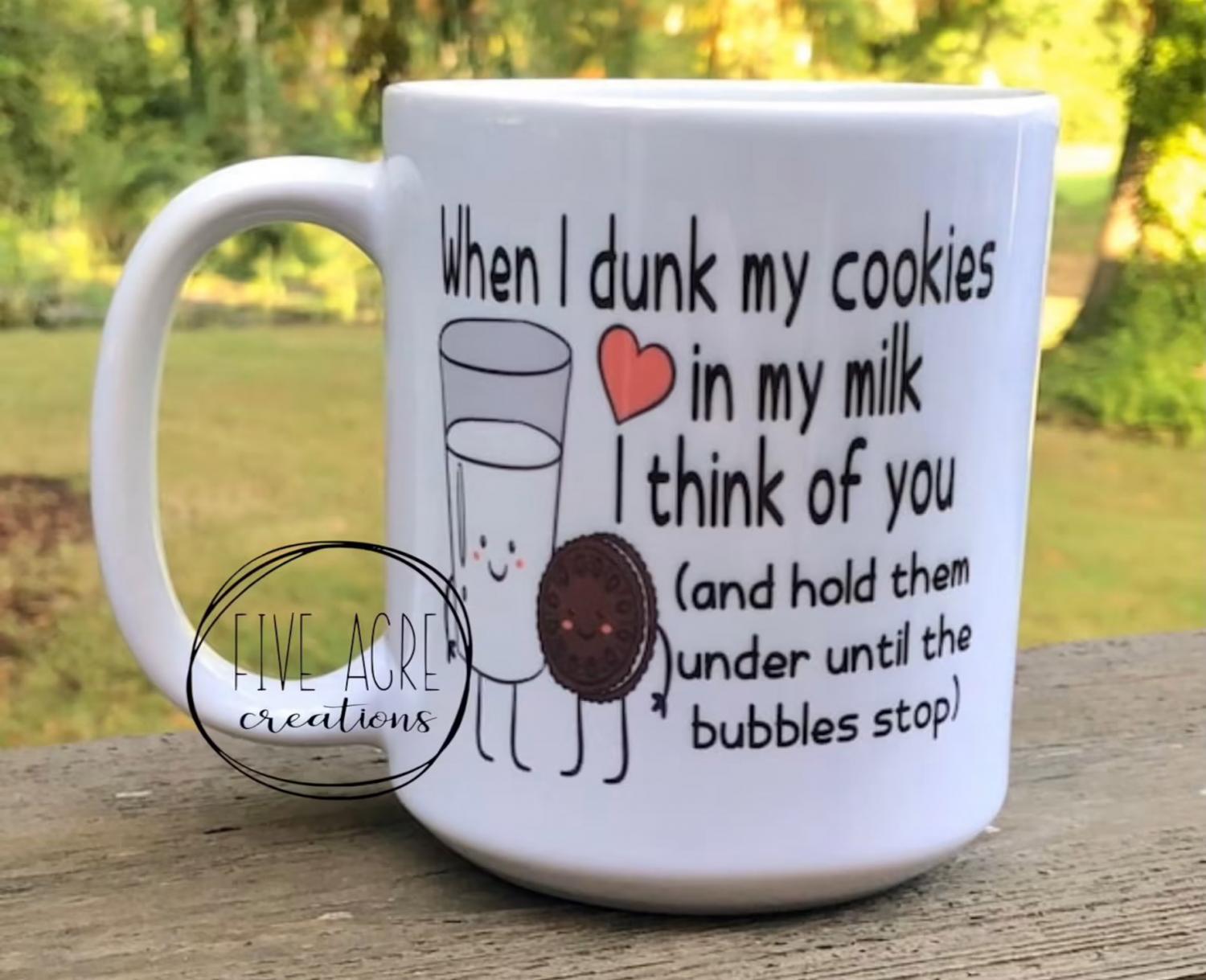 Source
Show off this mug to your family and friends or better yet buy it as a gift and they will really like it. You can add sweets, biscuits, or a personal handwritten note on the mug if you're giving it as a gift. This will add a nice personal touch to the mug.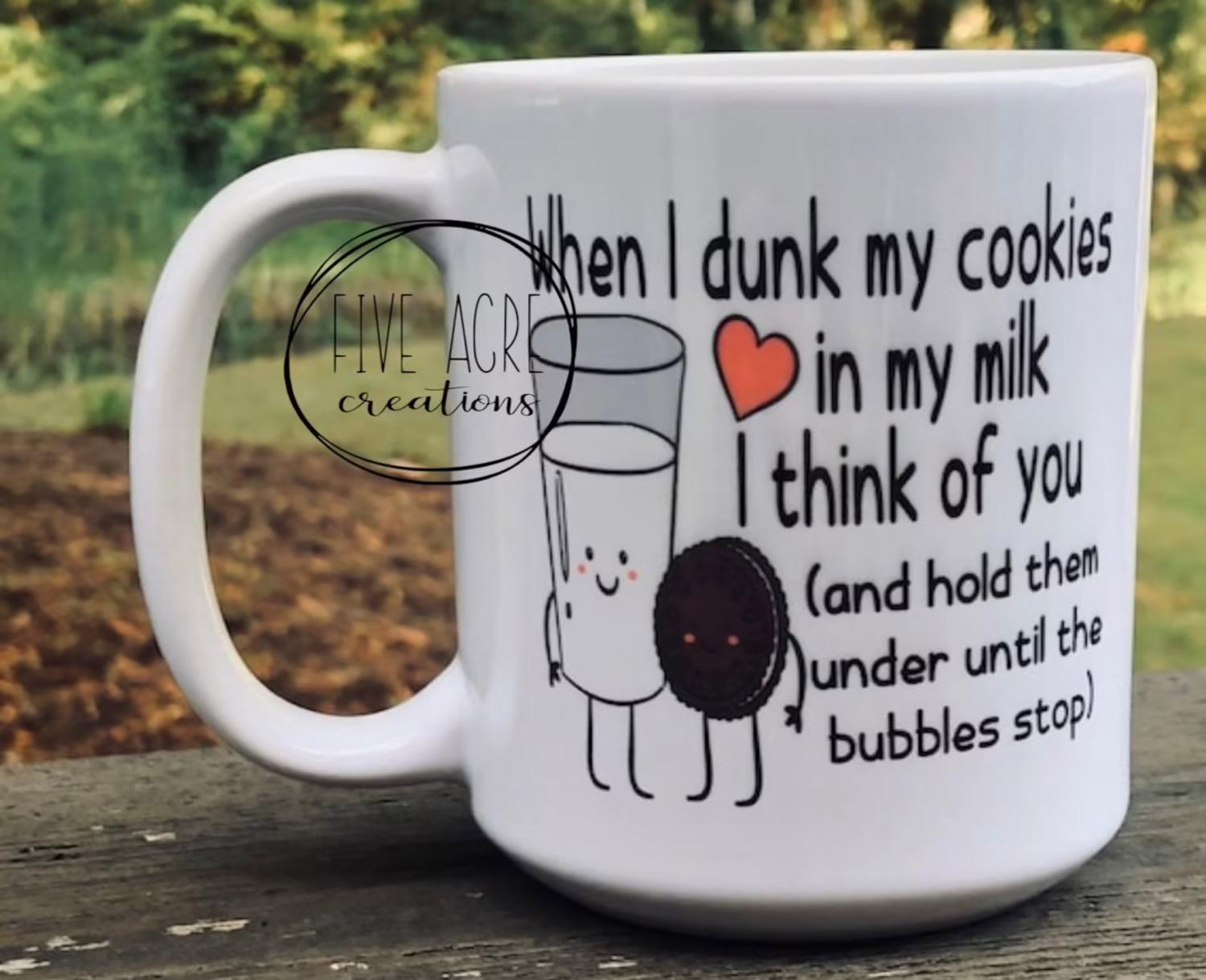 Source