These Floating Lamps Drift Through Your Pool To Illuminate The Water
Date Published: 10/20/2015 8:28 AM
What's the point of having a pool if you're not going to light it up and make it look luxurious at night? These drifting lamps will randomly drift and float through your pool and vividly illuminate the water and bottom lining of the pool, and are perfect for having a backyard pool party at night. The modern design of the pool lamps will surely make you pool seem extra luxurious even if it is filled with mold and dirty water. The bottom of the lamps are weighted so that they'll always be standing up, plus they're completely waterproof, so no worries if they tip over, get splashed on, or you throw one across the pool in a drunken stupor. The only problem is their ridiculously price, as they don't come in a pack of 5 like you'd expect but are sold individually for $500.00 each.
SITE ANNOUNCEMENT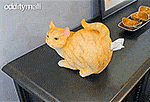 We Are Giving Away 6 Cat Butt Tissue Dispensers
The drifting pool lamps are made from white polyethylene plastic, can be used indoors or outdoors, are powered by an internal battery that will last for up to 4 hours per charge, includes one charging station that is able to charge one lamp at a time, and each lamp measures 22 inches tall x 9 inches in diameter.