Drawer Lock With Magnet Key
By Ryan on 12/09/2013 3:49 AM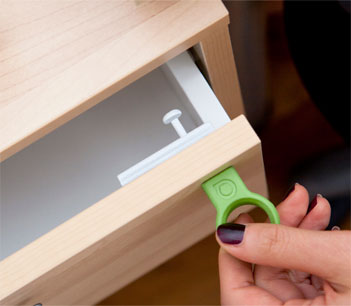 The Quirky Covert is a device that will let you lock your drawers without a visible lock on the outside of the drawer face, and uses a magnetic key that will open the lock through the drawer. The magnet key is able to attach to any key-ring for easy access, and the drawer lock is able to slide on to any drawer with no installation and will lock it from the inside so that no children can go into your drawers and find sharp items, guns, or nudey magazines.
The Quirky Covert is still in a development phase, but you can click through to follow the progress of the product at Quirky's website.
UPDATE: The drawer magnet lock the photos depict on this page is no longer available. A similar device has been linked to the 'Buy Now' button. Also available here.