This Die Hard Blu-ray Collection Comes With a Replica of The Nakatomi Plaza
Date Published: 12/10/2015 6:14 AM
Buy Now

@Amazon
Find on Ebay

Are you a die hard Die Hard fan? Well this Die Hard Blu-ray collection comes with a replica of the Nakatomi Plaza skyscraper from the original Die Hard film, which is where the Blu-rays are stored. A perfect gift idea for any crazed Die Hard fan, for someone who moderately enjoys the Die Hard movie series, or someone who doesn't really like the Die Hard movies at all, because screw them, who doesn't love Die Hard! Sure the last one was a bit ridiculous with the motorcycle and helicopter scene, but what else can you expect from a movie called Die Hard.
SITE ANNOUNCEMENT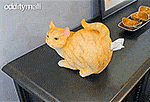 We Are Giving Away 6 Cat Butt Tissue Dispensers
The Die Hard Blu-Rays come in a meticulously crafted replica of the skyscraper from the original film which is where the moves are housed, plus the collection comes with a bonus Blu-ray disc that is loaded with in-depth featurettes, 5 collectible villain cards, as well as an explosive 32-page behind-the-scenes booklet.