This Poo in Progress Caution Sign Is a Hilarious Warning Sign for Your Office Bathroom
By Ryan on 07/07/2023 9:45 AM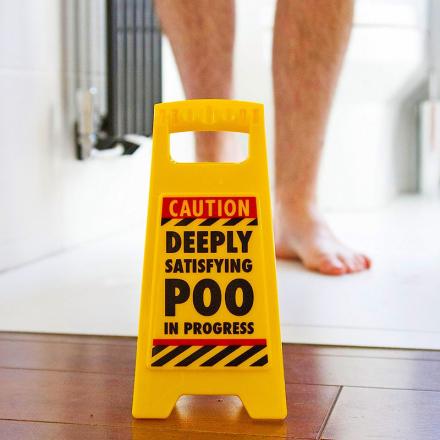 If you're someone with a sense of humor that strays from the beaten path, or if you're just an advocate for bathroom humor in its many guises, you'll want to listen up. There's a new product on the market that's bound to make your visit to the little boy's or girl's room a more entertaining affair.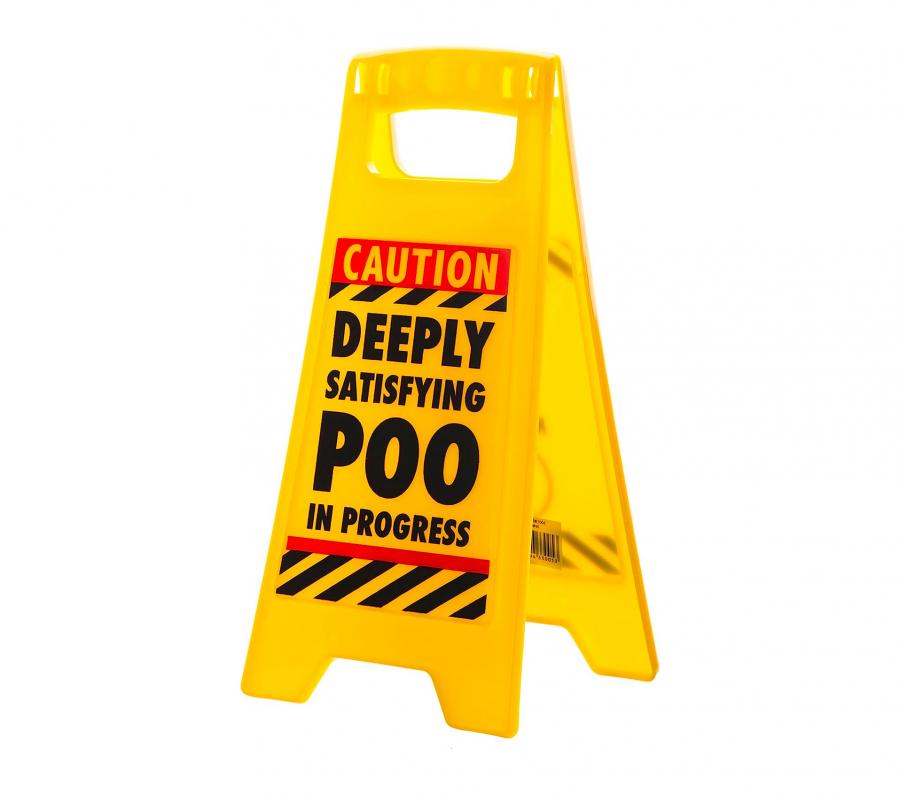 A vivid splash of sunflower yellow that could wake up even the most sleep-deprived eyes, it's the novelty bathroom floor sign that reads: "CAUTION: Deeply Satisfying Poo In Progress." Yes, you read that right. This isn't your run-of-the-mill wet floor sign; it's a delightful blend of cheeky humor and public service announcement that's sure to incite laughter or at least a double take.
Standing proudly at about 12 inches tall, this sign brings a hilarious twist to the traditional 'occupied' indicators. It doesn't just say, "someone's in here." Oh no, it goes a step further, adding a playful hint of oversharing to your bathroom routine. But don't worry, it's all in good fun. Compact and highly portable, this sign folds up flat for easy storage. Simply whip it out when nature calls and, voila! You have a fun way to make your 'business' known. No one can say they weren't warned. It's a comic masterpiece that doubles as a traffic controller, ensuring your porcelain throne remains undisturbed.
The hilarity doesn't stop at home, though. Why not introduce a dash of fun to your office too? Everyone knows the workplace could do with some comic relief, and what better way to deliver it than through a bathroom sign with a comic twist? It'll give your colleagues something to giggle about during coffee breaks. And guess what? The fun doesn't stop there. The opposite side of the sign implores those about to enter to "Give It 10 Minutes." Subtle? Not exactly. Effective? Definitely! This side of the sign lets folks know to steer clear for a while, giving them ample time to brace themselves before entering the danger zone.
Moreover, this sign isn't just for the bathroom. It can be a hilarious desk accessory that communicates your whereabouts when you're away. Imagine the chuckles when your colleagues notice the message. It's way better than your standard "Back in 5" post-it note! The "Deeply Satisfying Poo In Progress" sign pairs wonderfully with other items from the novelty bathroom humor collection. For instance, it's the perfect companion for the infamous poo knife, an equally quirky tool that aids in getting those extra large logs down the toilet. Together, they're the dynamic duo of bathroom humor, guaranteed to make any potty experience a little less routine and a lot more fun. All said and done, the sign is not just a piece of plastic with words. It's a statement, a symbol of bathroom humor that breaks away from conventional norms. The world could certainly do with more laughter, and this sign contributes its bit, one bathroom at a time. Whether you're looking for a conversation starter, a gag gift, or just a fun way to make your mark in the bathroom, this novelty floor sign is your ticket to all that and more. So, let's embrace the humor and redefine what it means to 'use the bathroom'. Happy pooing, folks!
You can snag the funny poo in progress caution sign from Amazon for around $10 bucks!