These Star Wars Death Star Bookends Are a Perfect Addition To Any Geeky Room
By Ryan on 08/14/2021 1:35 PM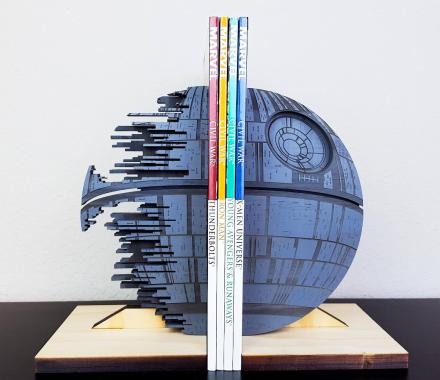 This geeky set of bookends looks just like the Death Star from Star Wars, and is the perfect way to hold some greasy comic books up-right. Whether you have a decade of virginity worth of comic books, or just a few Hardy Boy mystery books, the Death Star bookends should do the trick. Half of the Death Star is fully intact, whereas the other half of the Death Star is still being built. Simply slide your geeky books between the two halves of the Death Star and push them together to hold your books or comics in place.
Designed and created by Etsy store MokuShop, the Death Star bookends are just one of their geeky set of bookends, with others including a Star Wars AT-AT bookend set, a different colored Death Star bookend set, or a Deadpool bookend set. All of which would make for a perfect geeky gift idea.
The Star Wars Death Star bookend set is handmade from pinewood, uses a non-slip cork base to help it secure your books or comics in place, comes in a few different colors to choose from, comes with a free laser cut image of a Death Star, and measures 8.5 inches tall x 10 inches long x 5 inches wide.