The Cutlery Cleaner Attaches To Your Sink To Easily Clean Your Silverware
By Ryan on 10/23/2015 9:18 AM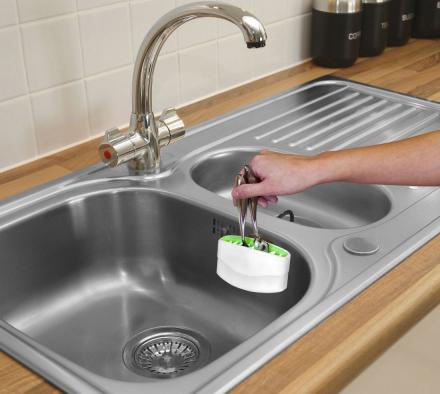 A lot of the times my dishwasher doesn't fully clean my silverware. Most likely this is from letting the dishes pile up for a few weeks and whatever disgusting shit has been growing in the cracks of my silverware has crusted over and is starting to become one with the metal of the cutlery. For now I'd probably be better off just tossing the silverware in the garbage, but once I buy a new batch of silverware, it might make sense to purchase a Cutlery Cleaner. The Cutlery Cleaner is a silverware scrubber that attaches to the inside of your kitchen sink and allows you to simply dip your silverware inside of it to get the crusted on food off of them.
Perfect to use before you place each piece of silverware into your dishwasher for a full wash to make sure you get everything off of them beforehand, or to use to fully wash your silverware right in your sink if you don't have a dishwasher, the Cutlery Cleaner is sure to make your dishwashing duties a little less stressful when you go to empty the silverware tray.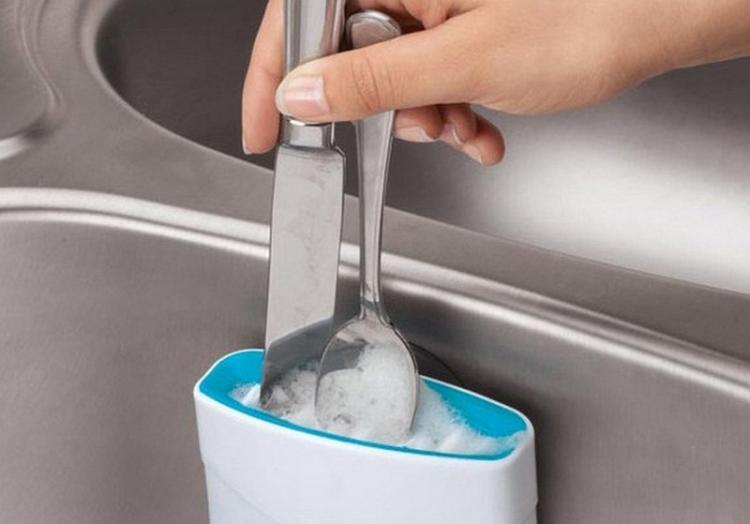 The cutlery cleaner attaches to the inside of sink by a suction cup, is best used by placing just a little bit of detergent into the cavity of the cleaner, is able to clean pretty much all types of silverware, cutlery, knives, and utensils, uses non-scratch bristles, and comes in green or blue colors to choose from.