This Construction Truck Kids Bed Has a Built-In Bookshelf In The Bucket
By Ryan on 05/27/2020 3:03 PM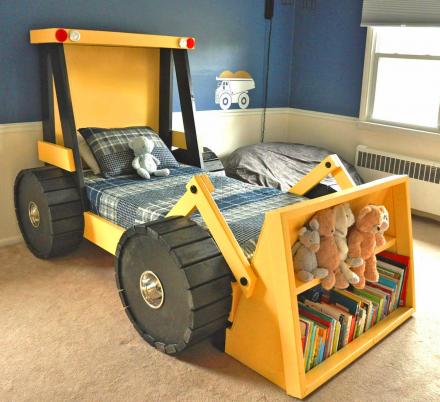 If you have a child that loves trucks, tractors, and all the rest, chances are they already have tons of tractor toys, books about truck and tractors, and everything else that has to do with tractors. But do they have a tractor bed? Probably not! Well, someone came up with an amazing design to DIY a kids bed that's made to look like a wheel loader construction truck. And best of all, the bucket on the tractor doubles as a bookshelf where they can put toys, books, and stuffed animals.
The build plans for the construction truck kids bed is made and sold by Etsy store HammerTree, who also offers a few other unique kids bed build plans, such as a garbage truck kids bed, a robot kids bed, a regular tractor kids bed, and even a castle kids bed. You can check out all of their unique DIY kids bed designs here.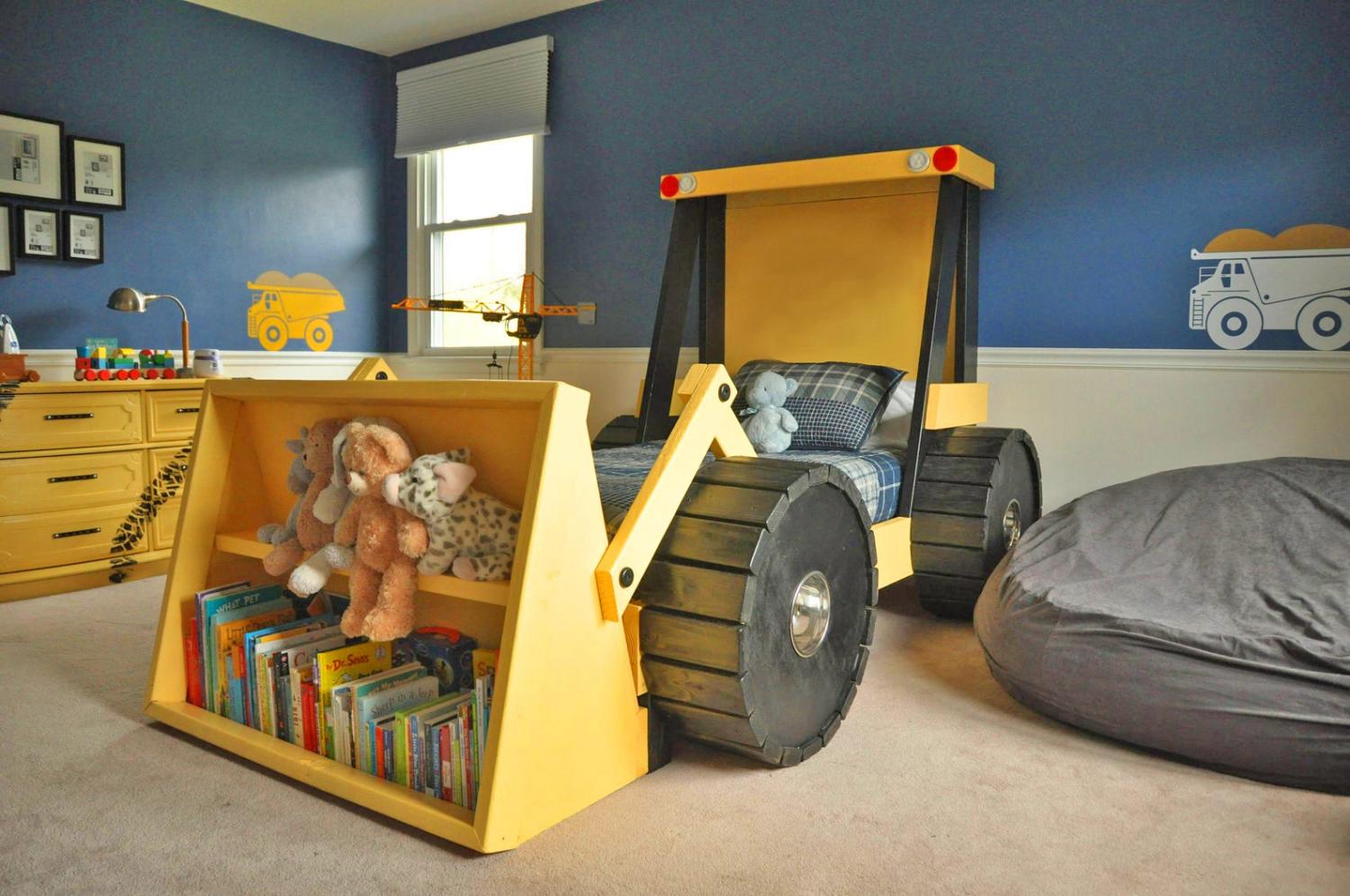 The plans for the construction tractor kids bed are made to support any standard twin size mattress, though they also offer plans to support a full size mattress as well (you just need to send them a message). The plans come in PDF format, and offer full and easy instructions on how to build your very own wheel loader / front loader kids bed. They also state: "Included are a Bill of Materials, exact dimensions for the components, a step-by-step guide for assembling the bed, a recommended cutting guide, and lots of visual aids to help along the way."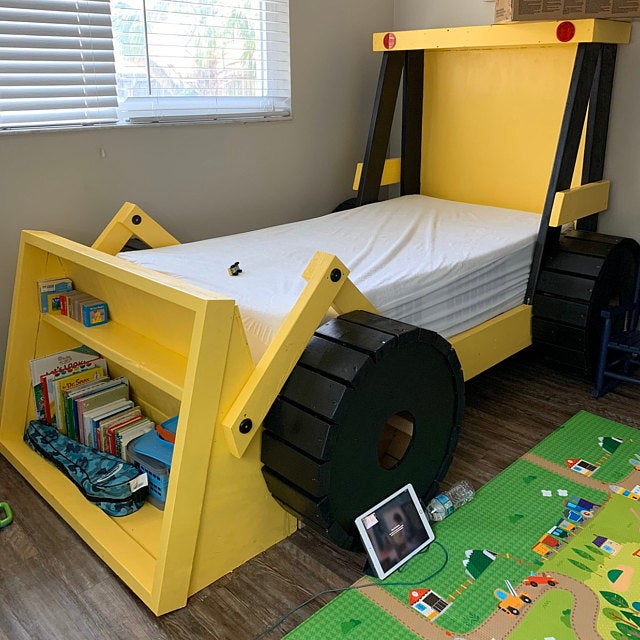 Once completed the front loader kids bed will measure 98 inches long x 61 inches wide x 61 inches tall, so you'll want to first make the room you plan to build it in can accommodate the size of the tractor bed. They state that, depending on your local supply costs, the estimated cost for materials for the bed will be right around 200 bucks.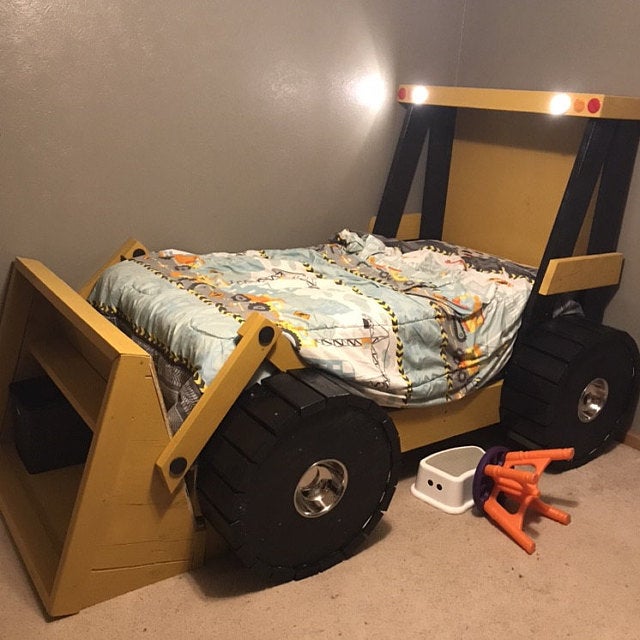 add optional lights to the tractor kids bed for a cool night-light effect.
This bed was designed to help my son transition from his crib into his big boy room (just before his little brother arrived).
The tractor kids bed is designed to be made completely out of wood, so if you're handy with wood, or you know someone who is, the project should be a breeze to complete. Plus, just think of how happy your kid will be when they find out they get to sleep in a construction tractor every night!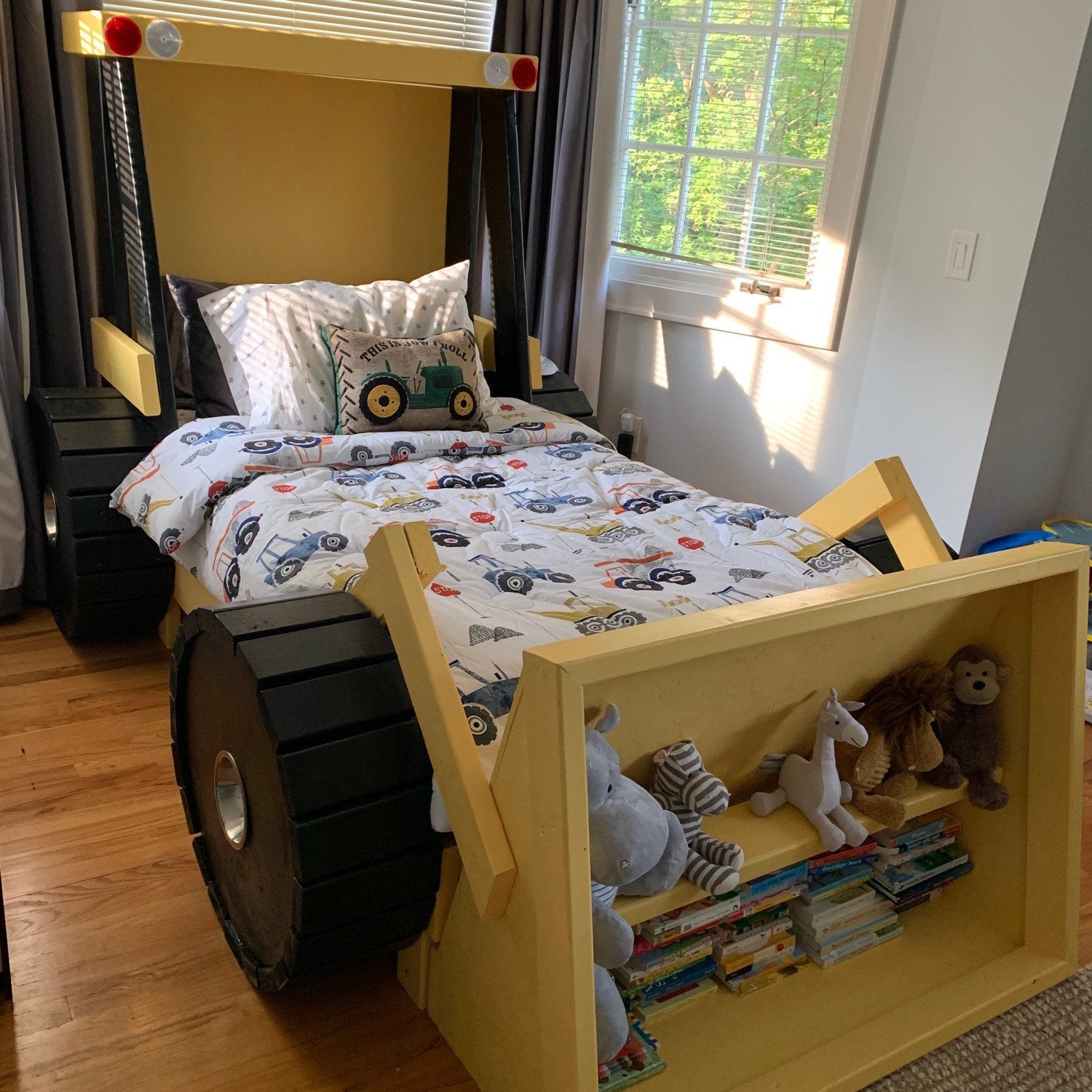 The Etsy sellers also some some other features of the wheel loader kids bed:
Modular and forgiving design that can be built separately and assembled in the room
Easy to access sheets for frequent changing (as a parent, I know that's important)
Room for storage underneath bed frame
Can be converted into a regular bed easily (when the time comes)
Storage for books and toys on shelves
Frame is compatible with Castle Bed, Tractor Bed, and Robot Bed.
Affordable materials, fun to build and personalize and inspire your kid!