Cheeseburger Ball Gag
Date Published: 03/31/2015 3:29 AM (Updated: 06/06/2018 11:16 AM)
Made for the American BDSM connoisseur, the aptly named 'silencing slider' is a ball gag made to look like a mini cheeseburger. Made by the Etsy store called BurgerGag, the shop specializes in sex toys representing food. So if you're not into the domination thing, maybe you'd enjoy the bratwurst dildo which is of course a dildo made to look exactly like a grilled bratwurst sausage with grill marks and all, or the drumstick stuffer which should need no description. Perfect for the sex fanatic who needs to mix food with their sex similar to George Costanza, the cheeseburger ball gag is sure to spice up your sex life, assuming you've applied some hot sauce to the burger.
SITE ANNOUNCEMENT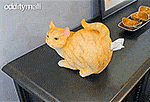 We Are Giving Away 6 Cat Butt Tissue Dispensers
The cheeseburger ball gag is made from 100% non-toxic food grade silicone, uses nickel plated hardware, and comes with an adjustable leather strap, is BPA free, has a comfortable and ergonomic design for those long and rigorous sessions, and will fit heads measuring 14-21 inches in diameter.