This Sandal Fries and Ketchup Tray Will Have You High-Stepping to Snack Town
By Ryan on 06/21/2023 9:04 AM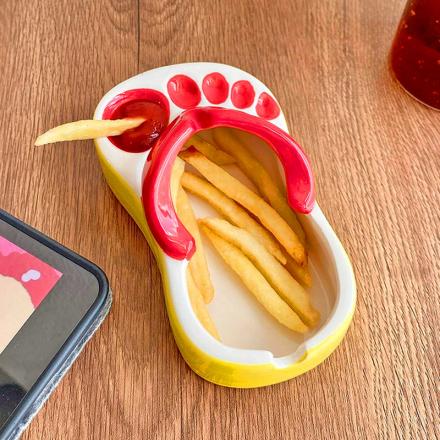 Well, folks, strap in and lace up your appetite! A culinary couture is tiptoeing (quite literally) into the snacking scene. If your fashion-forward brain ever envisioned stomping out hunger with a sandal, your dream has been shoehorned into reality!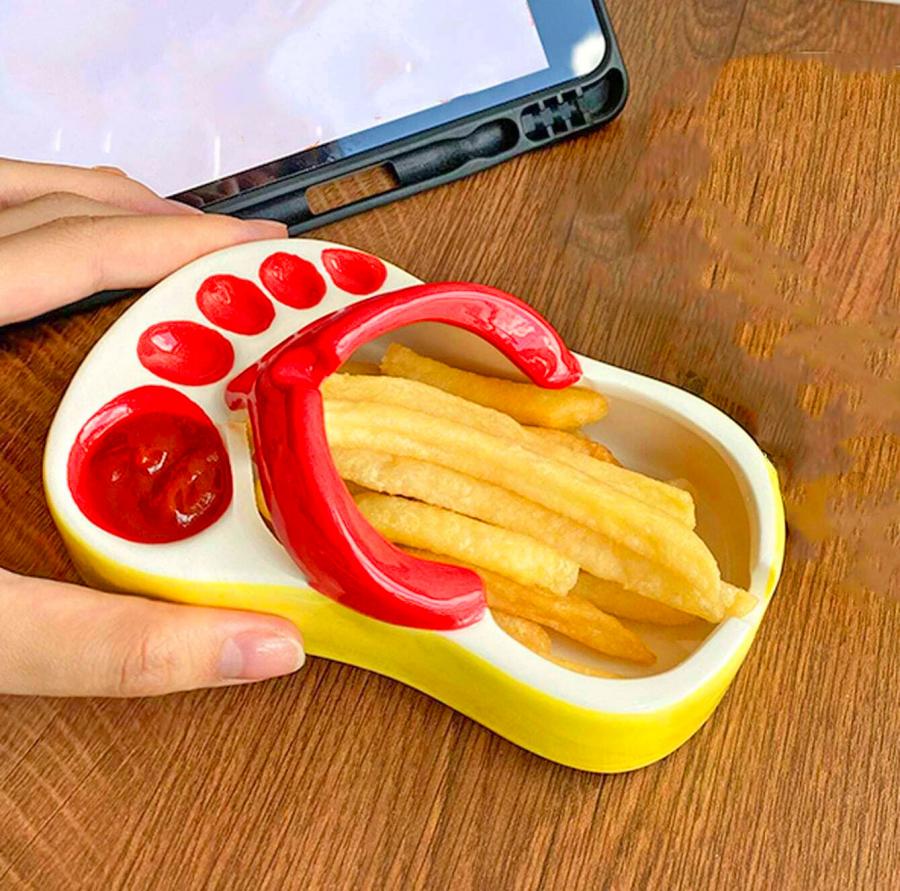 In a world awash with dainty dishes, The Snack Sandal Supreme has footloose foodies toe-tapping with glee. This porcelain godsend comes with the frills and thrills of a sandal, but not for your feet – for your belly!
Imagine this: crispy golden fries peeking out like they're getting a foot tan in the dazzling sun. The fries are lounging in the foot area of this footwear-shaped tray, probably pondering on whether they should take a dip in the mini cup of ketchup resting where the big toe would be. You heard it right, there's a big toe in the mix! The Snack Sandal Supreme's built-in mini cup is situated on its big toe, creating a sandal-cious way to dip those delectable fries.
Whoever said, "Put your best foot forward," must have been hinting at this creation. A hop, skip, and a jump away from your ordinary serving platter, this dish measures 5.3 inches long and 3.15 inches wide – it's not just a fashion statement; it's a snack revelation! Now, let's paint the town red - and yellow and white! Those are the colors our Snack Sandal Supreme sports. The yellow mimics the golden splendor of fries, the red symbolizes the mouthwatering ketchup, and the white, well, let's call that the mayonnaise of the ensemble. These hues are carefully glazed onto the high-quality porcelain. Yes, it's made from porcelain - don't try wearing it, Cinderella!
This tray is not a one-trick pony - or should we say, a one-step sandal? It's also versatile! Don't stop at the fries. If your snack cravings venture into the vegetable kingdom, or maybe to the land of chips and nuts, the Snack Sandal Supreme is ready to embark on that flavor voyage with you. It will cradle your carrots, safeguard your salted almonds, and harbor your nachos like a true champion. While sandals may have a seasonal fashion status, the Snack Sandal Supreme is stylish all year round. Birthdays, barbecues, or "just-because" snack sessions, this tray's solemate-material.
Restaurants are also catching onto the trend. It's the new rage to be served a sandal - sans feet, of course. And the dining patrons are eating it up! Literally and figuratively! But wait, there's more! The Snack Sandal Supreme is rumored to make you relish your food even more. No scientific backing, but we suspect it has something to do with the joyful reunion of your inner child and your present-day foodie.
Folks, it's afoot: The Snack Sandal Supreme. Get ready to embark on a taste journey that's one step ahead. And remember, in the wise words of an anonymous snack sage: "If the shoe fits, eat from it!"
You can snag the sandal shaped fries and ketchup tray from Shein for around $7 bucks!