This Cat Bed Hat Lets Your Kitties Sleep Right On Your Head, While You Turn Heads
By Ryan on 11/01/2023 11:31 AM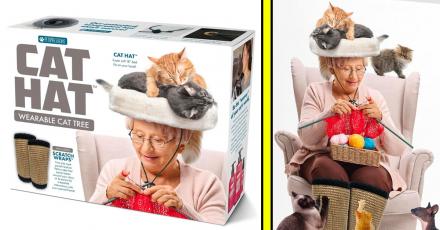 Imagine a world where you and your feline friend are quite literally connected at the head. A world where every twist, turn, and bend you make is accompanied by the soft purring of your cat. Welcome to the future of cat-human bonding, courtesy of the Cat Hat Wearable Cat Tree!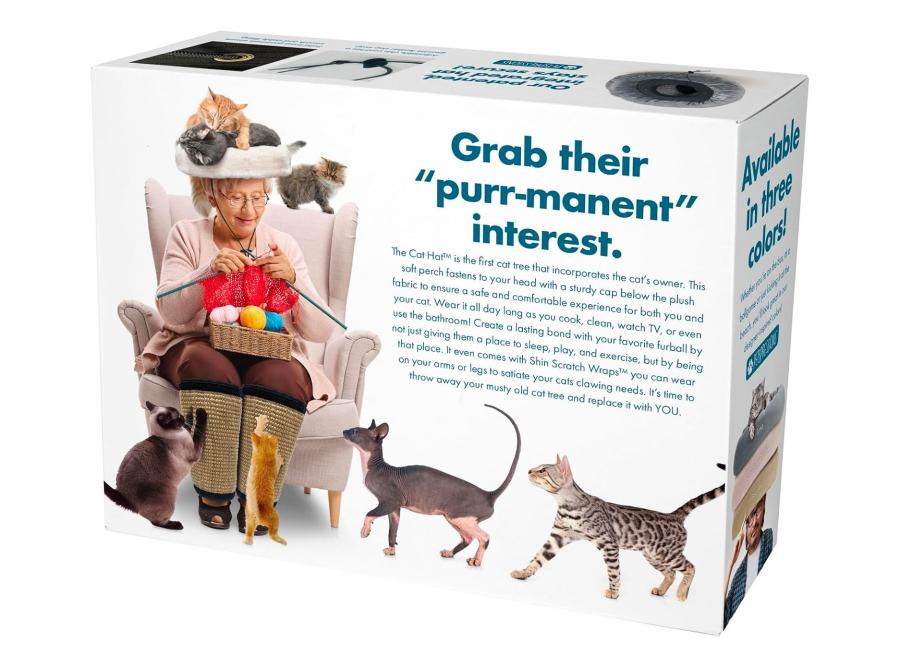 Now, I know what you're thinking. "A cat tree... on my head?" Yes, and it's every bit as delightful as it sounds! Say goodbye to the days when your cat would ignore the expensive bed you bought them, choosing instead to sprawl across your keyboard. With the Cat Hat, you become their ultimate resting spot.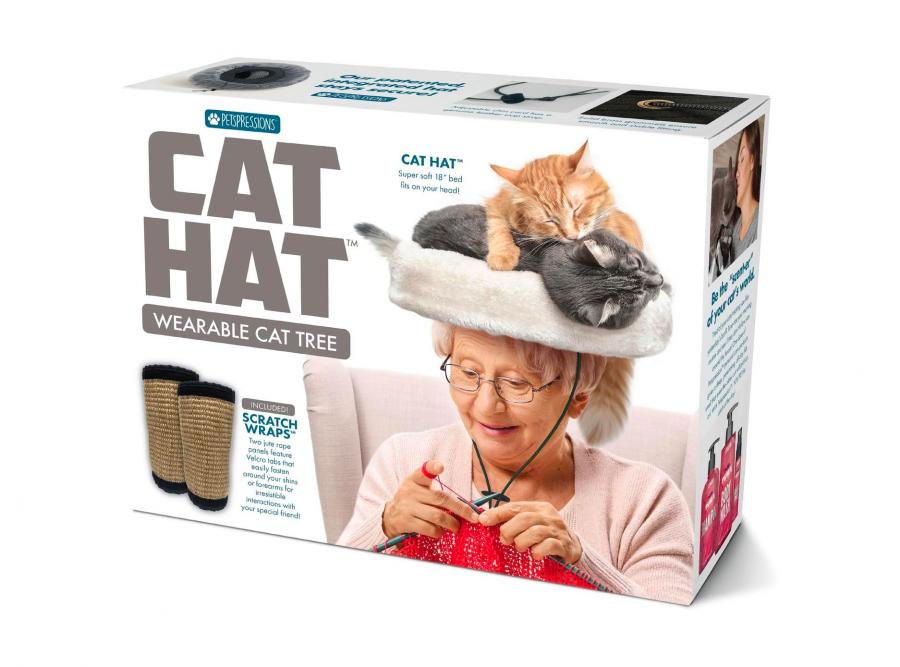 Beneath the plush, super soft 18-inch bed that comfortably rests on your head is a sturdy cap. Crafted with care, this ensures that while your feline is living the dream up top, you have a snug and secure fit down below. Whether you're sautéing veggies, vacuuming the living room, or having a movie marathon, your cat can now be a part of every moment. And if you ever wondered what it feels like to be the center of your cat's universe, well, now you quite literally can be! But the Cat Bed Hat doesn't just stop at the top. Want to take the bonding experience to the next level? Enter the Shin Scratch Wraps. Velcro-fastened jute rope panels that you can wrap around your shins or forearms. Whether it's playtime or scratch-o'clock, these wraps are the perfect way to interact with your cat. And don't worry, they're as stylish as they are functional, so you won't have to compromise on your fashion game. Color enthusiasts, rejoice! The Cat Hat isn't just about function; it's also about making a statement. Whether you're a fan of classic neutrals or love a pop of color, there's a Cat Hat for you. Available in three gorgeous shades, you can match your Cat Hat to your outfit, your mood, or even your cat! One might wonder, "Is this all about looks and no substance?" Fear not! With solid brass grommets ensuring a smooth and stable fit, the Cat Hat is built to last. So, not only will you be turning heads (pun intended) wherever you go, but you'll also have the peace of mind knowing that your new accessory is of top-notch quality. Let's be real for a moment. Cats have a way of making everything about them, don't they? They'll hijack your favorite chair, your warmest blanket, and sometimes even your dinner plate. But with the Cat Hat, you're not just giving in to their whims; you're transforming the narrative. You're telling them, "Hey, I'm here for you, quite literally!" And in doing so, you're creating a bond like no other.
In a world full of conventional cat toys, trees, and beds, the Cat Bed Hat Wearable Cat Tree is a breath of fresh air. It's quirky, it's fun, and most importantly, it's a celebration of the unique relationship between a cat and their human. So why settle for being just another cat owner when you can be the "scenter" of your cat's world? It's time to embrace the future, one where you and your cat are more in sync than ever. A future where every step you take is a step taken together. So, gear up, put on that Cat Hat, wrap those Shin Scratch Wraps, and embark on a feline adventure like no other. After all, why should cats have all the fun?
Now, hold onto your whiskers, because there's a twist in the tail! The Cat Hat Wearable Cat Tree, as enchanting as it sounds, is actually a whimsical prank gift box! That's right, this quirky product packaging is designed to give your loved ones a playful jolt of surprise. Once they get past their initial shock and chuckles, they'll discover your real gift tucked inside. It's the purr-fect way to add a dash of humor to your gift-giving, ensuring a memorable reaction and a story they'll share for years. So, not only do you get to bask in the joy of their bewildered expressions, but you also deliver a double dose of delight when they unveil the true treasure within. Talk about the cat's meow of pranks! You can snag the hilarious cat bed hat prank box from Amazon for around $9 bucks!