Carbon Fiber Bottle Opener
Date Published: 11/10/2015 6:13 AM
Sometimes all you really need is a bottle opener. Instead of these secret credit card sized survival tools that will help you open a box, screw a hex screw, or pry a nail up, this credit card sized tool simply assists you in opening a beer. If you were out in the wilderness would you really attempt to survive, or would you simply attempt to open your last beer and succumb to the dark gruesome death that awaits you when a bear finds your scent? This beer bottle opener is made entirely from carbon fiber, and consists of simply a flat credit card shape with a hole in the middle of it to open your beer, that's it, nothing fancy.
SITE ANNOUNCEMENT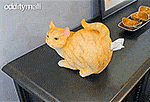 We Are Giving Away 6 Cat Butt Tissue Dispensers
The carbon fiber bottle opener is of course made from 100% American carbon fiber along with a custom made epoxy resin, fits easily into any standard sized wallet pocket or money clip, is super strong, lightweight, and discreet, has a gloss finish, and measures 3.37 inches long x 2.13 inches wide x 0.10 inches thick.