There Are Now Camping Trailer Dog Beds, So Your Pooch Can Enjoy The RV Lifestyle
By Ryan on 12/13/2021 3:32 PM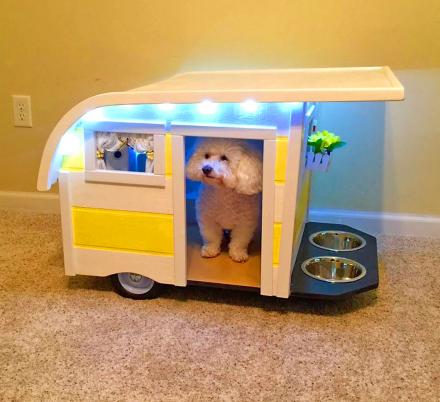 If you enjoy the camper or RV lifestyle, chances are your dog probably does too! There's nothing quite like life on the road, especially when you have your very own camper. This company creates adorable little camping trailer dog beds. They're called canine campers (though, we would've also been ok with 'Winnebarko'), and they're designed after the vintage/retro RC campers that came out in the 50's/60's. The camping trailer dog beds are made by Big Creek Mercantile, and come in three different sizes and styles to choose from, and are sure to make your pooch extra cozy when at home or on the road.
The camping trailer dog beds actually come with a bunch of really cool features built-in, including a perch where you can set up a security camera to monitor your dog while in the camper using a re-purposed old smart phone along with the free PRESENCE App. It also features battery powered built-in LED lighting, a dog bone shaped bumper with your dogs name on it, handmade curtains in the windows, and even a framed piece of artwork on the inside of the camper.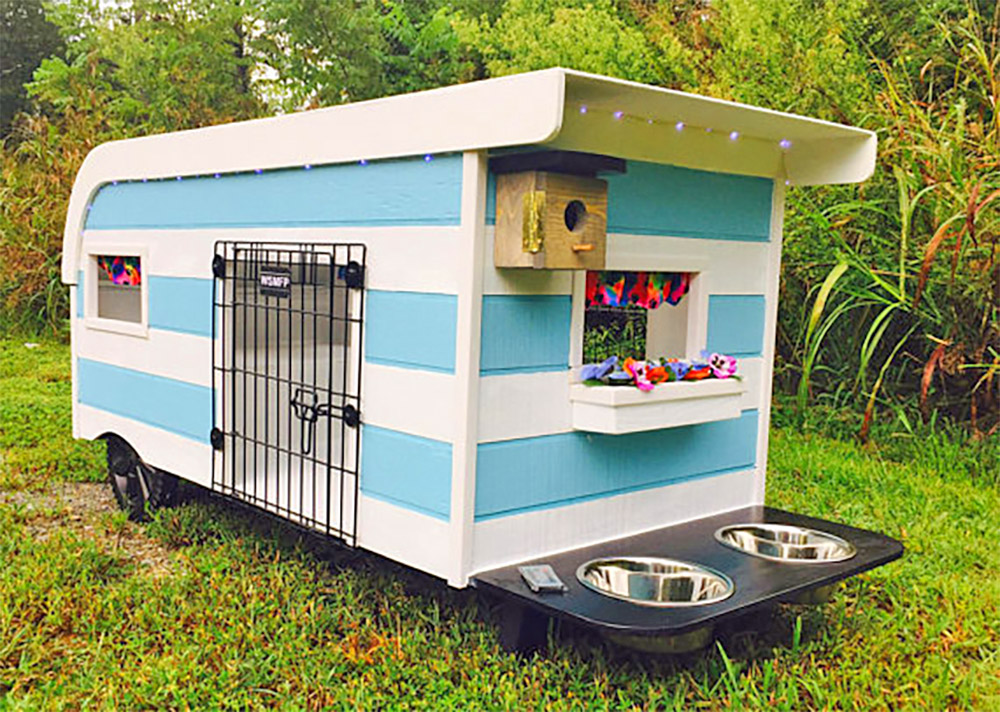 On the outside of the camping trailer dog bed is a feeding area with 2 elevated bowls for your dogs water and food, and above that is an extended area of the roof to protect the bowls from rain, falling tree debris, and the sun. Plus, it just makes it looks super cute as well. Above the dog bowls on the outside of the camper is also a window looking out over their bowls, along with a little hanging planter to make it look extra homie for your pooch.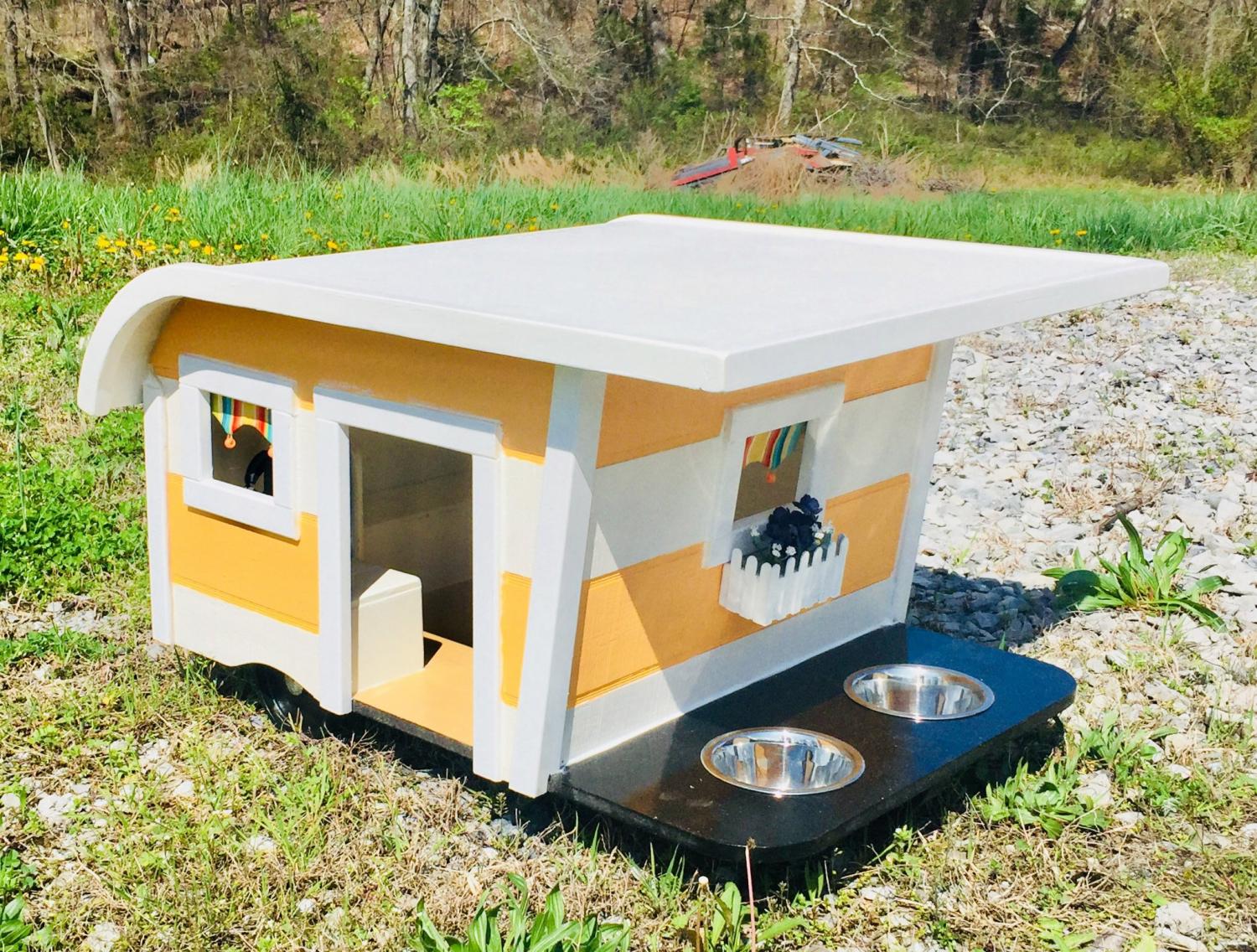 The canine campers come with three different sizes, each of which have their own unique style. The small dog camper measures 28 inches long x 18 inches tall x 20 inches wide and has yellow and white colors, the medium dog camper measures 34 inches long x 23 inches tall x 20 inches wide, while the large version of the dog camper measures 48 inches long x 32 inches tall.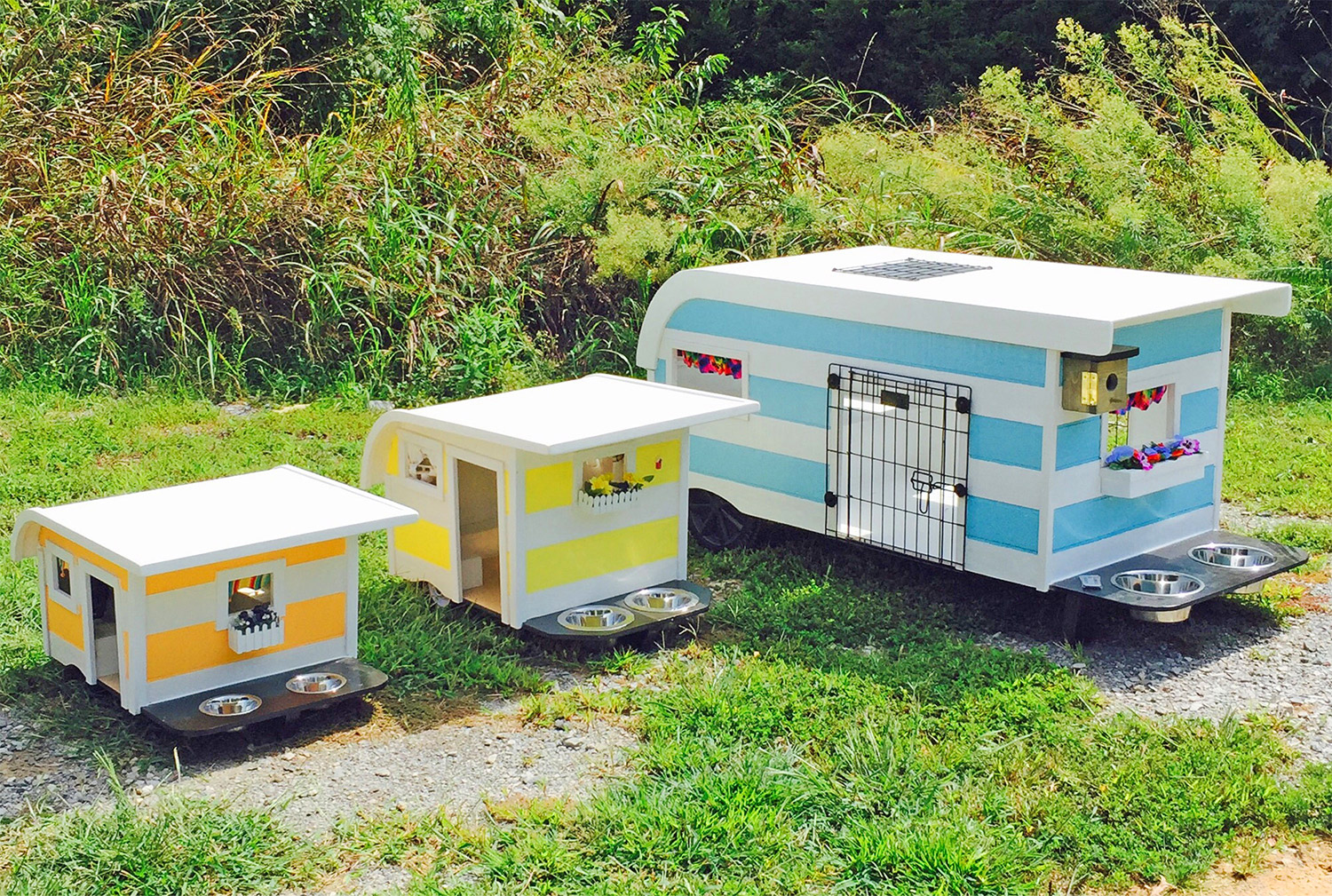 Created and sold by Etsy store Big Creek Mercantile, the canine campers are made with wheels on the bottom like a real camper to make it easy to move around, the lights that run along the roof of the camper are controlled by a secret compartment on the back of the camper, and the dog bone shaped sign on the back with your dogs name on it is held in place using magnets.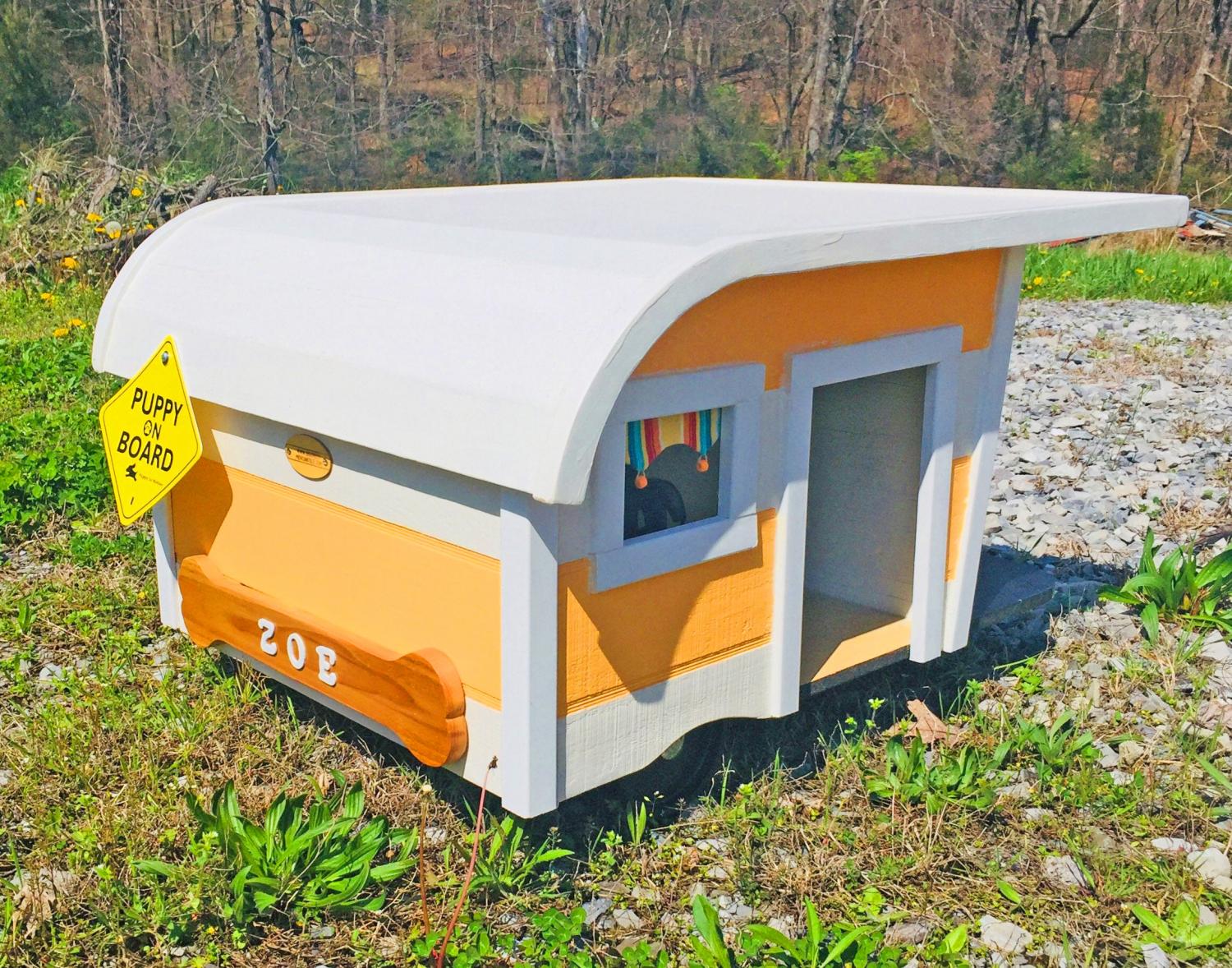 Have multiple dogs that would like their own camper? You can just create your very own trailer bark!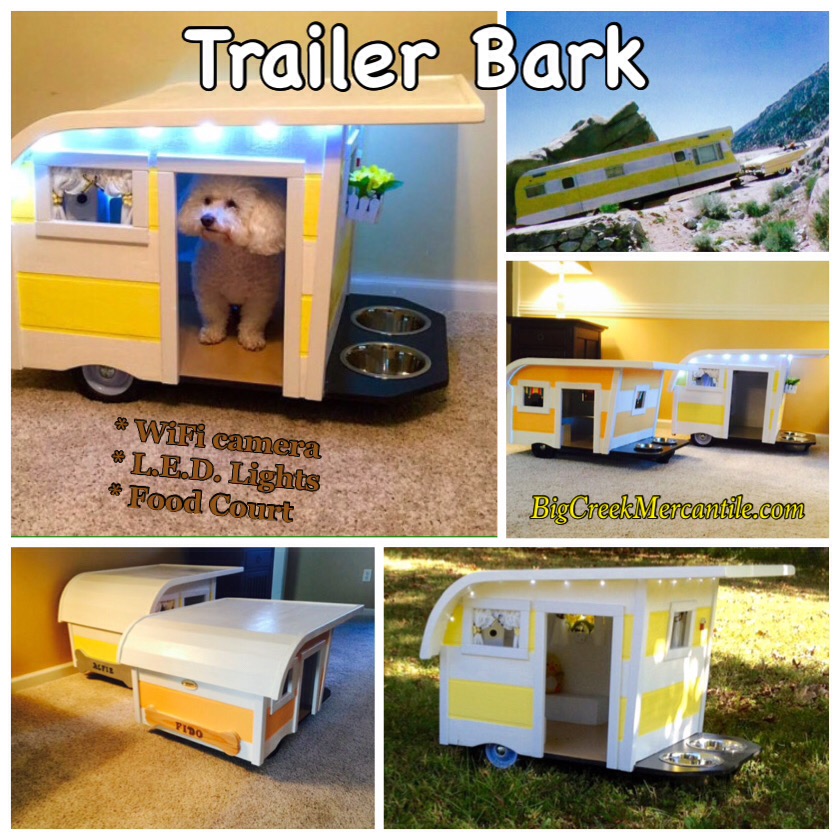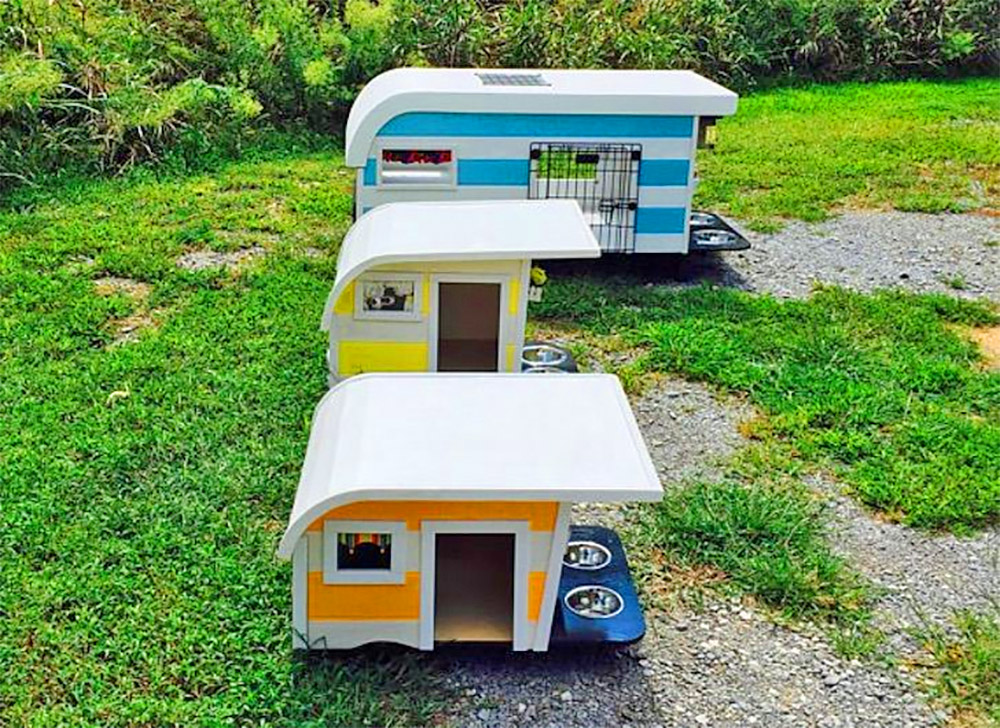 There's actually a bunch of other styles and options for dog camping trailer dog beds that you can find on Etsy! Find a few of our favorite finds below: