This Bungee Jumping Jesus Is Perfect For a Religious Person With a Sense Of Humor
By Ryan on 03/08/2023 3:22 PM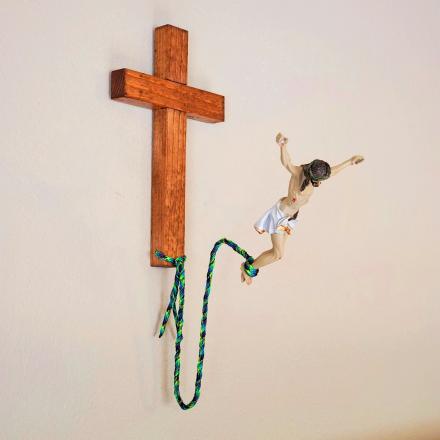 Looking for a unique and quirky way to display your faith in a humorous way? Look no further than the BunJesus wall-mounted cross! This cross is sure to turn heads with its unexpected design that features a bungee jumping Jesus attached to the cross with a bungee cord.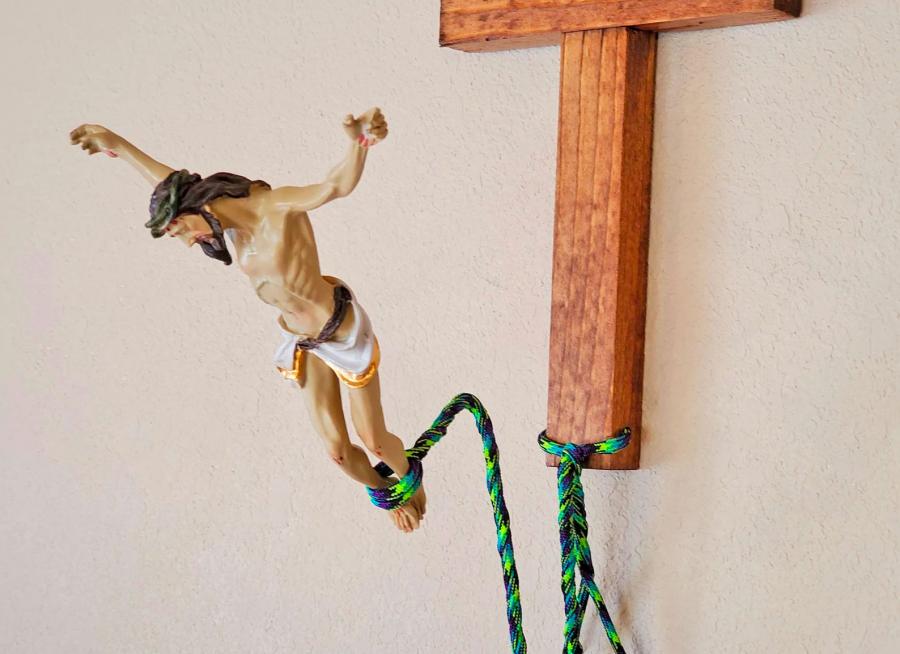 Credit: BunJesus
Made from high-quality pine wood, this cross is not only a conversation starter but also a sturdy addition to any wall. Measuring 5.5 inches in width, 15 inches in height, and 9 inches in depth, this cross is the perfect size to be noticed without taking up too much space. The Jesus figure itself measures 5 1/2" tall x 4 3/4" wide and is expertly crafted to look like it is actually jumping off the cross.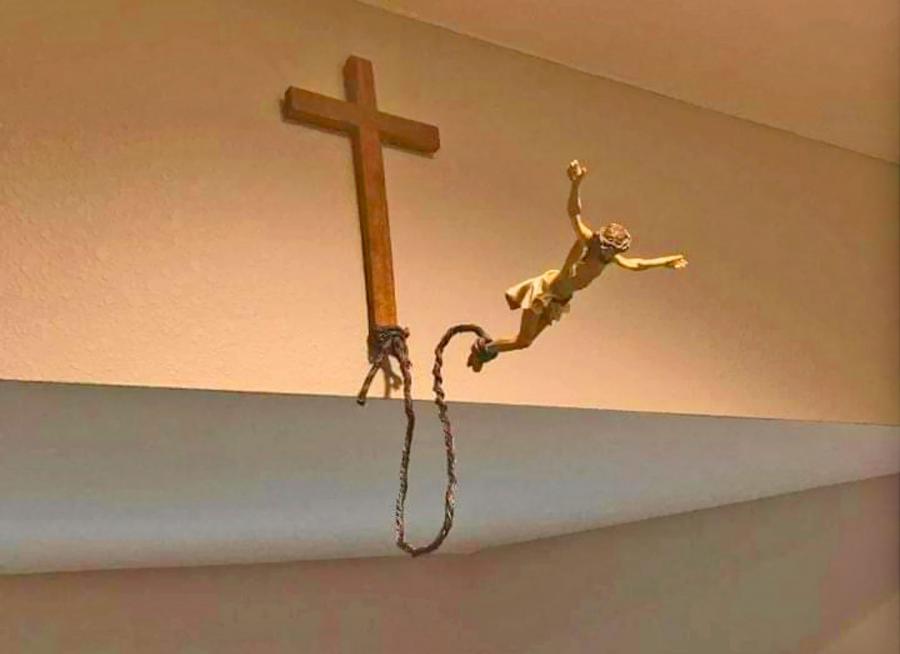 Credit: BunJesus
But what really sets the bungee jumping Jesus apart is the bungee cord that comes in 20 different colors to choose from. Credit: BunJesus
The cord may look soft and pliable, but it is actually stiff and expertly positioned to make it look like Jesus is actually in mid-air, just having taken the plunge. Whether you choose a bold and bright color or a more subtle option, the bungee cord adds an element of fun and whimsy to the design. Credit: BunJesus
This cross is the perfect addition to any home or office for those with a sense of humor and an appreciation for the unexpected. It's sure to make you and your guests smile every time you see it. Plus, it's a great way to start a conversation about your faith and what it means to you. Credit: BunJesus
Mounting the BunJesus is easy and hassle-free. It comes with all the hardware you need to securely attach it to any wall. Simply choose the perfect spot for it and you're ready to go. Whether you decide to hang it in your living room, bedroom, or office, the BunJesus is sure to be a hit. Credit: BunJesus
If you're looking for a way to inject some humor and personality into your home decor, the bungee jumping Jesus is a great choice. Credit: BunJesus
It's a unique and unexpected way to display your faith and start conversations with others. Plus, with its high-quality construction and fun design, it's sure to be a conversation starter for years to come. Credit: BunJesus
The bungee jumping Jesus is not your average wall-mounted cross. It's a fun and quirky way to display your faith while also showing off your sense of humor. Credit: BunJesus
With its high-quality construction, expertly crafted Jesus figure, and colorful bungee cord, it's sure to be a hit in any home or office. So why not add a little whimsy to your decor and give the BunJesus a try? We promise you won't regret it! Credit: BunJesus
You can snag one of these bungee jumping Jesus' from their Etsy shop for around $50 bucks! Credit: BunJesus