Bottle Opener Sunglasses
By Ryan on 03/13/2014 3:38 AM (Updated: 08/17/2017 11:03 PM)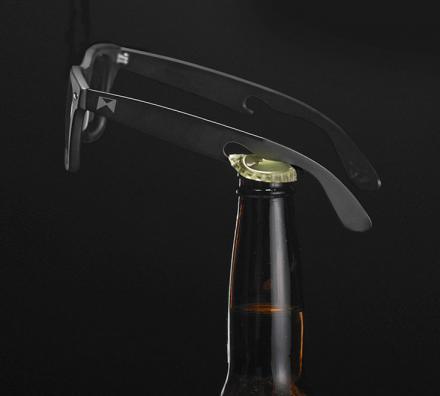 The bottle opener sunglasses are a pair of sunglasses that have a bottle opener built right into the frame and are great for people who enjoy drinking bottled beverages while in direct sunlight.
Theses sunglasses are made from plastic and will most likely break after a while, so you may want to purchase a higher quality pair of bottle opener sunglasses such as these that are made out of Titanium, which a meteor could smash into with the power of a thousand suns and they would still not even be scratched.
But we all know you are a cheap bastard and will just purchase the plastic pair. The sunglasses bottle opener has a plastic frame, with plastic lenses, and measures 6.2 inches x 2.6 inches x 1.2 inches.