This Guitar Doorbell Strums An Actual Guitar Each Time The Door Is Opened
Date Published: 04/03/2014 7:06 AM (Updated: 03/28/2018 8:35 PM)
The guitar doorbell is an acoustic guitar that hangs above your door and every time someone opens it, an attachment on the door will strum across the strings of the guitar and play a crunchy little groove to let you know your guests have arrived, or an intruder is about to end your life.
SITE ANNOUNCEMENT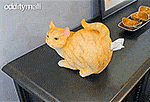 We Are Giving Away 6 Cat Butt Tissue Dispensers
The guitar doorbell aka GuitDoorbell has a fully functional half size acoustic guitar which you can even take down and play, can be tuned any way you like to switch up the sound that plays, and attaches to a mounting board above your doorway which measures 30.5 inches x 4 inches x 0.75 inches. Take a listen to the guitar door bell in action via the audio clip below.
Listen to the guitar doorbell: