Bird Law T-Shirt
Date Published: 06/03/2015 2:28 AM
Bird Law, hands down one of the most important parts of the law. Whether you consider yourself an expert in bird law or not, the Bird Law t-shirt is a great thing to wear because it spreads awareness of bird law to your family, your community, and to the people around you. We certainly have learned the most about Bird Law from Charlie Kelly from It's Always Sunny in Philadelphia, but it most certainly doesn't stop there, as bird law is bound to become in an integral part of our society. The Bird Law t-shirt depicts the scales of justice with what looks to be a pint of beer on each side of the scale with birds fluttering above each beer. Below the scales are the words BIRD LAW - Kelly & Associates.
SITE ANNOUNCEMENT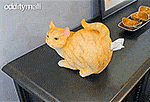 We Are Giving Away 6 Cat Butt Tissue Dispensers
Made by Castlemania Design, a maker of t-shirts with hilarious references to various areas of pop-culture, the Bird Law t-shirt is printed on Premium American Apparel 100% Jersey Cotton t-shirts, come in both unisex and woman's styles, come in three different colors to choose from, and range in sizes from small to XX-Large.