These Baby Bed Sheets Keep Track Of Their Height As They Grow
By Ryan on 08/06/2015 9:46 AM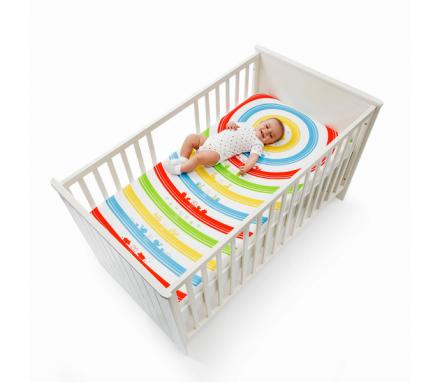 Aptly named 'GROW UP', these baby bed sheets will help measure your baby as they grow up, as they contain a growth chart printed right onto the sheets. Simply place your baby's head right in the center of the yellow circle at the top of the sheets as you normally would, and the different markings on the sheets will give you a general idea of how tall they are and how much they've grown since the last time you measured. No longer will you have to string them up next to a measuring tape to get their height, now you can quietly put them to bed and measure them in their sleep, similar to how it's easier to clip your dogs toenails while their under anesthesia at the vet's office.
Made by Donkey Products, a Germany based urban gifts shop, the baby measuring bed sheets give you 11 different intervals of measurements that give you a length in centimeters and inches depending on the country you live in, from 8 inches tall, all the way to 4 feet tall. Although if your child is 4 feet tall and still in a crib, you might have some bigger problems you'll need to worry about.
The baby measuring bed sheets are made from 100% cotton, and the sheets will measure between 23 - 27 inches wide x 4 - 4.5 feet long.