$50,000 In Movie Prop Money
By Ryan on 09/08/2015 5:12 AM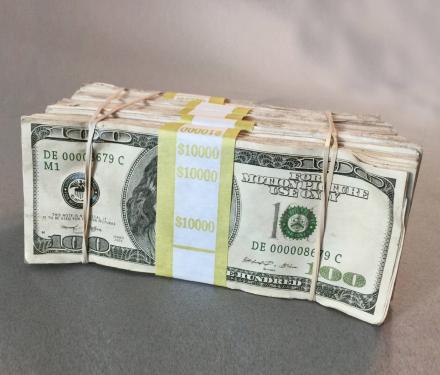 I can't think of a circumstance where a fake stack of $50,000 wouldn't come in handy in one way or another. Take for instance going to a strip club... You could place this fake stack of $50K in front of you so that all the strippers in the club think you have loads of money with you so that they give you the special treatment, when in fact your actually carrying 1 dollar bill that's slightly torn up from a vending machine that wound't accept it, along with a few nickels and dimes. As long as you get lap dances on credit from the strippers, telling them they'll get paid at the end of the night in a wild and flamboyant fashion, you should be good.
The fake stack of $50,000 is also made to look distressed and used as if it's been in multiple hookers and strippers ass-cracks, which will make the strippers you're pranking that believe you actually have money, believe you that much more.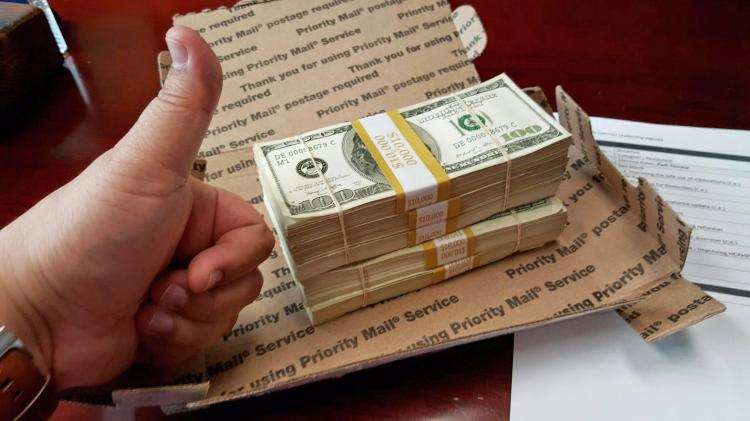 The way the fake money stack works is, the front note is made to look exactly like the front of a 100 dollar bill, other than the large text on the front that reads "FOR MOTION PICTURE USE ONLY", and the back is made to look exactly like the back of a 100 dollar bill, along with the same warning text. The middle of the entire stack is filled with blank filler paper. To make it even more realistic, the fake money is bundled into what looks like $10,000 sections with yellow paper binders, along with some dirty rubber-bands to really make it look like you're some sleaze ball that has way too much money on his hands.