Wrestler Elbow Drop Rear Wiper Blade Attachment
By Ryan on 03/20/2019 10:11 AM (Updated: 03/21/2019 8:27 AM)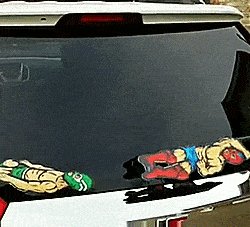 You may have seen our list of the coolest rear wiper blade attachments that turn your rear wiper blade into something extra awesome when it's turn on. Well, a new one came out that would probably top the list! It's the wrestling elbow drop wiper blade attachment, and it makes it look like a wrestler is dropping an elbow drop on their opponent with each rear wiper blade rotation.
Like all of the unique wiper blade attachment decals by WiperTagStore, the masked wrestlers elbow drop decals attach to any sized rear wiper blade, and will fit most left/right or solo rear wiper blades.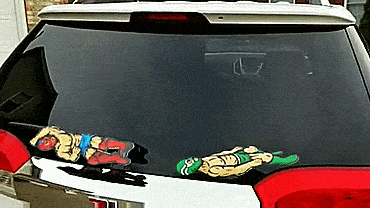 No matter how your rear wiper blade is situated, you can reverse the red masked wrestler to elbow drop to the right or left just by flipping him around as he's double-sided. This way you can lay the green masked wrestler down on the left or right side of car depending on your needs.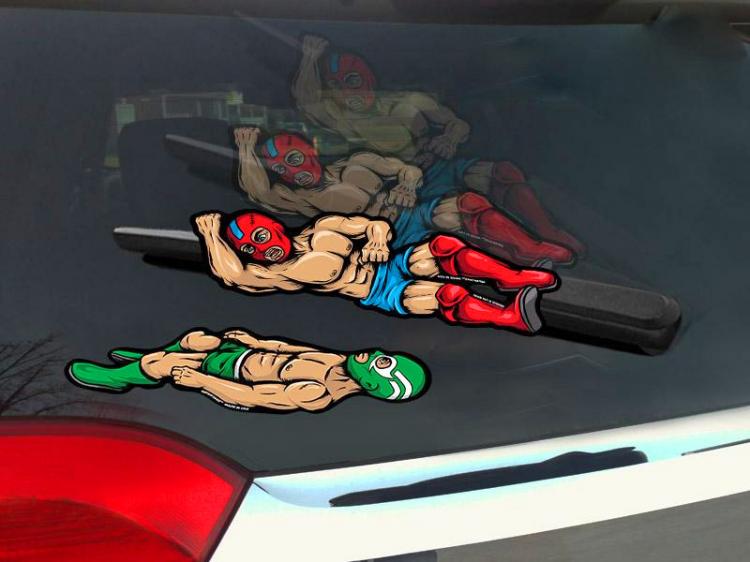 The masked wrestlers rear wiper blade attachments come in a set of two decals (green and red masked wrestlers), and are a perfect gift idea for wrestling lovers, Nacho Libre, or just masked wrestlers in general. The red and green wrestlers both measure 13 inches long x 3.75, though they do not need to match the size of your rear wiper blade.