This Unique Food Dispenser Drops Food Down With The Push Of a Button
By Ryan on 03/25/2021 2:26 PM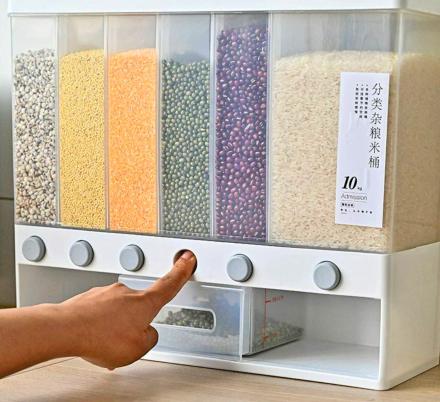 Tired of cans and jars cluttering up your kitchen? What about the hassle of trying to get the lid off a jar that just won't budge? This wall-mounted dry food dispenser might be the perfect solution for your home kitchen. The purpose of this unit? To easily store, dispense, and display the dry food you have around your kitchen.
The unique wall-mounted food dispenser has six segmented compartments with dividers between each one so there'll be no mingling between the foods you place inside of it. The dividers can also be removed to make more space for your favorite dry foods. This way you can have one larger compartment for your favofite cereal, and smaller compartments for smaller snacks like rice, nuts, coffee beans, etc.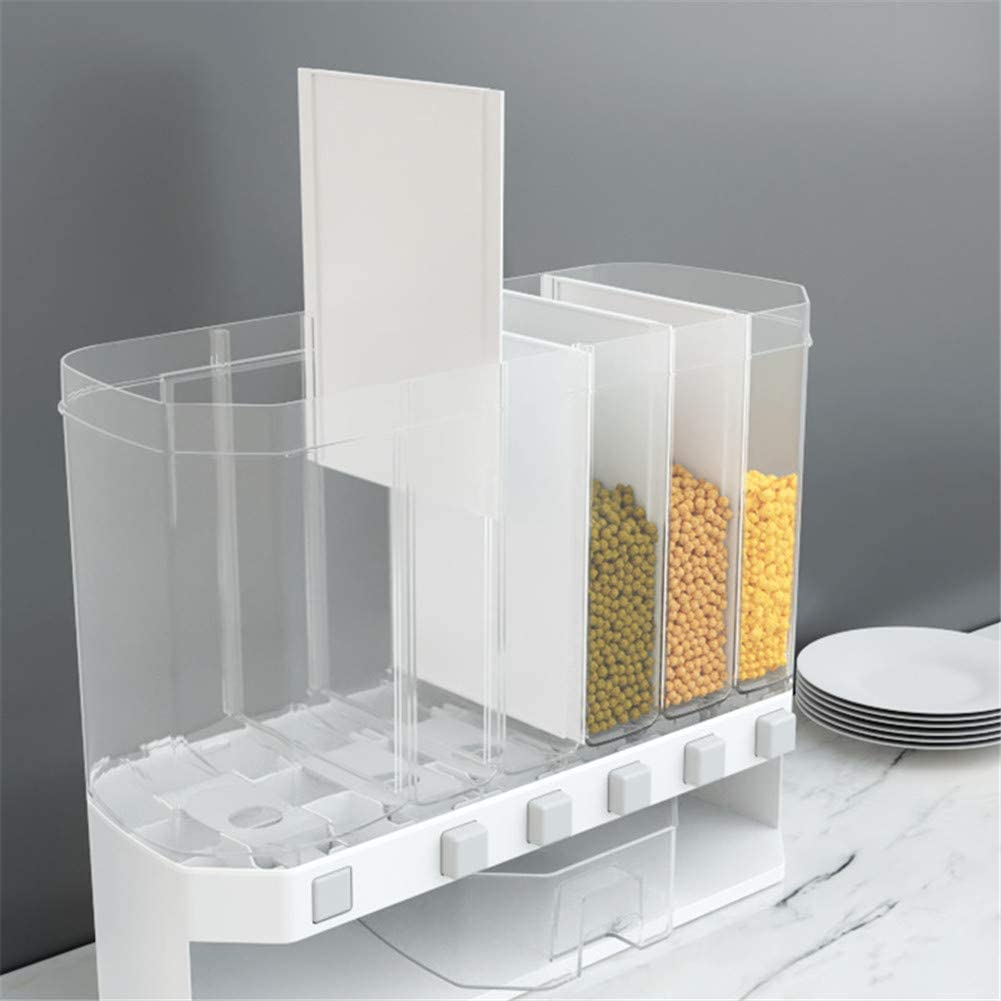 A convenient removable capsule comes with the unit. You can use it under the dispenser to fill it up with the food that drops out. Alternatively, you can just put your bowl or plate under the dispenser.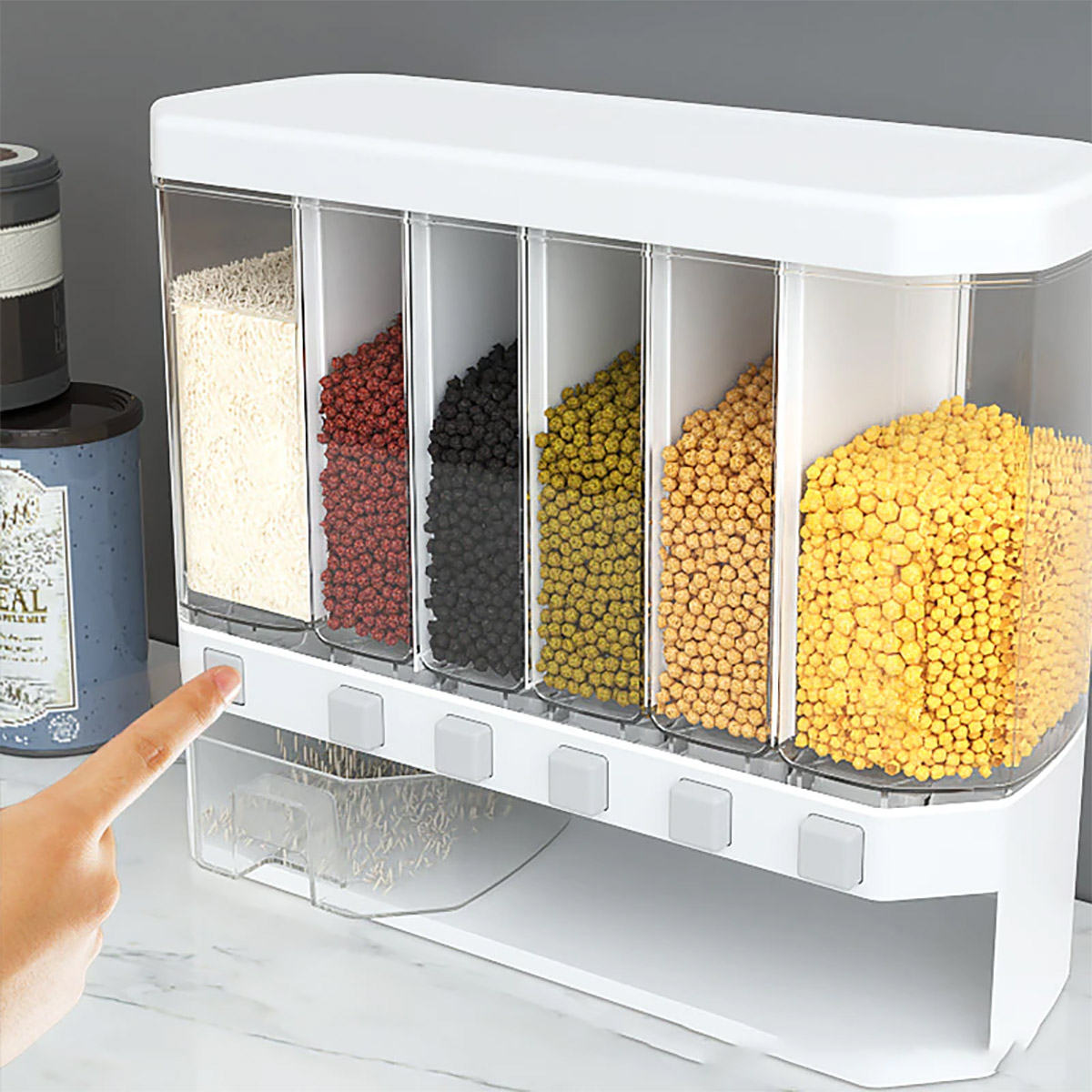 What kind of food can be stored in this unique food dispenser?
Since the compartments are generously large and modular, the sky is the limit. You can remove the dividers between compartments and open up the available space. We love to see cereal, rice, coffee beans, pasta, and different grains proudly displayed.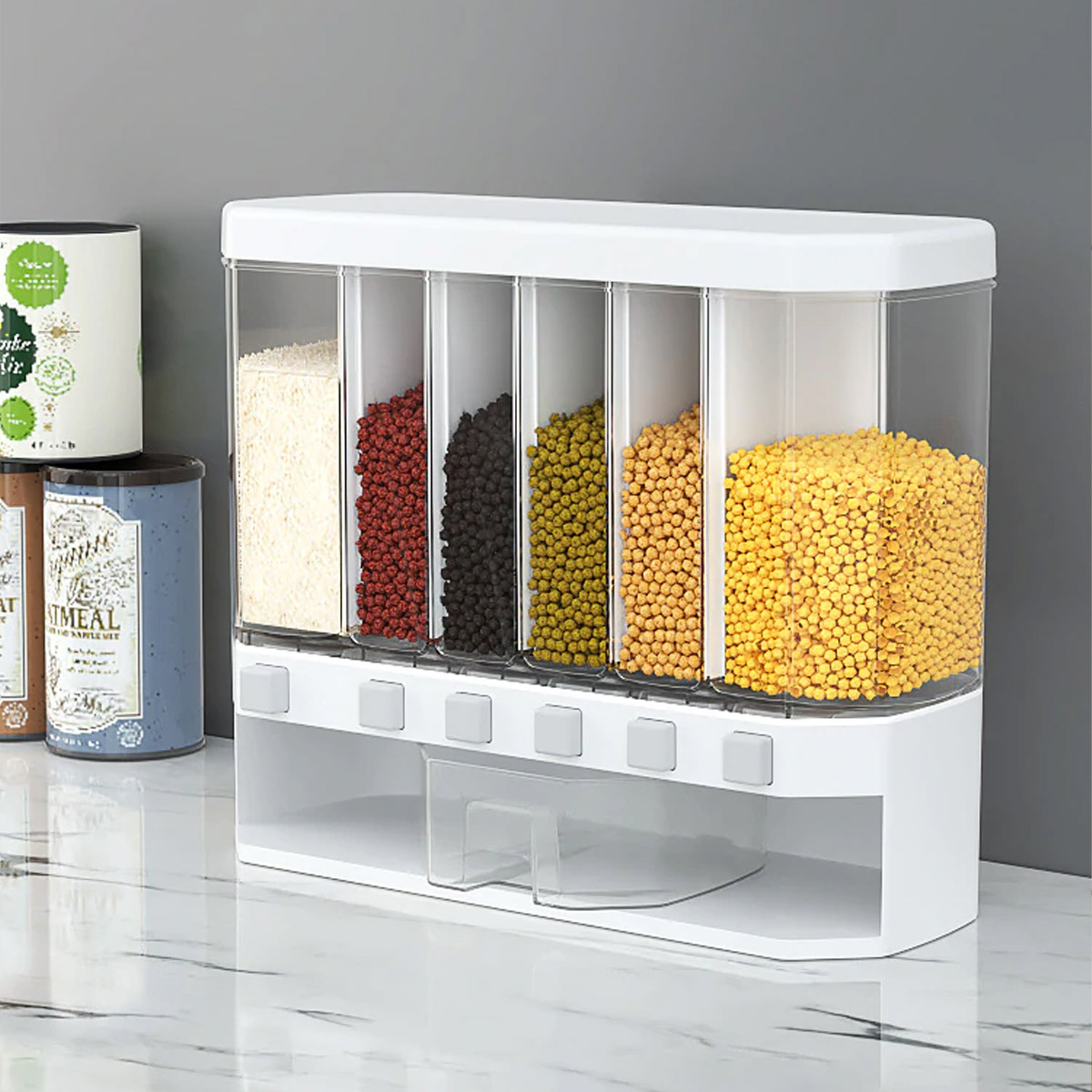 It's almost like you're framing your dry foods.
There's an opportunity to get creative with how you display your dry food. It doesn't have to be hidden in a cabinet in a small jar anymore. By using this dispenser, you're making your food look like a piece of art. The gorgeous colors and natural textures of different foods will play nicely with one another.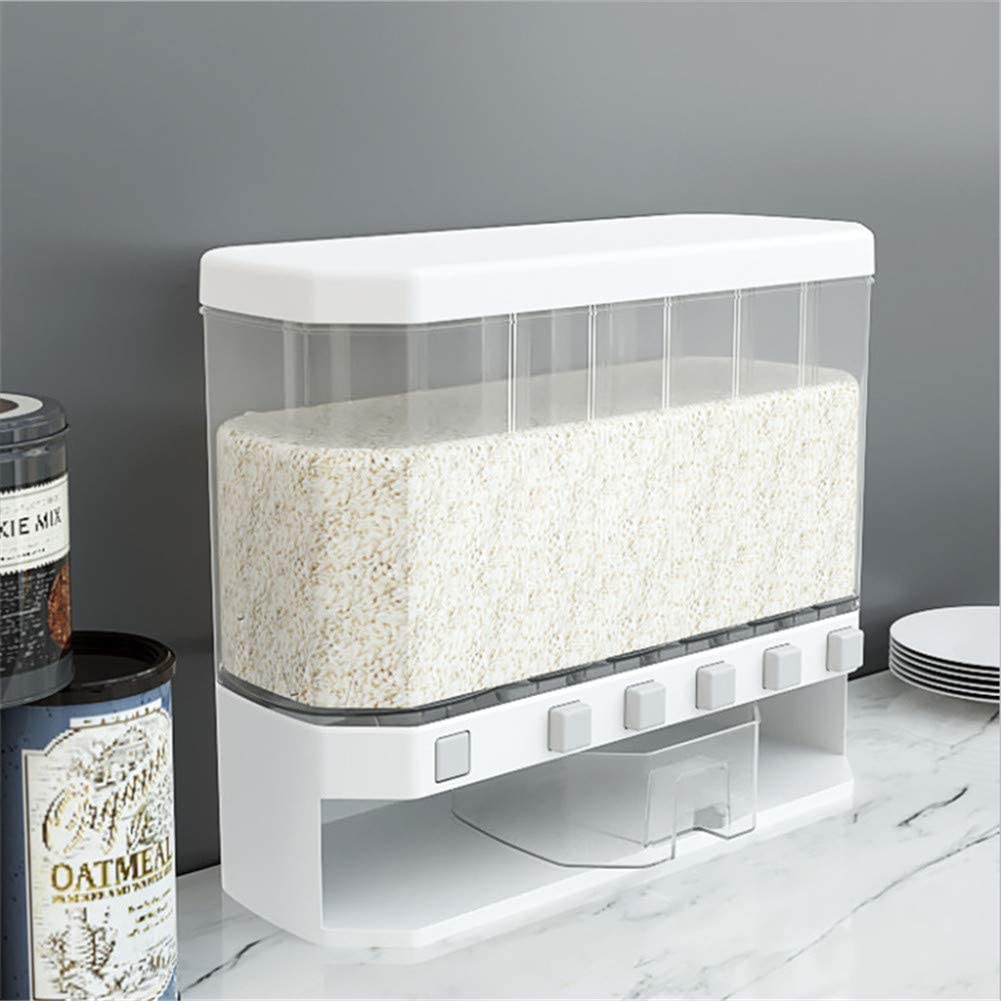 Getting a bowl of cereal has never been easier.
The whole unit is activated by a series of buttons. To dispense the corresponding food, you just press the button under the transparent window. Make sure your bowl is under the dispenser and hold the button until the bowl is full. It's really that easy.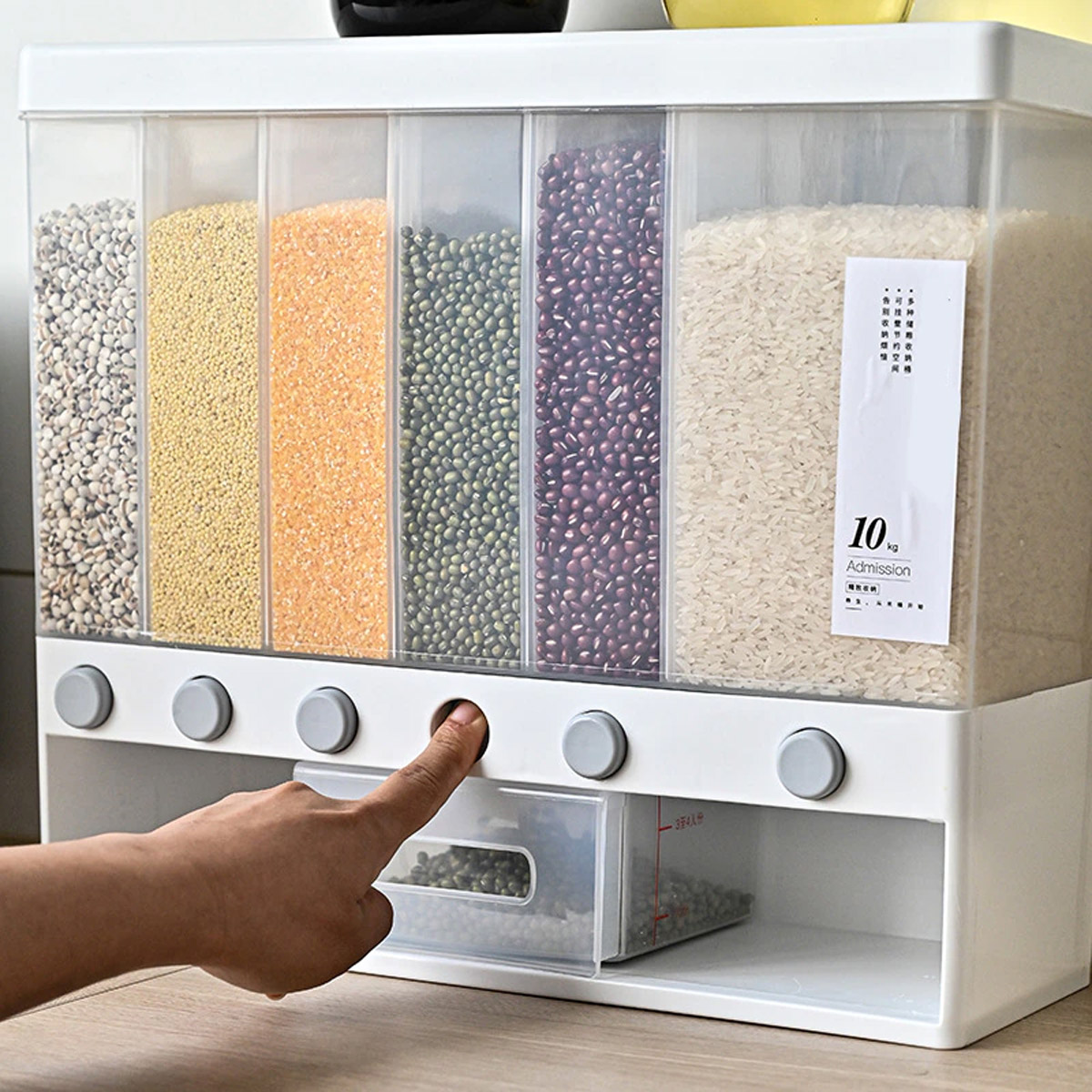 The best part? You can make your own little cereal bar. If your house has a few people that prefer different cereals, look no further. You can add up to 6 different types of cereals within the same unit. That means that no one has to compromise about what they're eating for breakfast.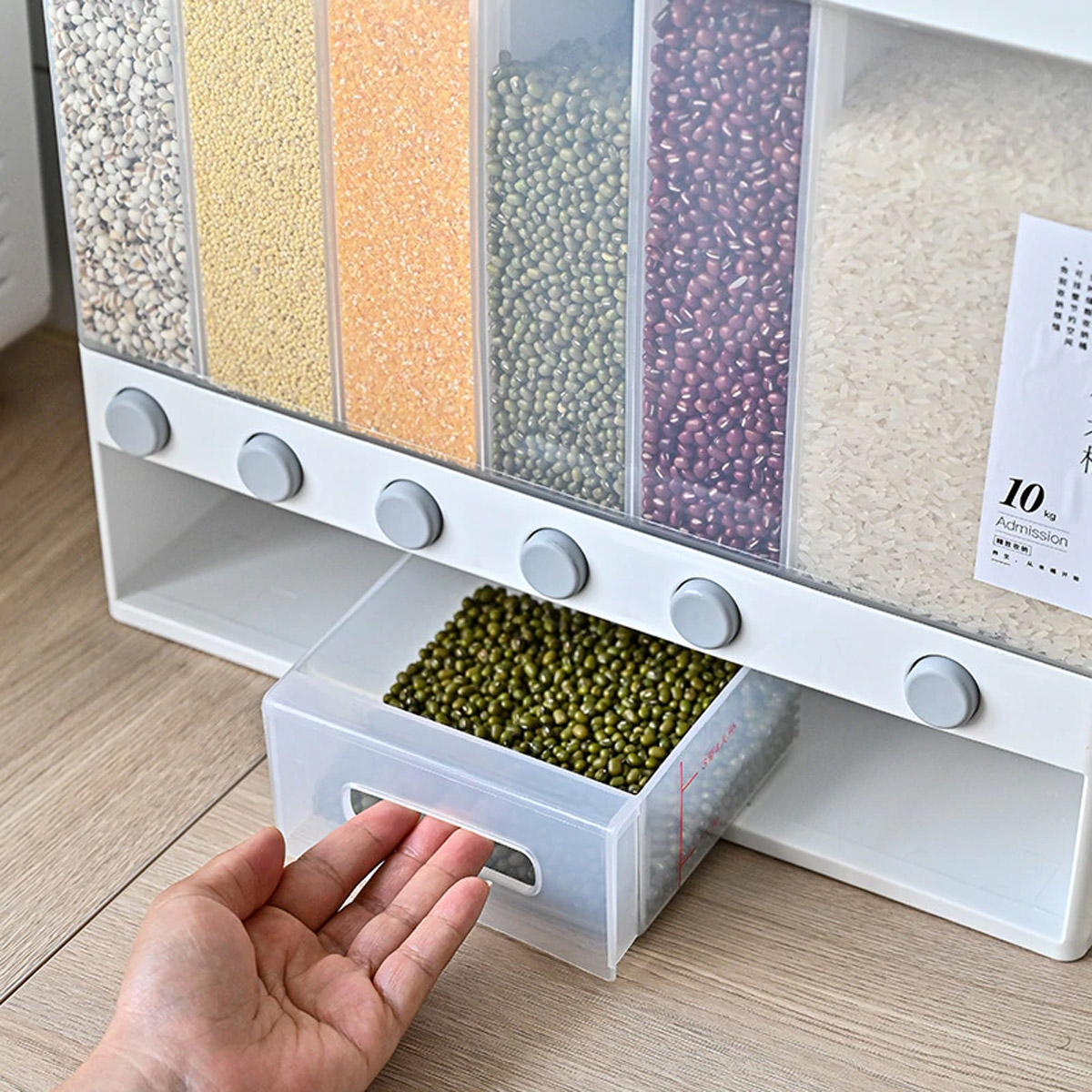 Don't worry – the material is food-grade. You don't have to risk your safety in the name of convenience.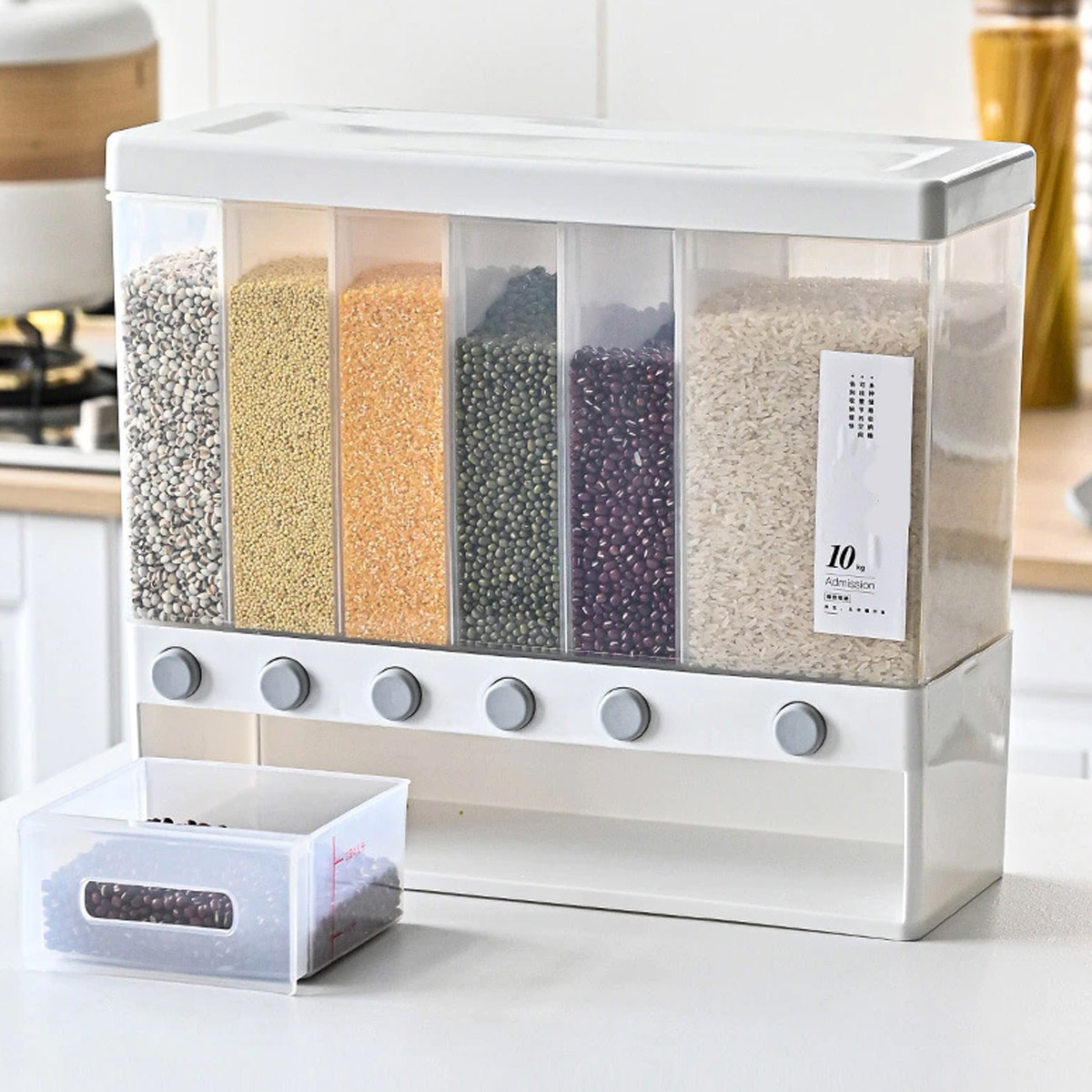 The entire assembly uses food-safe polypropylene. This is a type of plastic that's strong, lightweight, and transparent – the perfect combination for a dry food dispenser. Since the front windows are see-through, you know exactly what you're getting every time. When you're ready to refill the container, just take off the top lid.
The lid comes off easily and gives you access to all the compartments. Just check the window to see when you're ready to top-off the different dry foods. This feature also makes it really easy to clean this unit when you want to. You just have to take off the lid and remove all the dividers. You can wash those items separately then hand-wash the dispensing part of this unit. Wait for the pieces to dry before re-assembling the unit and filling it back up. The designers focused on ease-of-use for this dry food dispenser.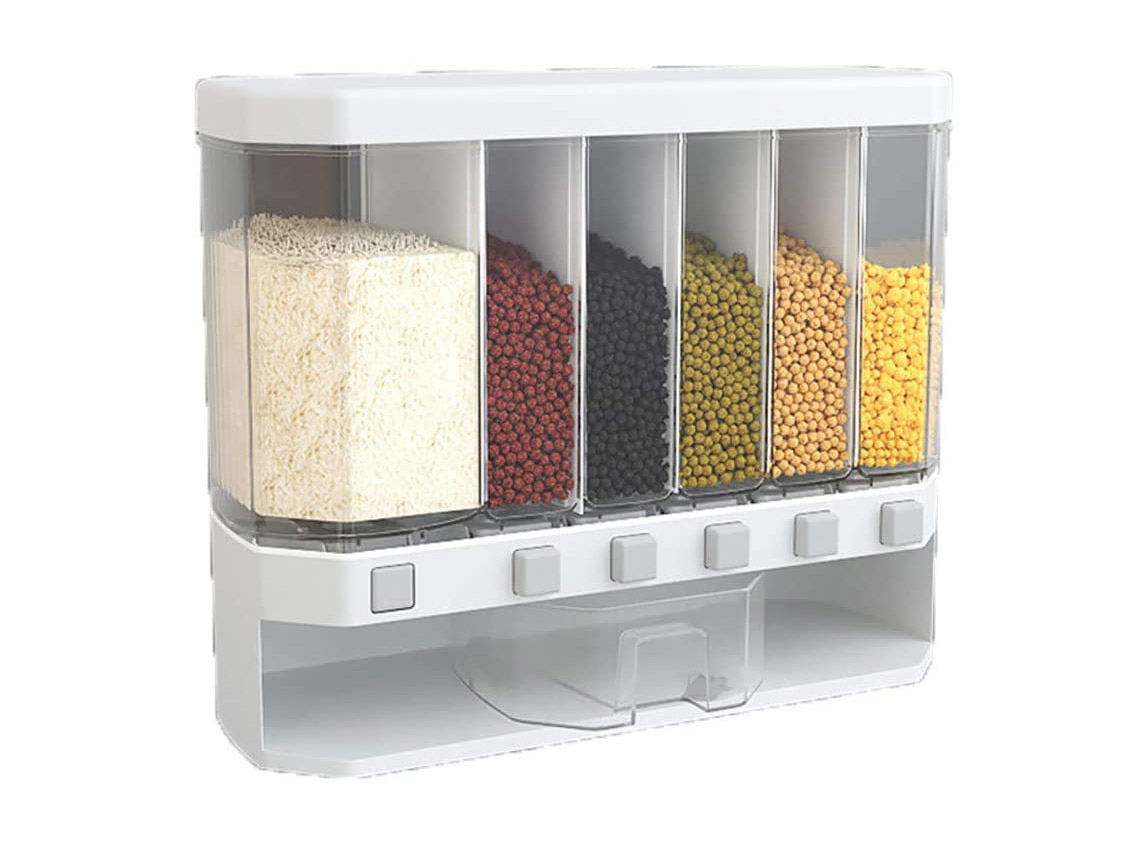 There's a ton of room in this container.
It's advertised to hold up to 26 pounds, and you'd be surprised to see how much rice that is. It's about 12.8" tall and 15" long. That's a lot of room for your favorite cereal!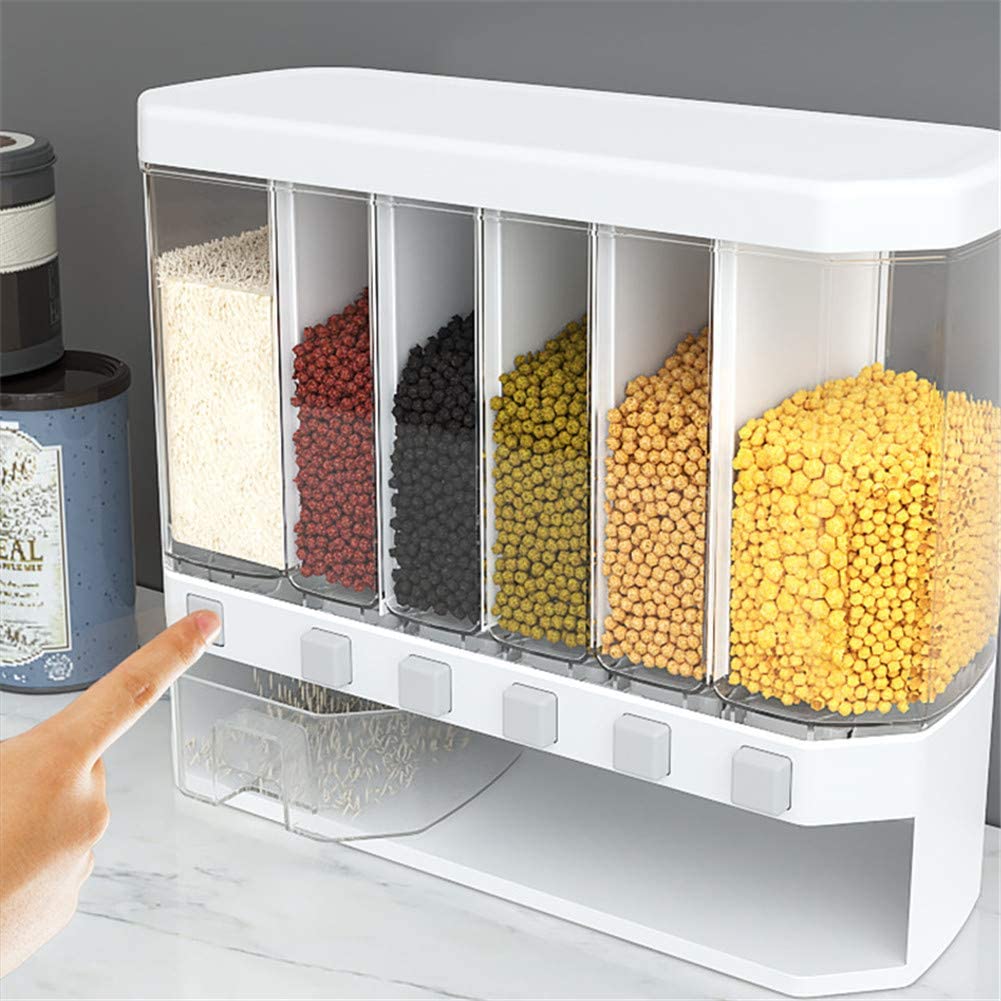 The color scheme is simple and makes it great for a modern kitchen.
Since this unit is going to be on display in your kitchen, it's a good thing that it looks so great and simple. It will look great in a modern kitchen or an older kitchen alike. The unit is mostly transparent with white pieces and gray buttons. It complements the space around it without distracting from your kitchen.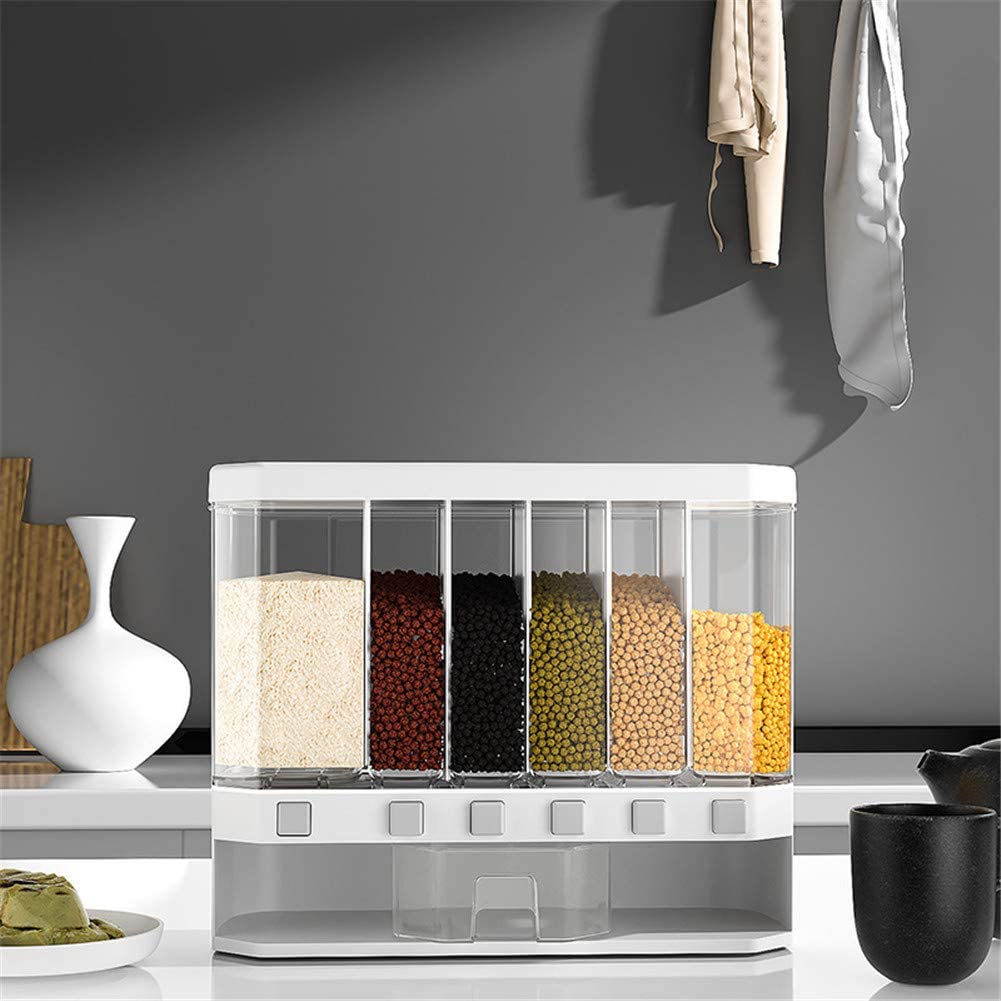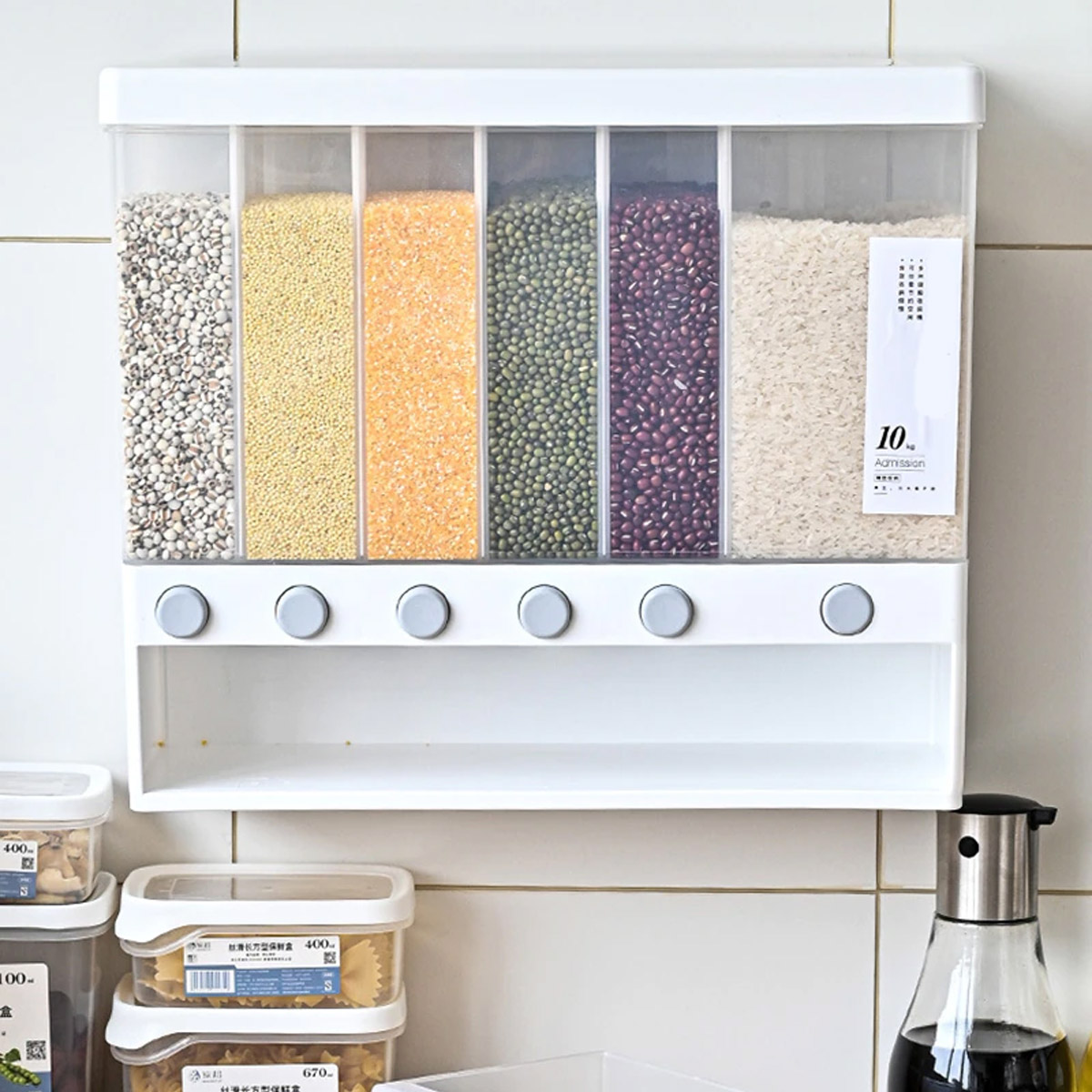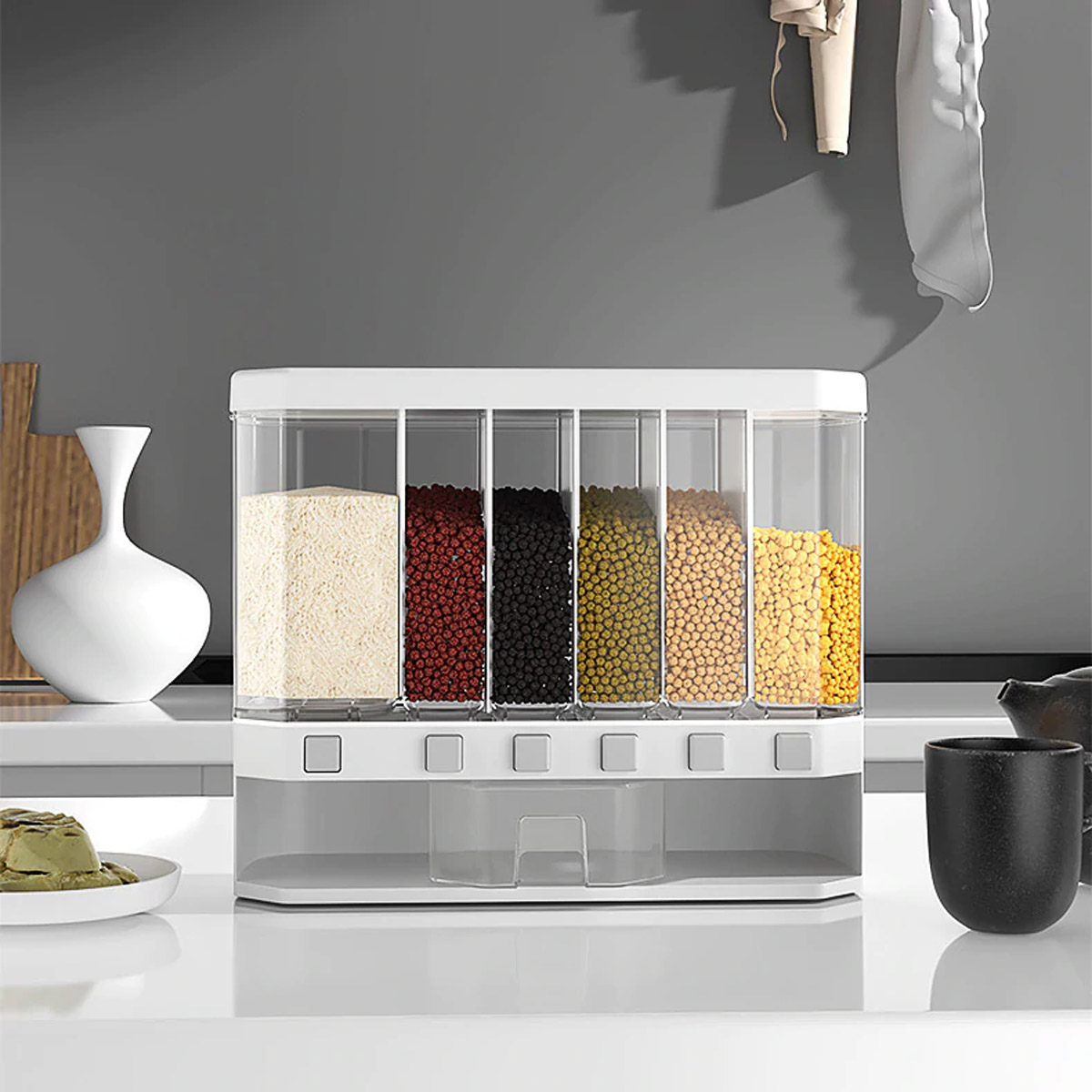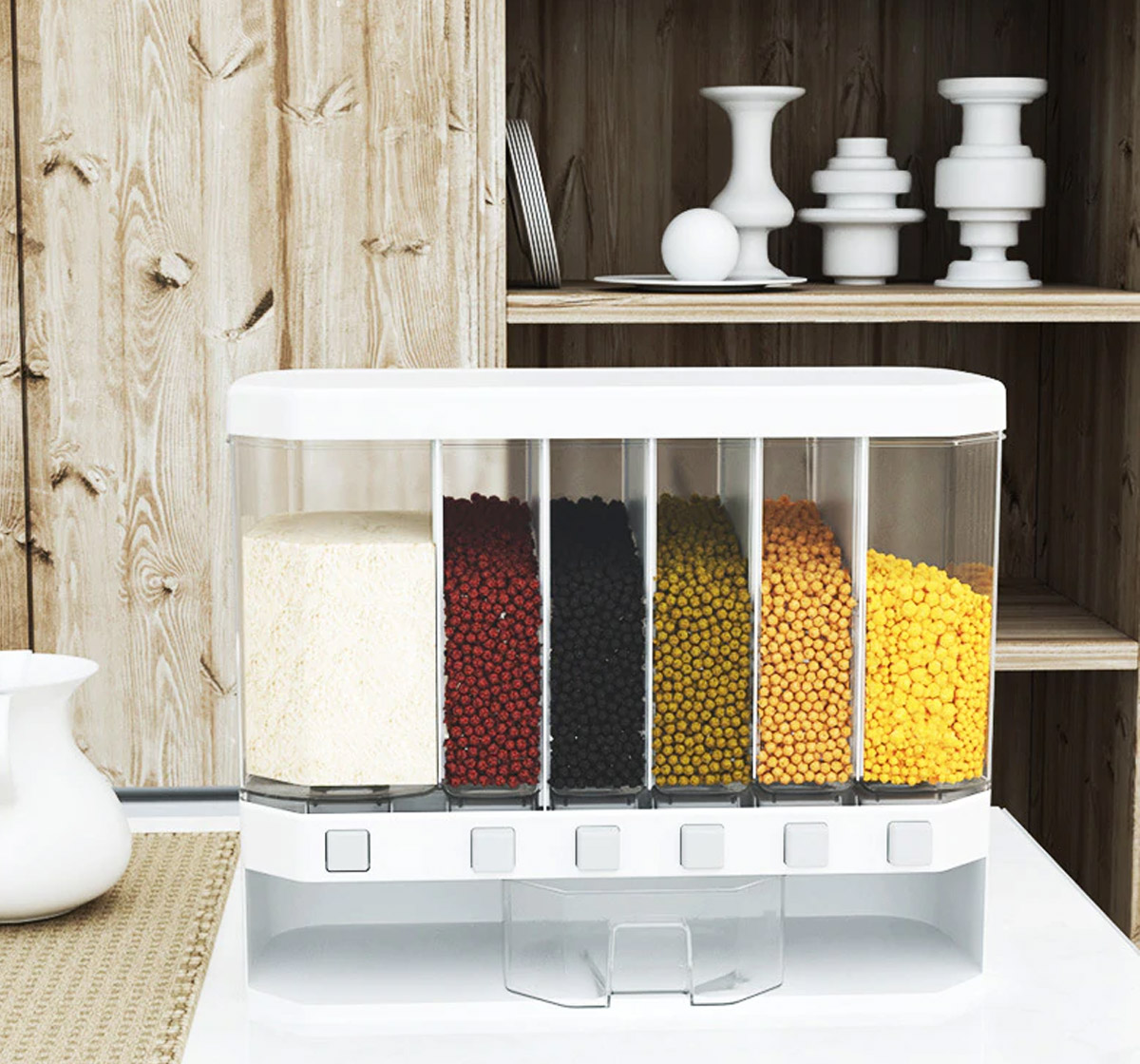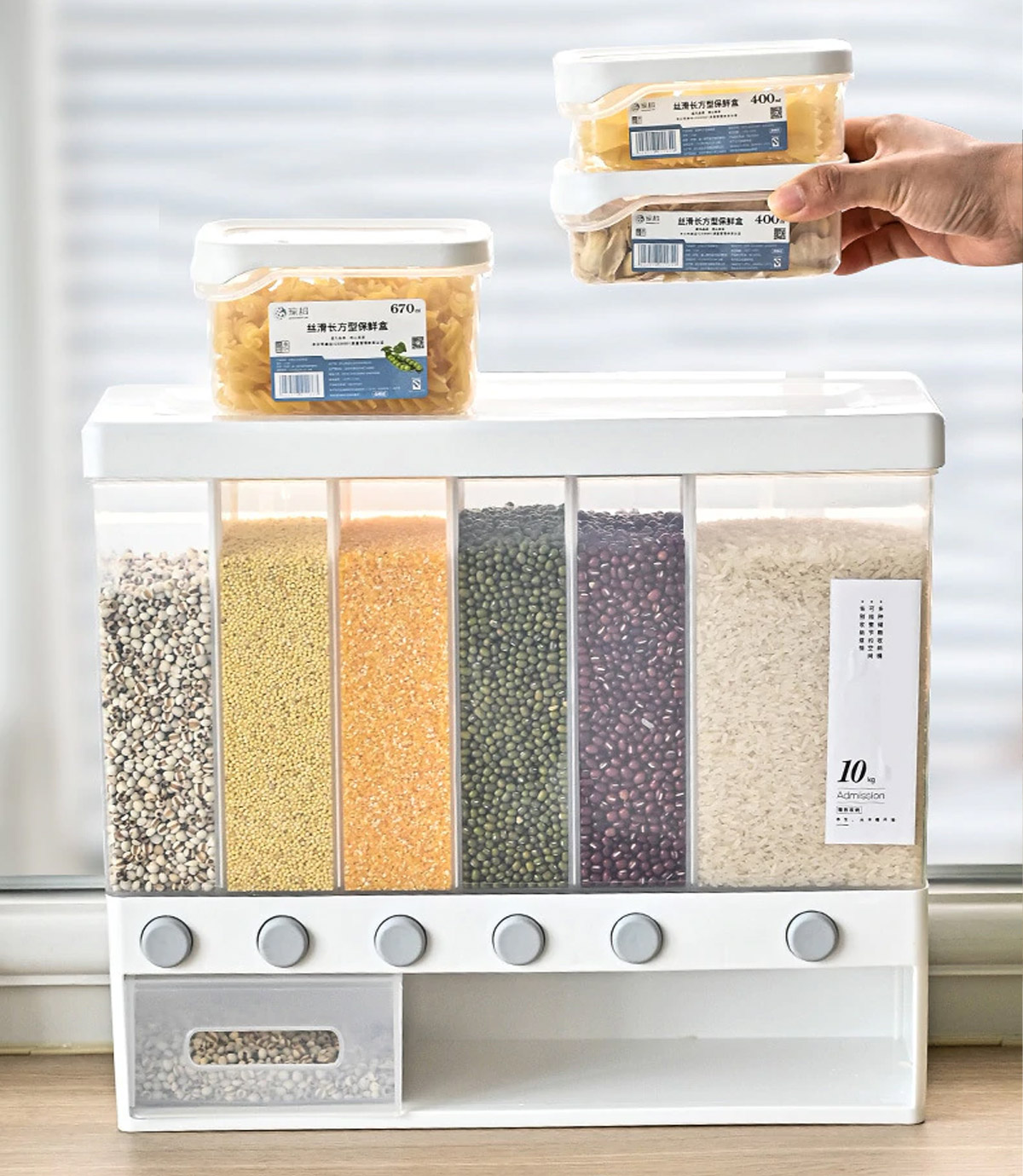 Check out the push button wall mounted food dispenser in action via the video below.
Subscribe To Our YouTube Channel