Under-Cabinet Swinging Knife Holder Block
Date Published: 02/23/2016 8:29 AM
Buy Now

@Amazon
Find on Ebay

The Wusthof Under-Cabinet-Swinger is a knife holder block that you install underneath your cabinet and swings in and out to give you easy access to your knives when you need them as well as protecting them from being grabbed by children by swinging back under the cabinet when not in use. The swinging knife block easily swings in and out from underneath your cabinet with a touch of a finger, plus it's a much safer alternative than having your knives always accessible by curious kids.
SITE ANNOUNCEMENT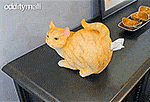 We Are Giving Away 6 Cat Butt Tissue Dispensers
The under-cabinet swinging knife block is made from beechwood, can hold up to 8 knives at a time along with 1 knife sharpener, is easily mounted under you cabinet using just 3 screws, and measures 10.25 inches long x 7.25 inches wide x 3.5 inches thick.