This Triple Pan Makes 3 Mini Pancakes at a Time
By Ryan on 04/07/2016 9:30 AM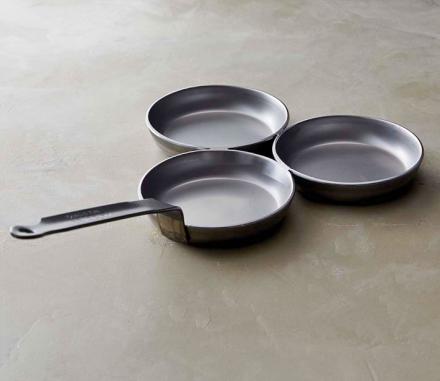 Most of the time when you use one larger pan to make multiple pancakes on your stove at the same time, they meld into each other thus ruining breakfast for everyone involved. This triple pan consists of three mini interconnected pans that allow you to make 3 pancakes at the same time without any issues. The triple pan is small enough to fit onto one burner on your stove, and looks just like 3 separate pans, although only one of them actually has a handle connected to it.
Great for making blinis, pancakes, or just three separate meals for your three lousy children that all require a different meal, the triple pan made by De Buyer and sold by Williams Sonoma, makes 3 pancakes at a time that each will measure 4.75 inches in diameter when fully cooked. The pan is made from solid blue steel that absorbs the heat slow and distributes it evenly for 3 perfectly cooked pancakes every time.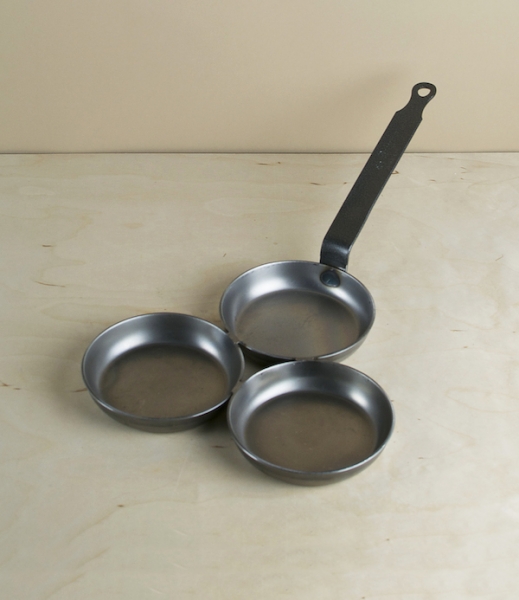 The De Buyer triple pancake pan is made in France, requires seasoning, weighs 2 lbs 14 oz, and measures 9.75 inches in diameter x 0.75 inches tall. Each pan's cavity measures 4.75 inches in diameter.