Super Mario Warp Pipe Toothbrush Holder and More Mario Bathroom Products
By Ryan on 06/04/2019 11:36 AM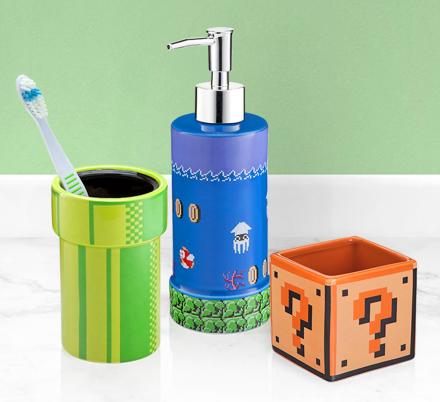 What kid (or let's be honest, adult who grew up in the 80s and 90s) doesn't want to level up their bathroom to a Super Mario themed bathroom? With these bathroom necessities you can pretend like you're battling for Princess Peach's freedom just by brushing your teeth in the morning. The full set includes a warp pipe toothbrush holder, a Super Mario scene soap dispenser, and a question block tumbler.

Items:
Warp Pipe | Soap | Question Block
Be careful when placing your toothbrush in this warp pipe toothbrush holder...As soon as the toothbrush is in it will transport your toothbrush to a new level (of dryness) and I'd hate for your hand to go along for the ride. The 4 ¾ x 3 inch pipe is made of ceramic and is guaranteed to be free of piranhas!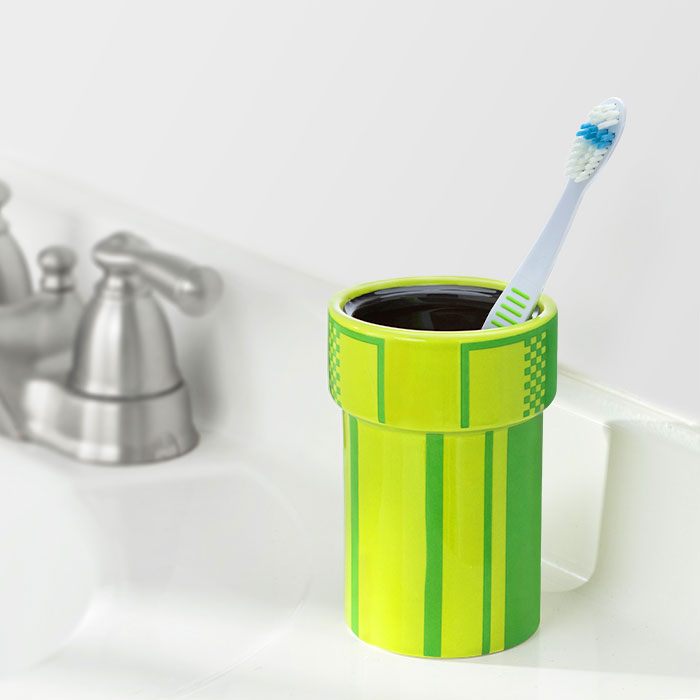 When it comes time to clean up the Mushroom Kingdom, your spaghetti crusted dishes, or your hands, this Super Mario soap dispenser is the perfect Luigi (or sidekick if you will). And while you Super Mario super fans will notice the 11 ounce ceramic dispenser depicts a scene from Word 2-2, we promise that it won't get clogged with cheep cheeps (fish), Bloopers (jellyfish), or coins (though that wouldn't be so bad…).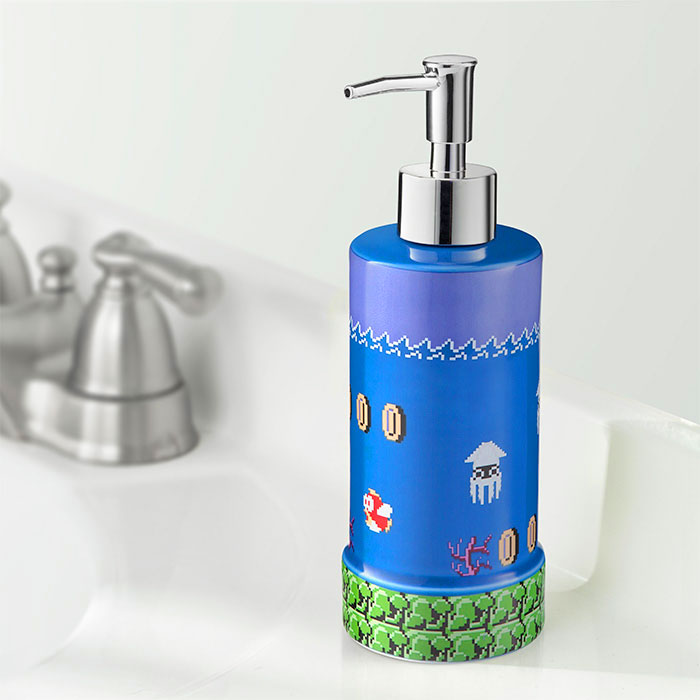 We are sorry to say this question block tumbler won't give you fire flowers, but it can help rinse your mouth so you have a super chance of scoring points with Princess Peach. But the great thing about the 9 ounce question block is that many things could be inside...mouthwash, water, pens, gold coins, super mushrooms...the possibilities are endless...