Step Step: A Stool With A Shoehorn In It
By Ryan on 01/22/2015 3:04 AM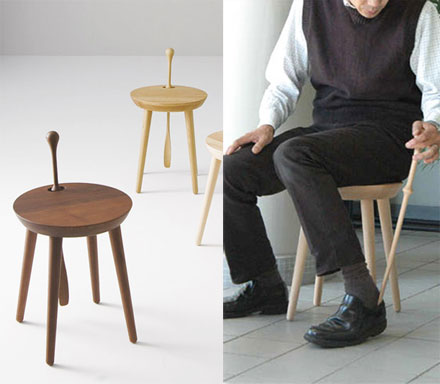 The Step Step is a wooden stool that has a hole in the middle of it for a shoehorn, and is truly the only classy way to put on your shoes, that is unless you have slip-ons, slip-ons are always more classy. Designed by the award winning Kawakami Motomi, a designer from Japan, the step step shoehorn stool is an excellent alternative than leaning against the wall or attempting to smash your feet into your shoes to put them on. Just make sure you take the shoehorn out of the chair before you sit down, otherwise you're probably going to have a bad day. Also another cool things is the step step's logo is an image of the stool from the side which also looks like some sort of Chinese character. Now with that in mind, I would say this tiny stool is well worth the $500+ that it costs!
The Step Step shoehorn stool comes in a wood of your choosing, between oak wood, beech wood, and walnut wood, is made by Nissin, and the stool measures 13.2 inches in diameter x 16.1 inches tall, while the shoehorn measures 1.5 inches in diameter x 21.6 inches long.
If you're too poor to pay $500 for a stool to put your shoes on, an alternative would be to use a wide log and a pointy stick, they'll probably do the trick for you.