Shark Shaped Cocktail Shaker
Date Published: 04/09/2015 8:48 AM
This shark shaped cocktail shaker is made to resemble the king of the sea, a great white shark, and although it looks like it was fashioned from an old crinkled up can of RC cola from 1987, this behemoth of a cocktail shaker can surely mix a mean cocktail that will have waking up the next morning in a strangers garden. Similar to the airplane cocktail shaker, this shark shaker uses its fins to rest on the table to give it that extra classy look to it. Plus the best part is the head of the shark pops right off and acts as somewhat of a lid to the shaker. Cocktails not your thing? Don't worry, maybe the shark shaped beverage cooler is more your thing which you can stick beers, wine, or liquor into to keep cool during a party, plus it measures 3 feet long from tail to head.
SITE ANNOUNCEMENT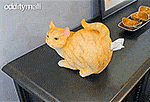 We Are Giving Away 6 Cat Butt Tissue Dispensers
The Shark shaped cocktail shaker is made from aluminum on the outside and stainless steel on the inside, holds 20 fluid oz of your favorite booze, is hand wash only, and measures 16 inches long x 8 inches tall x 5.5 inches deep.