Realistic Severed Finger Soap Bars
Date Published: 06/08/2015 3:05 AM
There's certainly no shortage of weird soaps in this world, including soap that looks like poop, soap that smells like bacon and whiskey, soap that slowly reveals a nasty message, or soap that's filled with razor blades. Who's to say we can't also have soap that's shaped like severed human fingers. There's certainly nothing quite like stepping into a nice warm bath tub and rubbing severed fingers all over your body to clean yourself. If the creepiness factor of soap that looks like fingers is just too much for you, you can at least take solace in the fact that the fingers are made with a fragrance to smell like fresh watermelon. So if you close your eyes and imagine hard enough, you might be able to lie to your body that you're not actually rubbing severed fingers on your body.
SITE ANNOUNCEMENT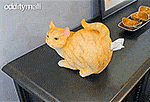 We Are Giving Away 6 Cat Butt Tissue Dispensers
The severed fingers soap bars are so realistic they include the fingernails and finger wrinkles, come in a set of 4 fingers, are handmade from a plethora of different ingredients including glycerin soap, sodium cocoate, titanium dioxide, fragrance oil, and soap color, and weigh approximately 2.5 oz in total.