Porcelain Hippo Pencil Holder
Date Published: 04/24/2015 2:01 AM
Buy Now

@Amazon
Find on Ebay

If I were to walk into your house and see that your pens and pencils are being held in a mug or some normal cup, I would walk out in disgust of your lack of creativity and uniqueness. "The King's Subject" as so they're called, are a set of porcelain figures that are meant to sit on your desk and hold your pens, pencils, markers, crayons, or really whatever you want in a unique fashion that is sure to impress walker-byers. The set includes a hippopotamus which holds your items in his giant mouth, a giraffe, an ostrich, and a few more. Designed by Micheal Revil Madjus, a product designed from Toronto, each porcelain animal container features a colored bird that perches atop each animals head.
SITE ANNOUNCEMENT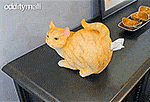 We Are Giving Away 6 Cat Butt Tissue Dispensers
The hippopotamus pencil holder is made from porcelain, is white in color with a glazed finish, features a red bird atop the open mouth of the hippo, and is recommended to clean with a damp cloth.