Pixelated Nintendo Cartridge Shower Curtain
By Ryan on 03/23/2016 6:52 AM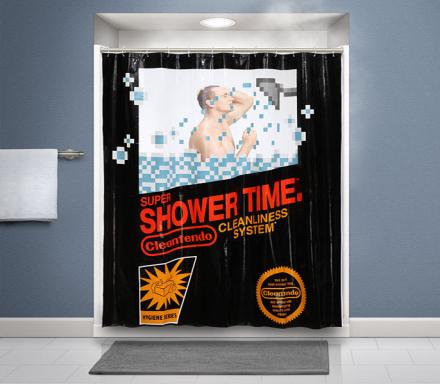 This geeky shower curtain is made to look like a game cartridge from an old Nintendo system. You know, those cartridges that you had to blow in for a good 30 seconds every time you wanted to play a game. But then once that wouldn't work, you had to prop the game down in the system with a second game so that it would be read correctly and not start blinking black on the screen. If that wouldn't work a good blow into the system along with a smash of your fist on the top of the device would usually do the trick. Now that I think about it, maybe it was so many geeky fists of rage that came pummeling down on the top of the system from losing at Battletoads level 3 so much, thus damaging the system, that made you have to blow into the cartridges in the first place.
This game cartridge shower curtain puts you inside of a game called 'Super Shower Time' by having a clear window where you can see right through to the person showering (thankfully above the torso and up). The shower curtain even has pixelated water coming out of a pixelated shower faucet that truly makes it realistic looking.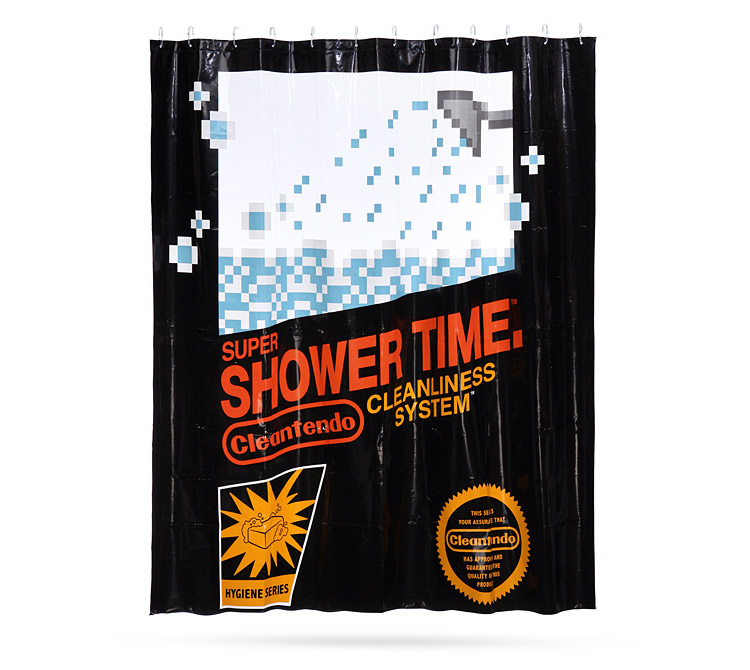 The geeky NES cartridge shower curtain comes with 12 shower rings to properly hang it on your existing shower pole, is made from 100% EMA vinyl, is a ThinkGeek creation and exclusive product, is obviously waterproof, and measures 72 inches wide x 72 inches long.