Optical Illusion Watch
By Ryan on 07/30/2015 4:41 AM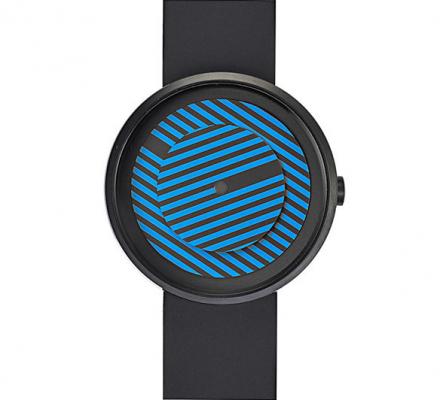 This watch is made to look like an optical illusion as it features two separate rotating watch faces that have a similar striped pattern on them. The inner watch face represents the minute hand, while the outside rotating watch face represents the hour hand. Right at midnight the two hands will meet at the top to give your brain about a minute to calm itself down and stop tripping before it all starts over again for another 12 hours. Yet another example of a clock that makes it harder to tell time, which for some reason is a thing now-a-days, the optical illusion watch is perfect to wear during an acid trip, because knowing the time is absolutely going to be the most important part of your day.
The Optical Illusion Watch was Designed by Alessio Romano, an Italian designer that was inspired by the culture and the style of the 60s, in particular the optical arts (op art) scene, which influenced him to create the Optical watch.
The Optical Illusion watch is made from black IP stainless steel along with a silicone wrist band, is water resistant at up to 3 ATM, and comes in two different color options to choose from including optical grey, and optical blue. The watch band measures 0.7 inches wide, and the watch face measures 1.4 inches in diameter.