Nintendo Controller Pool Float
By Ryan on 06/22/2015 5:30 AM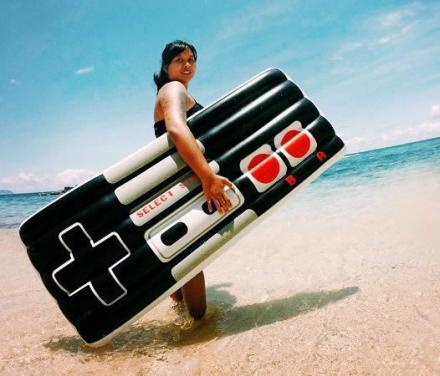 Shaped like an old NES controller, this pool float was made for the greasiest of nerds who would like to crawl out from the dimly lit room where they just got done with a 48 hour session of World of Warcraft, and show their face to society for a short time by relaxing in the pool until their pale skin fries into oblivion. For the geeks who most likely wear a shirt into the pool, the Nintendo controller pool float is perfect to relax on while showing the world your love for 80's video games while you and your nerd comrades argue over which Super Mario Bros game is the best. A perfect gift idea for the geek or gamer in your life the NES pool float is great for use at the pool, at the lake, or maybe you've even ventured yourself all the way to the ocean.
Made by Big Mouth Toys, a novelty and prank toy shop that's brought you other goodies such as the Cheeseburger Cookie Jar, the Red Solo Cup Koozie, and the Gun Shaped Coffee Mug.
The Nintendo controller pool float is made from multi-color durable vinyl, and when fully inflated the float measures 5 feet long x 3 feet wide x 4 inches thick.