This Mount Fuji Kleenex Box Makes Your Tissues Look Like an Erupting Volcano
By Ryan on 06/02/2015 2:47 AM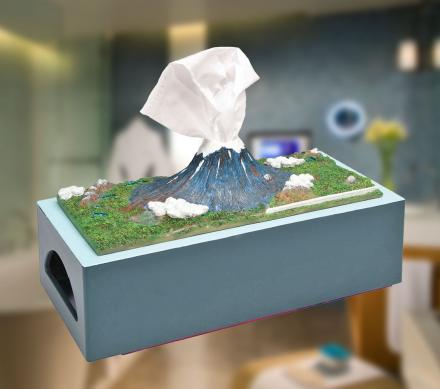 This tissue box is made to look like Mount Fuji and designed so that the hole your tissues come through is the tip of the mountain so that your white Kleenex makes it look the volcano is erupting. Perfect to set on your desk at work and enjoy the beautiful scenery that Mount Fuji has to offer while you die a little more inside as you come into work each day, staring at your dimly lit computer screen while you type numbers into an excel document, hoping just maybe this will be the day that a small trash can catches fire and burns the entire building down. Plus the tissue box even has a little white train that looks like it's moving across the mountain side. How cute!
Although the volcano Kleenex box does make it look like the mountain is billowing white smoke out from the top of the mountain using each fluffy tissue, I can only think of how hard it might be to start the process of the tissues coming out of the mountain. That first tissue is always the hardest to get out of the box.
The Mt. Fuji tissue box holder is made from rugged resin with full detail of the actual volcano, is sized to hold any standard box of tissues, makes a great unique gift for any volcanologist, geologist, Japan enthusiast, or mother nature adorer, and measures 10 inches long x 5 inches wide x 5 inches tall.