Moby Whisk: A Whale Shaped Whisk
Date Published: 02/03/2015 2:01 AM
Buy Now

@Amazon
Find on Ebay

The Moby Whisk is a mixing whisk that is made to look like a whale by using a whale tale as the handle along with two of the whisk wires shaped to look like fins. I'm not sure what our obsession is with mixing animals with kitchen tools and accessories is, such as the recent Loch Ness Monster ladle posted a few weeks ago, the whale strainer, or the lobster claw oven mitts. Maybe it's some sort of sick and perverse way of showing the animals that we are so dominant over them that we make tools to mimic them and then use those tools to prepare their dead carcasses into a savory meal. No, I'm not complaining, I more than anyone enjoy a nice side of whale blubber to accompany my Loch Ness steak filet, it's just fun to point out the idiosyncrasies us humans have with animals.
SITE ANNOUNCEMENT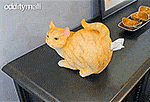 We Are Giving Away 6 Cat Butt Tissue Dispensers
The Moby Whisk is made with a heat resistant ABS plastic handle along with stainless steel wires, and measures 14 inches long x 3.5 inches wide x 2.5 inches deep.