There's Now a Giant Inflatable Friends Coffee Shop Couch Sprinkler, and It Fits 3 Adults
By Ryan on 03/02/2023 10:06 AM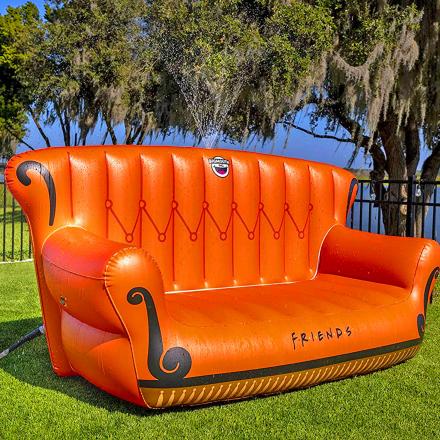 Picture this: it's a hot summer day, the sun is shining, the birds are singing, and you're in the backyard with your closest friends. You want to cool off, but you also want to relax and take in the beautiful day. What do you do? Enter the Friends Couch Sprinkler!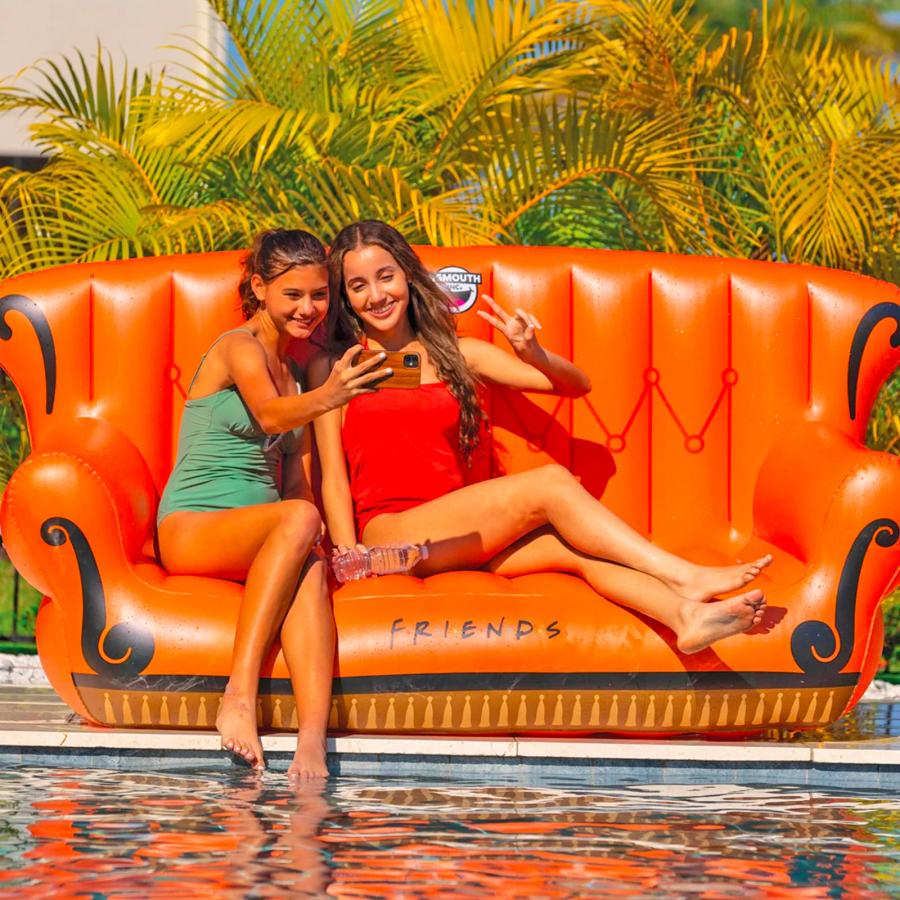 If you're a fan of the hit TV show Friends, you'll know exactly what we're talking about. This giant inflatable sprinkler is shaped like the iconic orange couch from Central Perk, the famous coffee shop hangout spot for the show's characters. But it's not just any ordinary inflatable couch; it's also a sprinkler!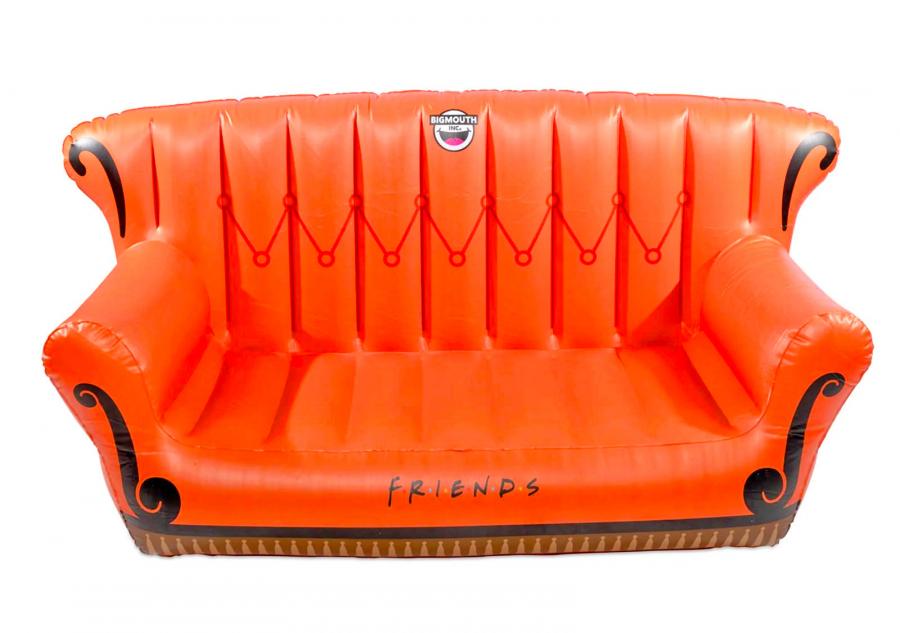 With a large speed air valve, inflating the Friends Couch Sprinkler is quick and easy. Once it's inflated, it's ready to go. Hook it up to any standard garden hose, and you'll have a steady stream of water shooting out from the sides and back of the couch. You can adjust the water pressure to your liking, making it perfect for both adults and kids. One of the best things about the Friends Couch Sprinkler is that it can fit up to three adults at once. So, not only can you cool off with the sprinkler, but you can also lounge with your friends on the iconic couch. Imagine sipping on your favorite summer drink while sitting in the same spot where Ross, Rachel, Chandler, Joey, Monica, and Phoebe all shared countless laughs and heart-to-heart conversations. But it's not just a fun way to lounge and cool off. The Friends Couch Sprinkler is also a great way to create some Instagram-worthy moments. Just imagine the photos you can take of yourself and your friends lounging on the couch, with the water spraying all around you. It's the perfect backdrop for any summer photo shoot. The Friends Couch Sprinkler is made from durable materials, so you can enjoy it all summer long. And when it's time to pack it away, it deflates easily and can be stored in a compact space. It's also easy to clean; just wipe it down with a damp cloth and let it dry before storing it away. Overall, the Friends Couch Sprinkler is a quirky and fun addition to any backyard. It's perfect for summer parties, pool parties, or just a lazy day in the sun with your friends. With its bright orange color and iconic design, it's sure to be a conversation starter and a hit with anyone who sees it. So, whether you're a die-hard Friends fan or just looking for a fun way to cool off this summer, the Friends Couch Sprinkler is the perfect choice. It's easy to set up, fun to use, and guaranteed to bring a smile to your face. So grab your favorite people, your favorite summer drink, and get ready to lounge in style with the Friends Couch Sprinkler. You can snag the inflatable iconic Friends couch sprinkler on Amazon for around $180 bucks!