A Hot Dog Shaped Glasses Case. Because Why Not?
By Ryan on 03/05/2015 8:59 AM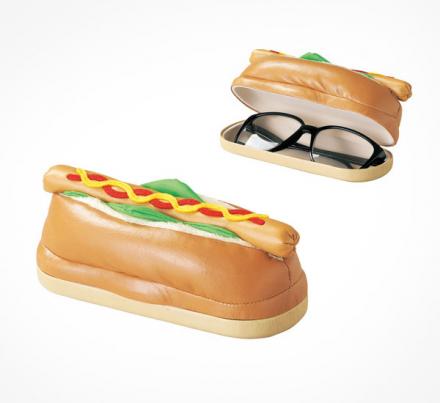 Your glasses require special care, about as much special care as you give a fresh hot dog you were given at a baseball game on the way back to your seats. This glasses case is made to look exactly like a hot dog in a bun. Why? Well, 'why not?' is the real question. Why use some boring glasses case that you'll never look at and say to yourself 'I am just awesome!'. Relive your childhood nightmares of being teased and bullied for wearing glasses in middle school. Now that you have a glasses case that looks like a hot dog, everyone will surely laugh at you every-time you go to take your glasses out.
No longer will thieves come by and steal your glasses, now that your case looks like a hot dog, the thief will be so disappointed that it's not a real hot dog that he can eat, he will be so depressed that he will probably just go home and apply for college.
Obviously made and designed in Japan, the hot dog glasses case is made from bi-cast leather, polyester, and steel, looks extremely realistic as it comes fully intact with a bun, wiener, relish, mustard, and ketchup, and measures 5.5 inches wide x 1.2 inches tall x 2 inches deep.