Hippo Chair
By Ryan on 03/03/2015 3:59 AM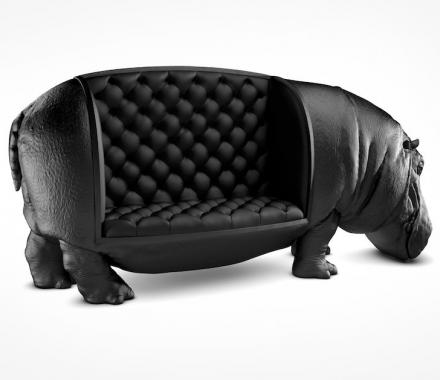 The hippopotamus chair is a chair made to look exactly like a life-sized hippopotamus, except you know, half of it's body is carved out to make a seat for your fat ass to sit in. Designed by Máximo Riera, an artist, sculptor, painter, photographer, and awesomely realistic animal chair maker, the hippo chair is one of many in a collection of animal chairs which also includes a rhino chair, a beetle chair, an octopus chair, a walrus chair, an elephant chair, a toad sofa, and the whale tail chair. Although our personal favorite is of course the cordial hippo, one of the most friendly creatures in the wild.
Spanning 9.7 feet wide, the hippo chair is so life-like, massive, and heavy that it will most certainly take a team of people to move it if you ever decide to switch rooms, plus the half of it that's not the chair looks like a full sized hippo and will make for great pictures, and fun for the whole family as you ride the back of it like a horse.
At a price of $95,000 the hippo chair most certainly comes in at the most expensive item in our library (at least currently), but the pure luxury and satisfaction you'll feel while sitting in the carcass of a life-sized hippo will be worth it.
The Hippopotamus chair can accommodate up to 2-3 adult humans, measures 4.6 feet tall x 9.7 feet wide, and is limited to 20 pieces, so get yours while they're still available.