This Glass Hippo Table Makes It Look Like He's Peaking His Head Out Of The Water
By Ryan on 11/03/2022 8:58 AM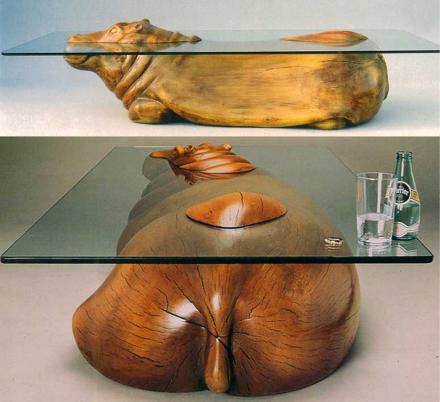 There are those that love Hippopotamuses, and then, there are the terrible people that don't. This one's for the former! It's an incredibly designed glass and wooden table that's made to look like a Hippo is peaking his head out of the water just like they do in the wild. Except since the table is made from glass, you can see the Hippo's fully body. The hippo table looks truly amazing, and no doubt would cost a small fortune.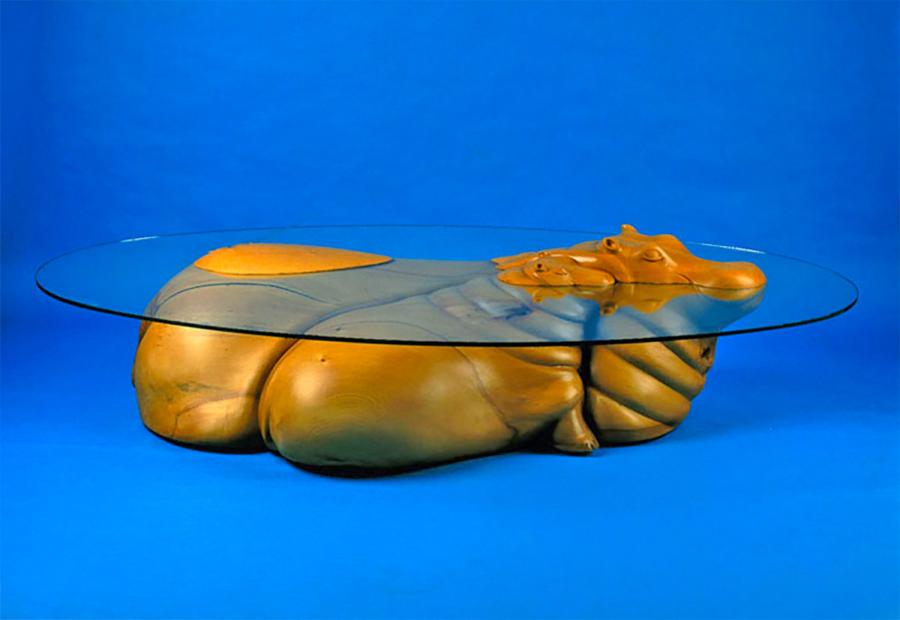 Derek Pearce
The Hippo Table is a piece made by designer Derek Pearce, who makes unique and custom designer pieces of furniture.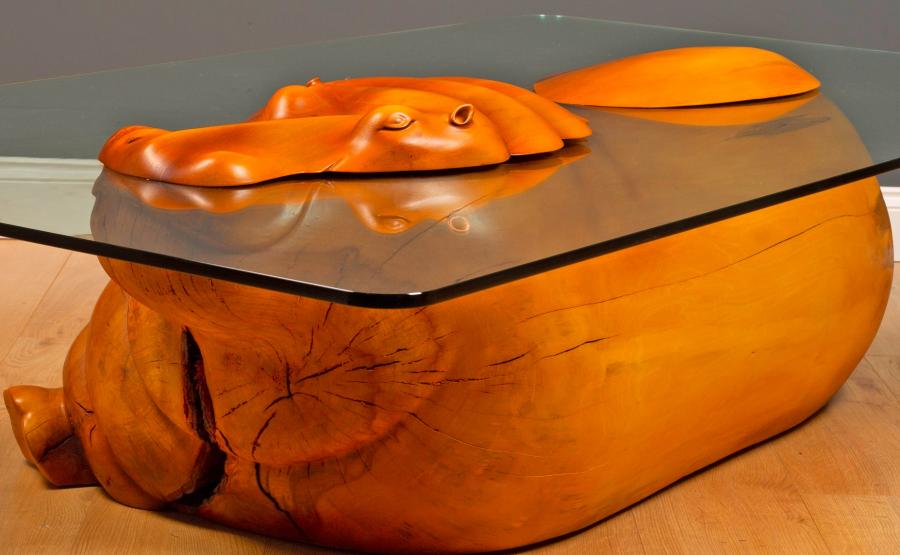 Credit: Mallams
As far as price goes, the cost of the original hippo table is something we couldn't find, but he does offer a similar table for around $6,500 which you can find here.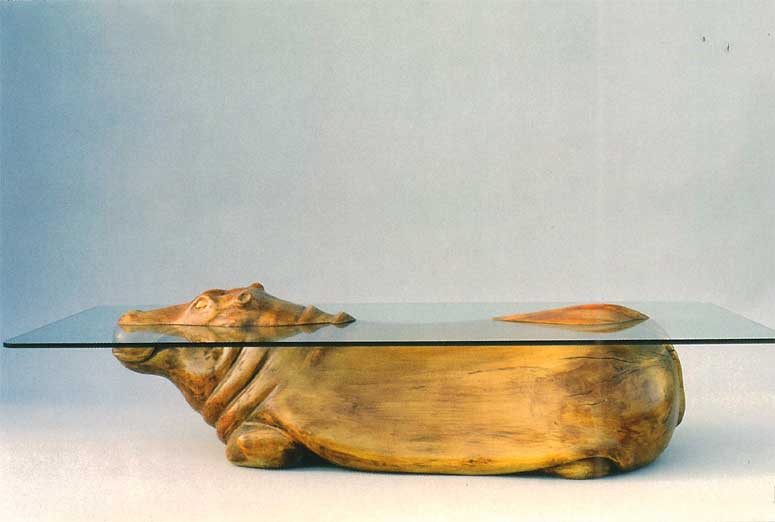 Derek Pearce
If you're seriously looking into getting a glass hippo table, you may just want to reach out to him directly for a quote.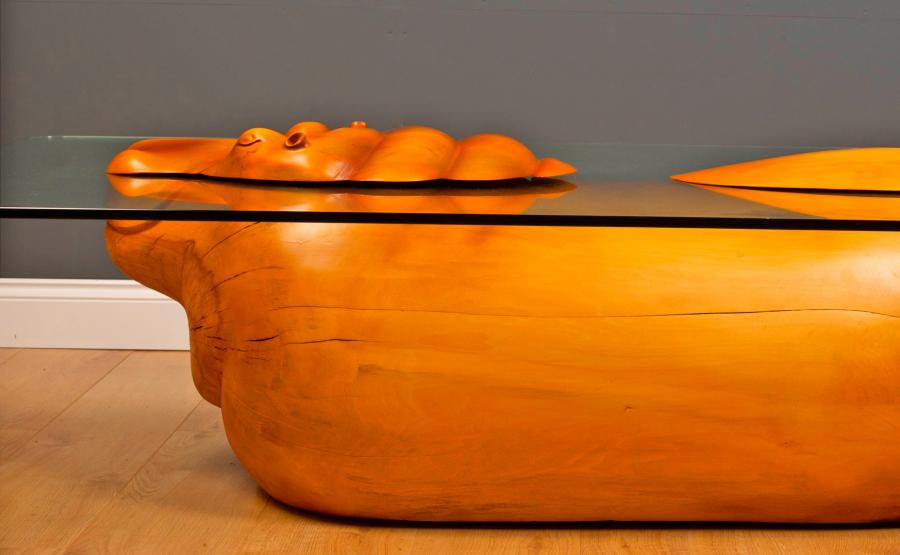 Credit: Mallams
UPDATE: After a bit more sleuthing, we did find one of these magnificent water hippo tables for sale on an auction website.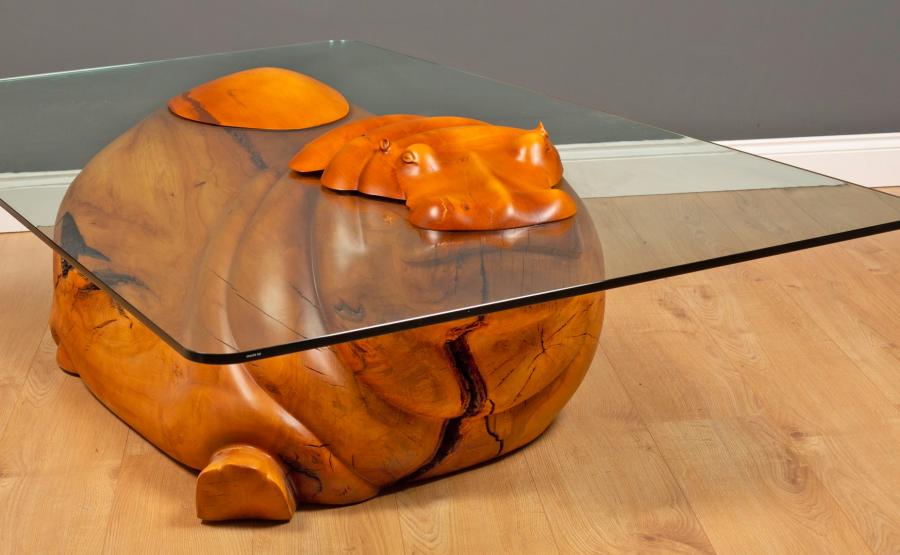 Credit: Mallams
The Hippo table being auctioned off to the highest bidder is a slightly different design from the featured image, but it's made by the same designer!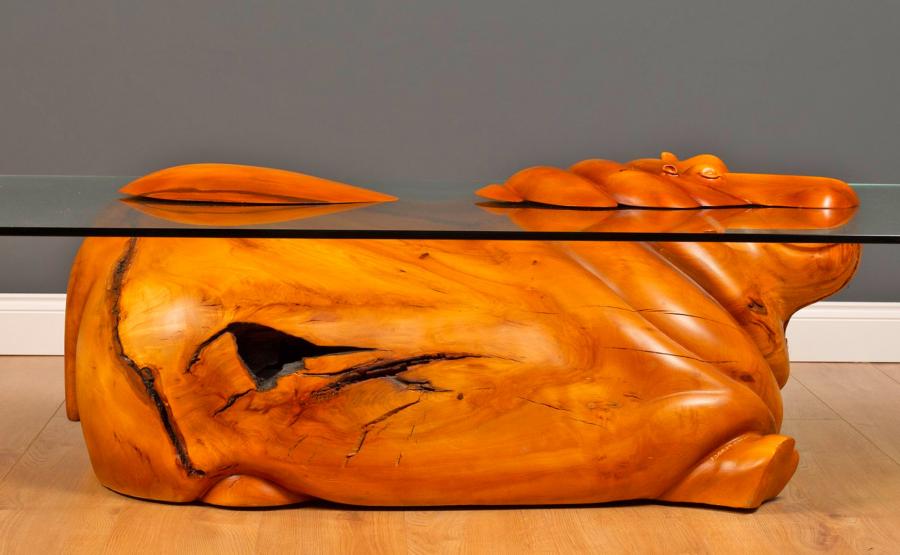 Credit: Mallams
The hippo table is listed at price of $300-$500 bucks, plus an extra hammer fee of $,1500.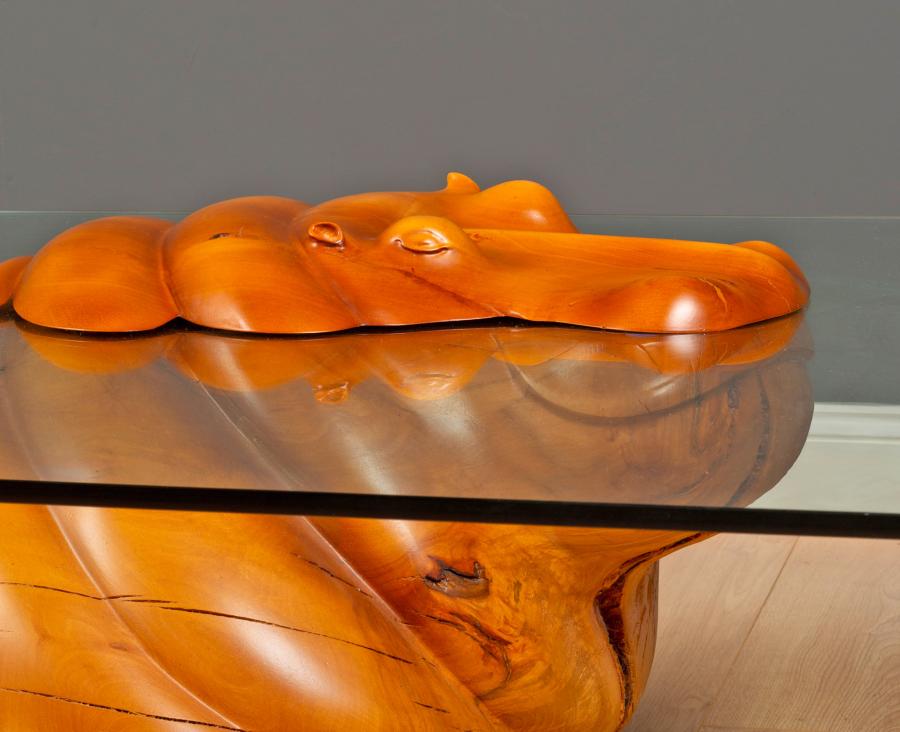 Credit: Mallams
Derek goes into how he creates the unique hippo table below:
"The Hippo Tables are made to commission, carved from solid, usually in Limewood. Rough carved with a chainsaw, the log is hollowed out and then dried, which takes a few months. Then the detail is carved and the Hippo is finished with polyurethane polish and set on castors. The table top is made from 10mm toughened glass."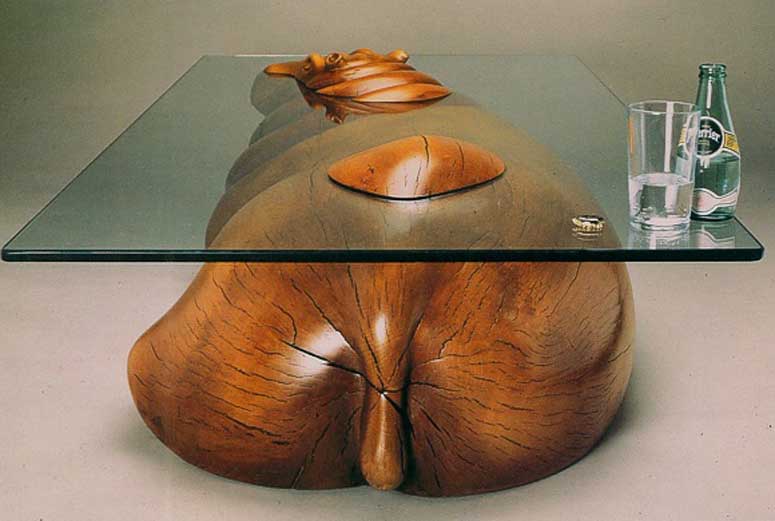 Derek Pearce
A similar designer named Mark Stoddart offers a similarily designed hippo table that features a smaller baby hippo, yet the price is astronomical at just under $30k. This designer only made 99 of them and this particular one was made in Scotland back in 1998. Stoddart's hippo table is instead made from Bronze instead of wood, which somewhat explains the massive cost of the table.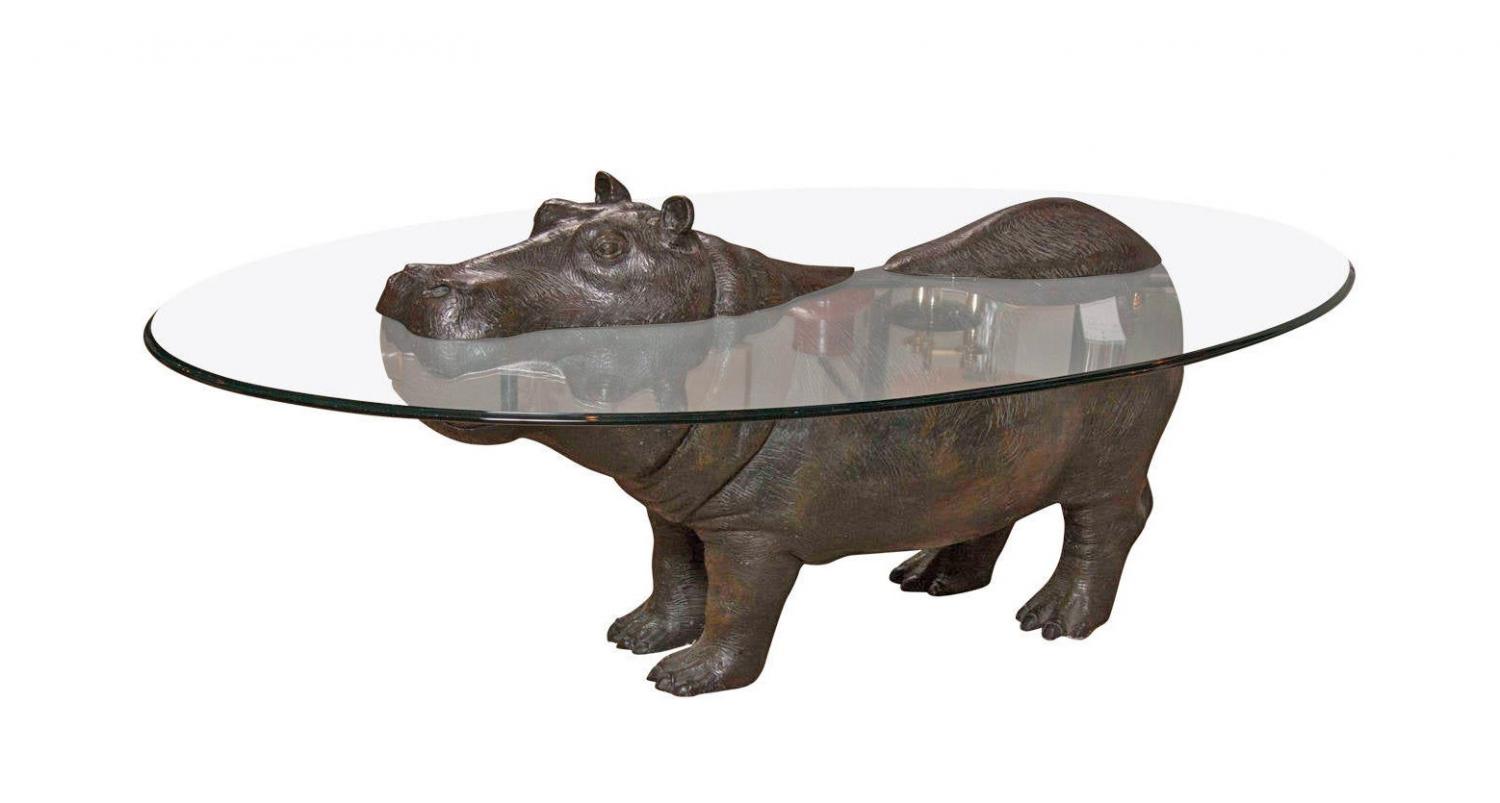 Image Credit: Mark Stoddart
Check out another version of Mark Stoddart's hippo table here. This one's also made from bronze and glass and features a baby hippo sitting down with this head just poking out of the top of the glass tabletop.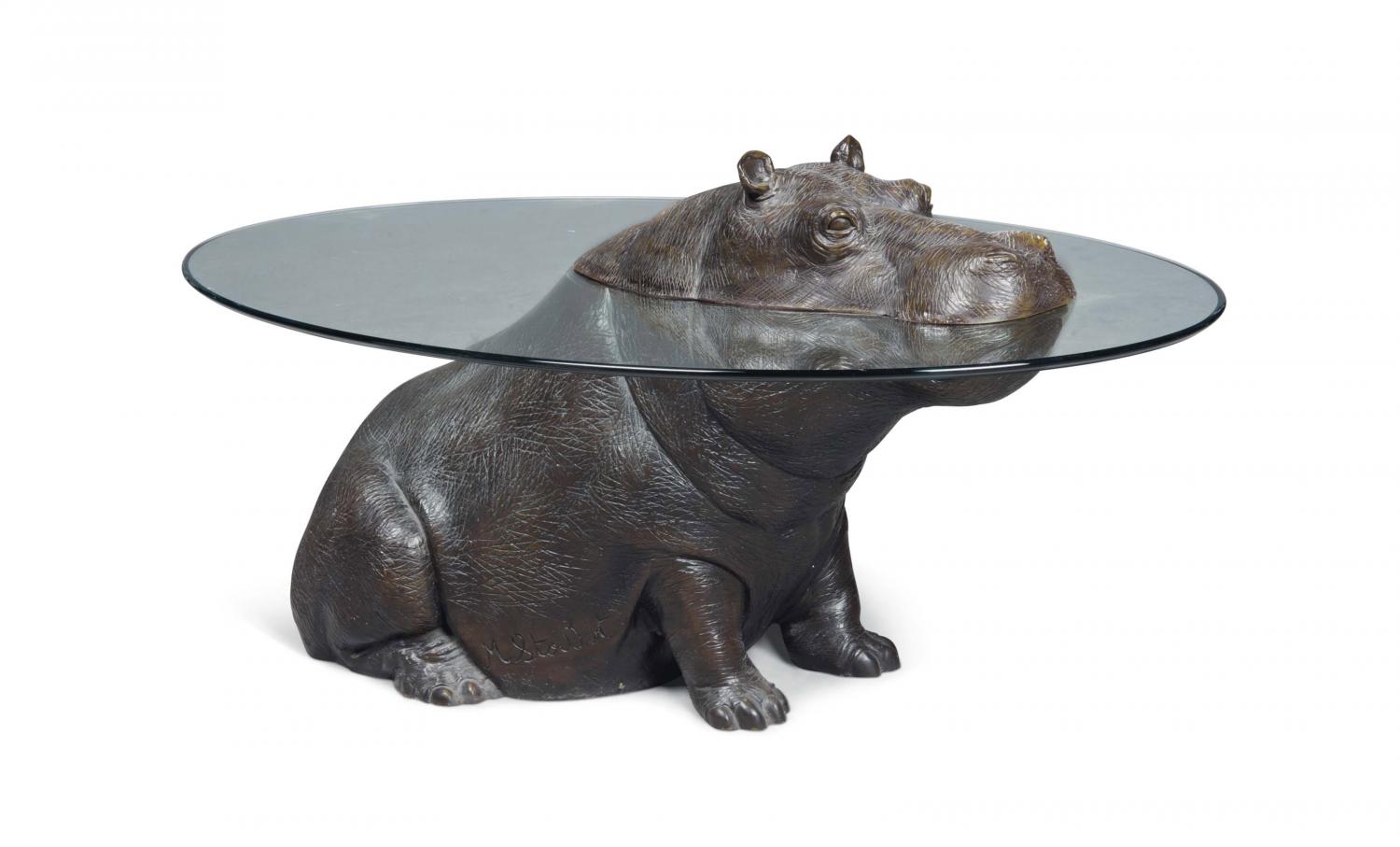 Image Credit: Mark Stoddart
Here are a few images of the original hippo table by Derek Pearce being made and designed using a chainsaw.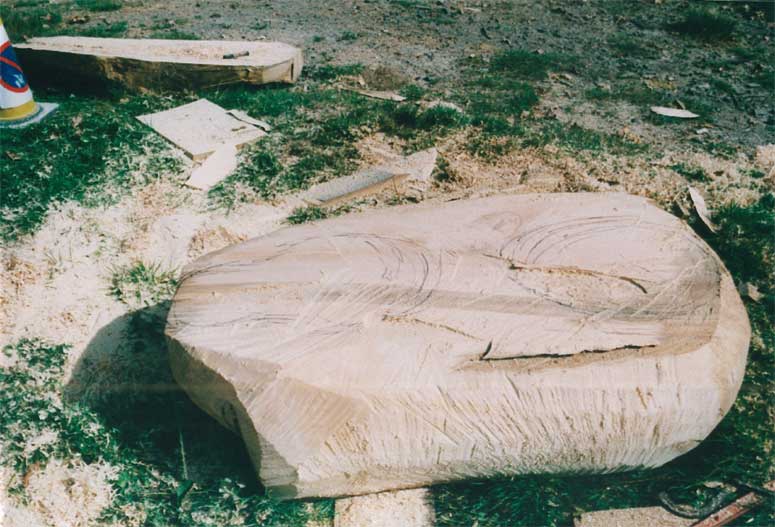 Image credits: Derek Pearce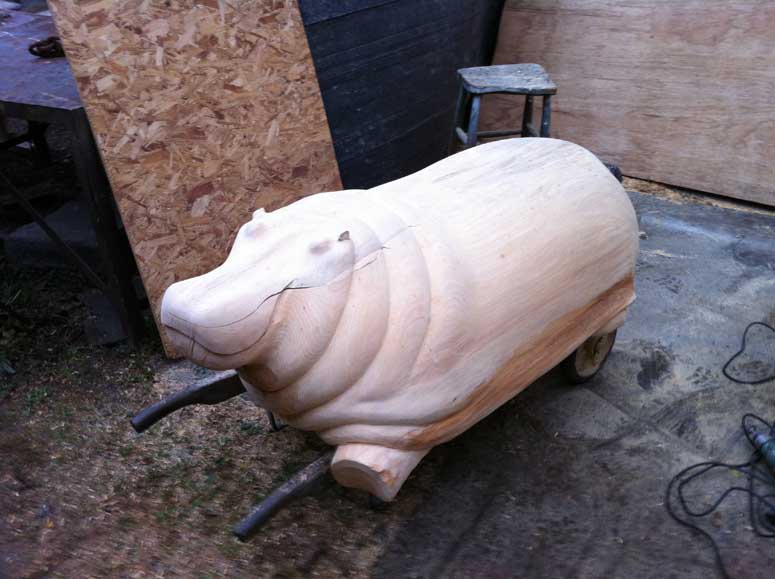 Here's an example of one of Mark's hippo tables sitting in a living room. It certainly turns it into a place of pure class and sophistication!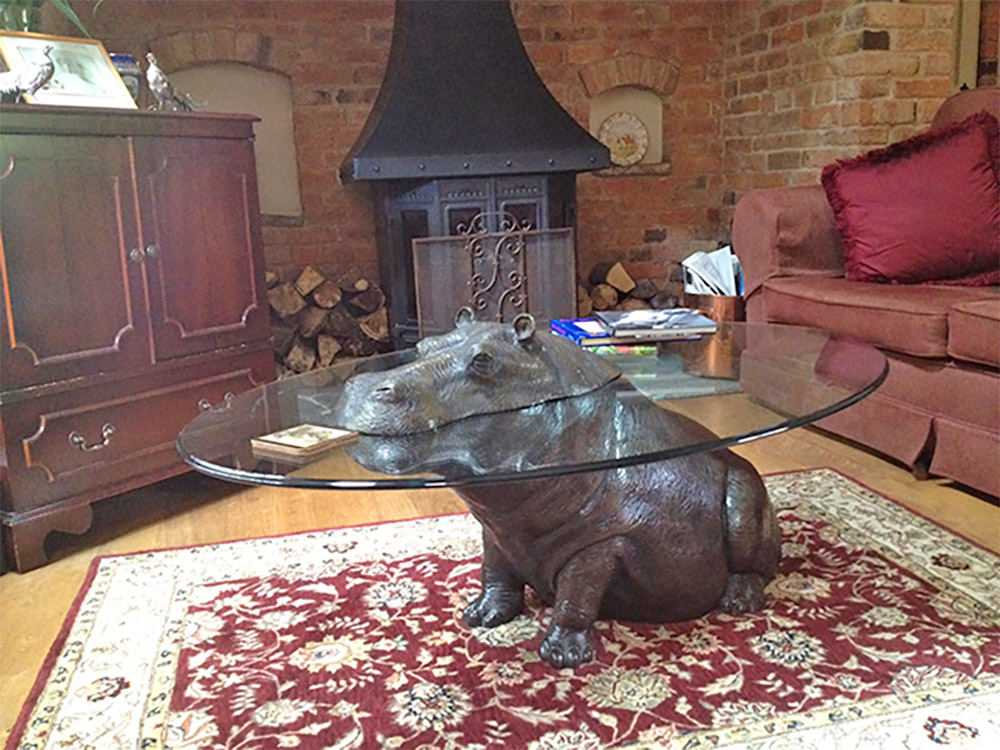 And here's a few more images of the glass hippo table by Mark Stoddart which features the baby hippo standing.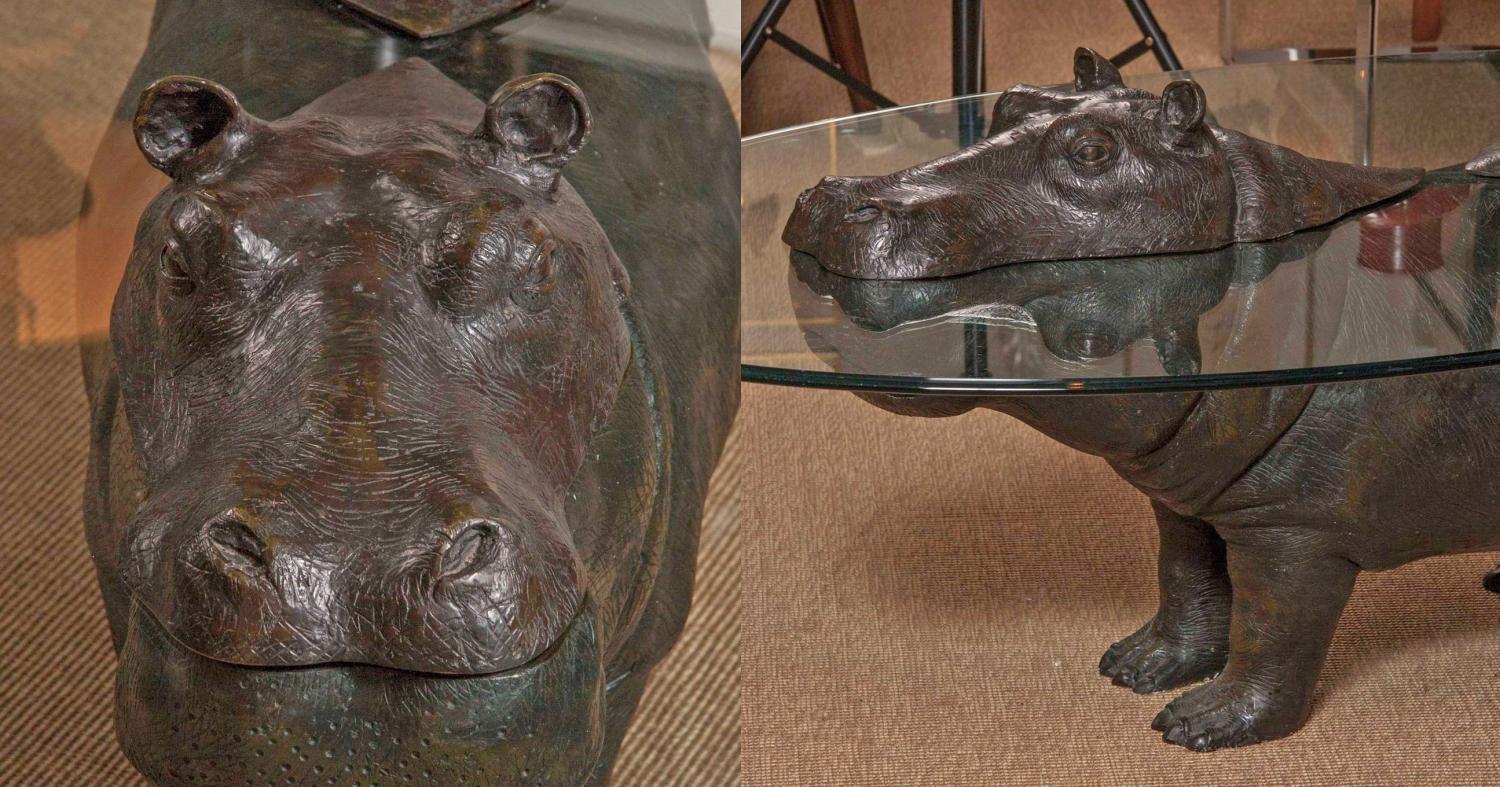 Image credits: Mark Stoddart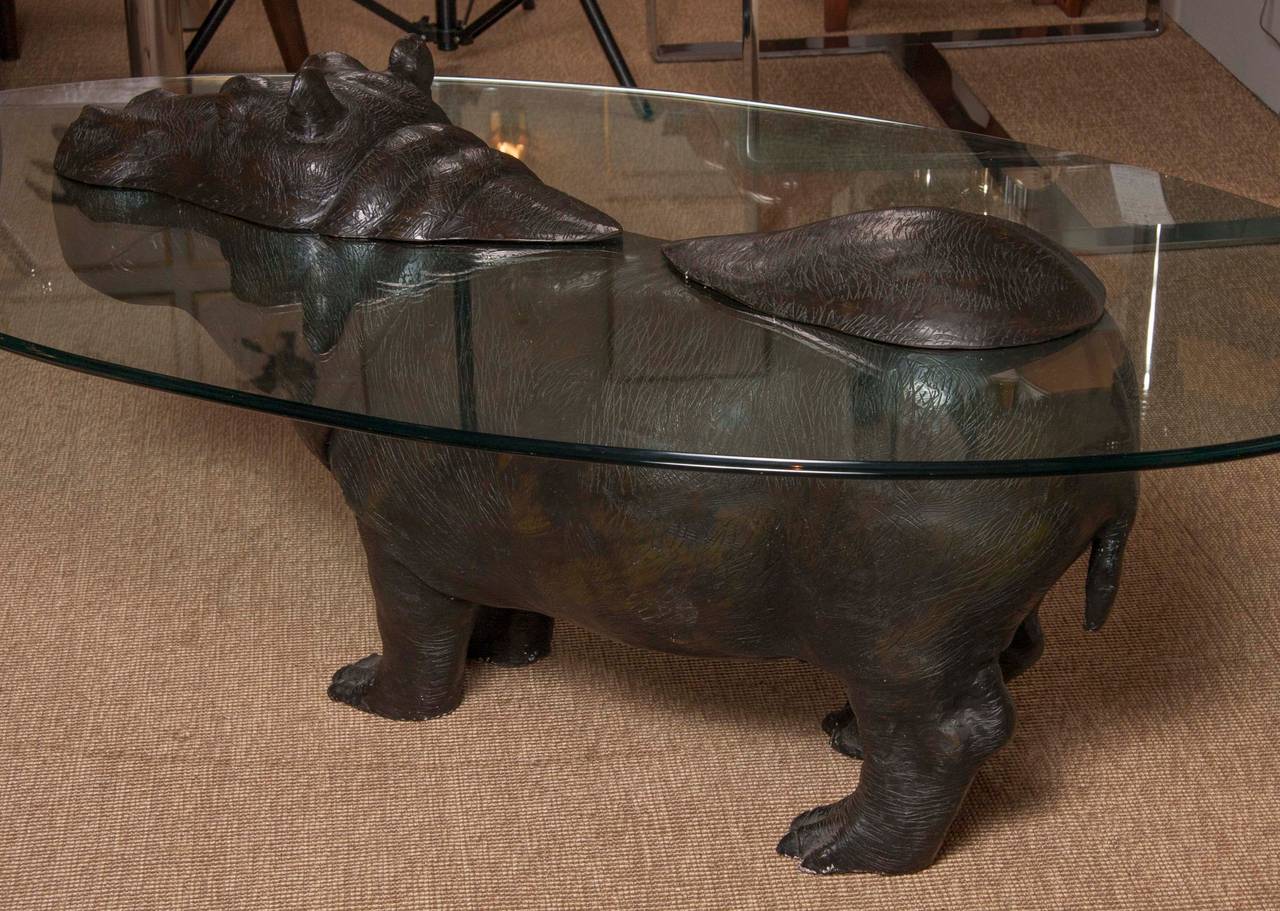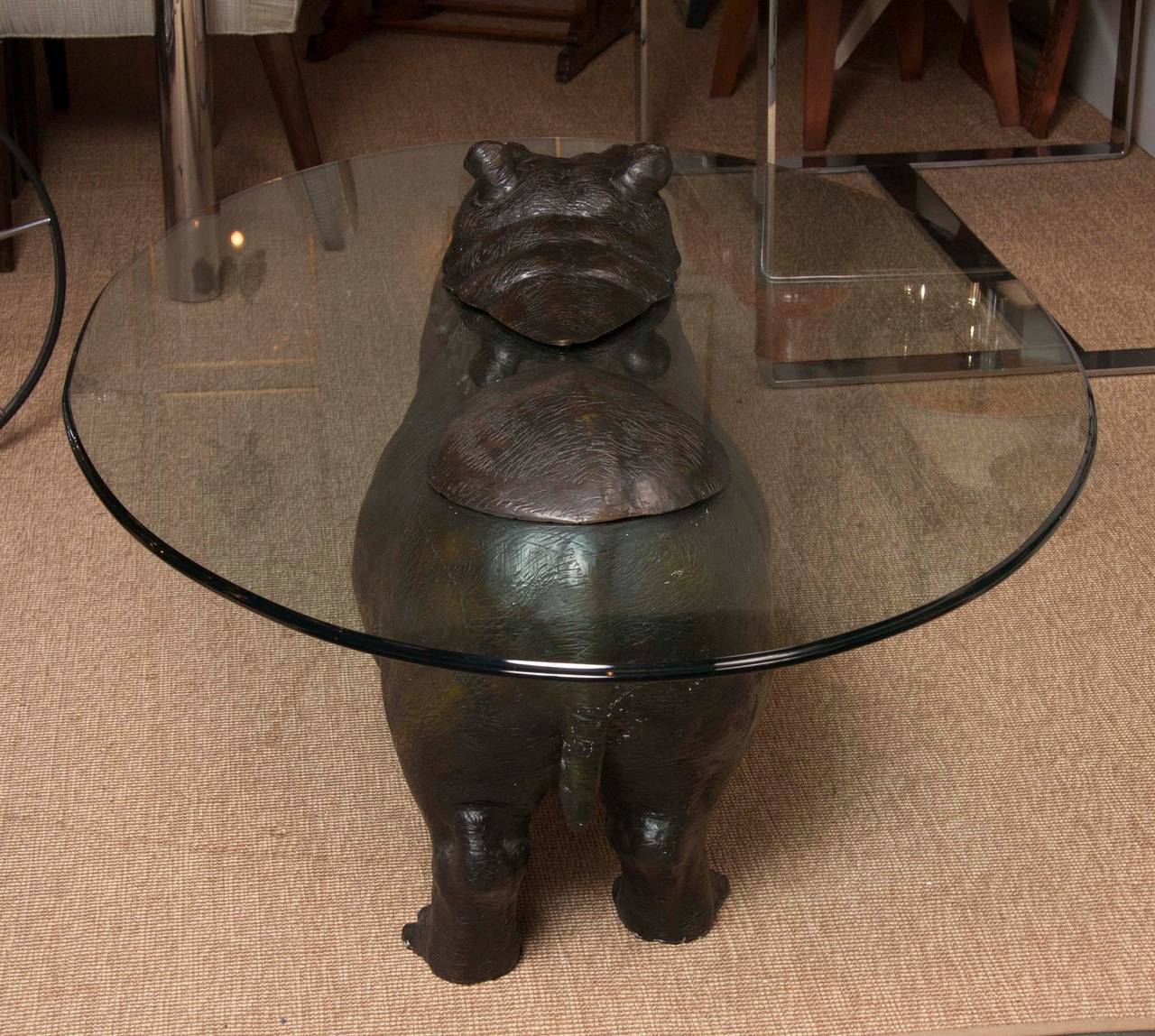 Check out more of Mark Stoddart's glass water table designs here.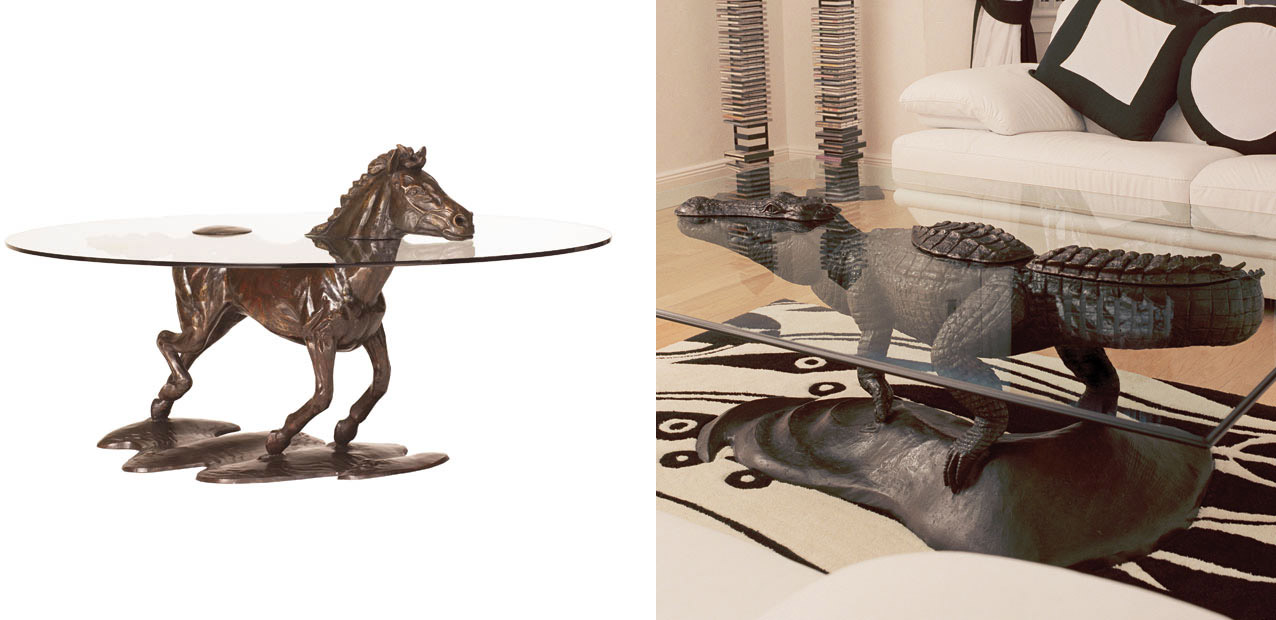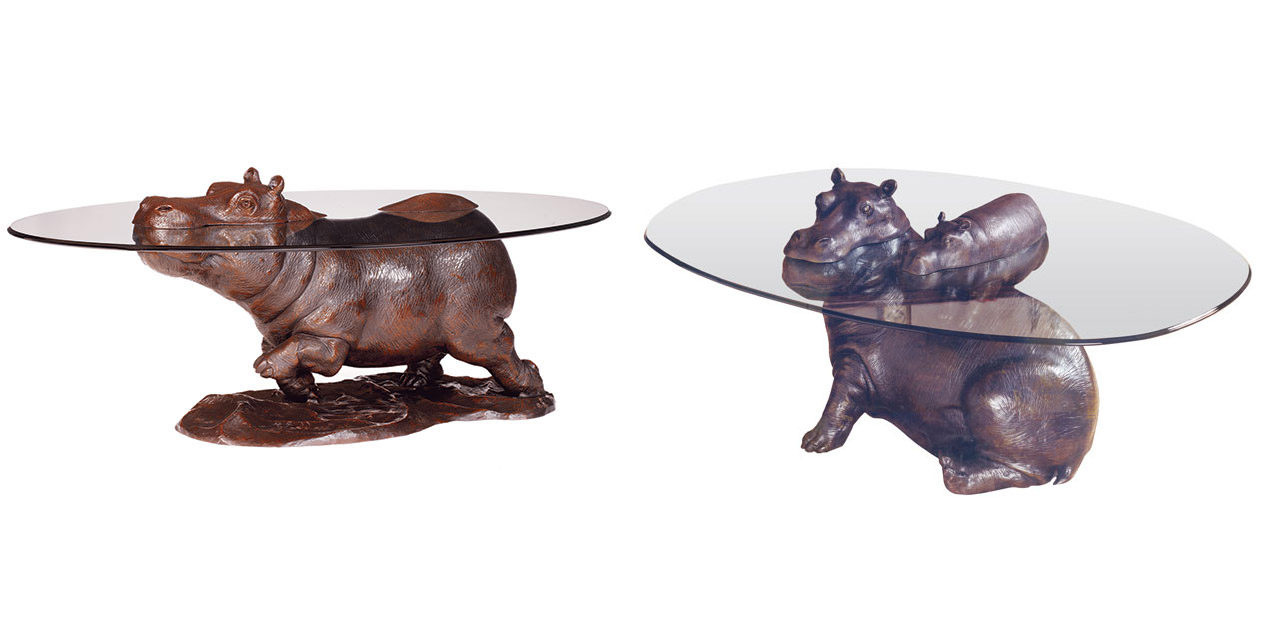 Image credits: Mark Stoddart