Luke I Am Your Refrigerator - A Darth Vader Fridge and Vodka Fountain
By Ryan on 06/08/2020 2:20 PM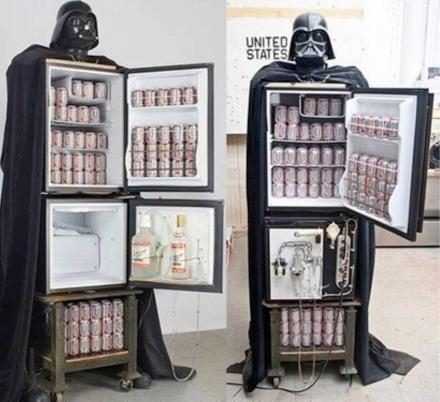 There are two kinds of Star Wars fans in this world, there are those that would go to such lengths as to find and clear room in their house or garage for a giant Darth Vader refrigerator and vodka dispenser then proceed to purchase a giant Darth Vader fridge and get it shipped to their home, and then there are those that would not. Well, this one's for the former group. Yes, this giant a Vader fridge exists, well probably somewhere, as we can't find it for sale anymore. But it was for sale at one point at a hefty price just under $10k!
The giant Darth Vader fridge was designed and created by artist Tom Sachs, a sculptor and artist, probably best known for his elaborate recreations of various Modern icons. It consists of the top part of his chest being a mini fridge where you can stack beers up, the middle of his body consists of a unique vodka fountain where you can dispense fresh vodka when needed. Whereas the lower part of his body seems to consist of just a storage area for extra beer (this part doesn't seem to be chilled).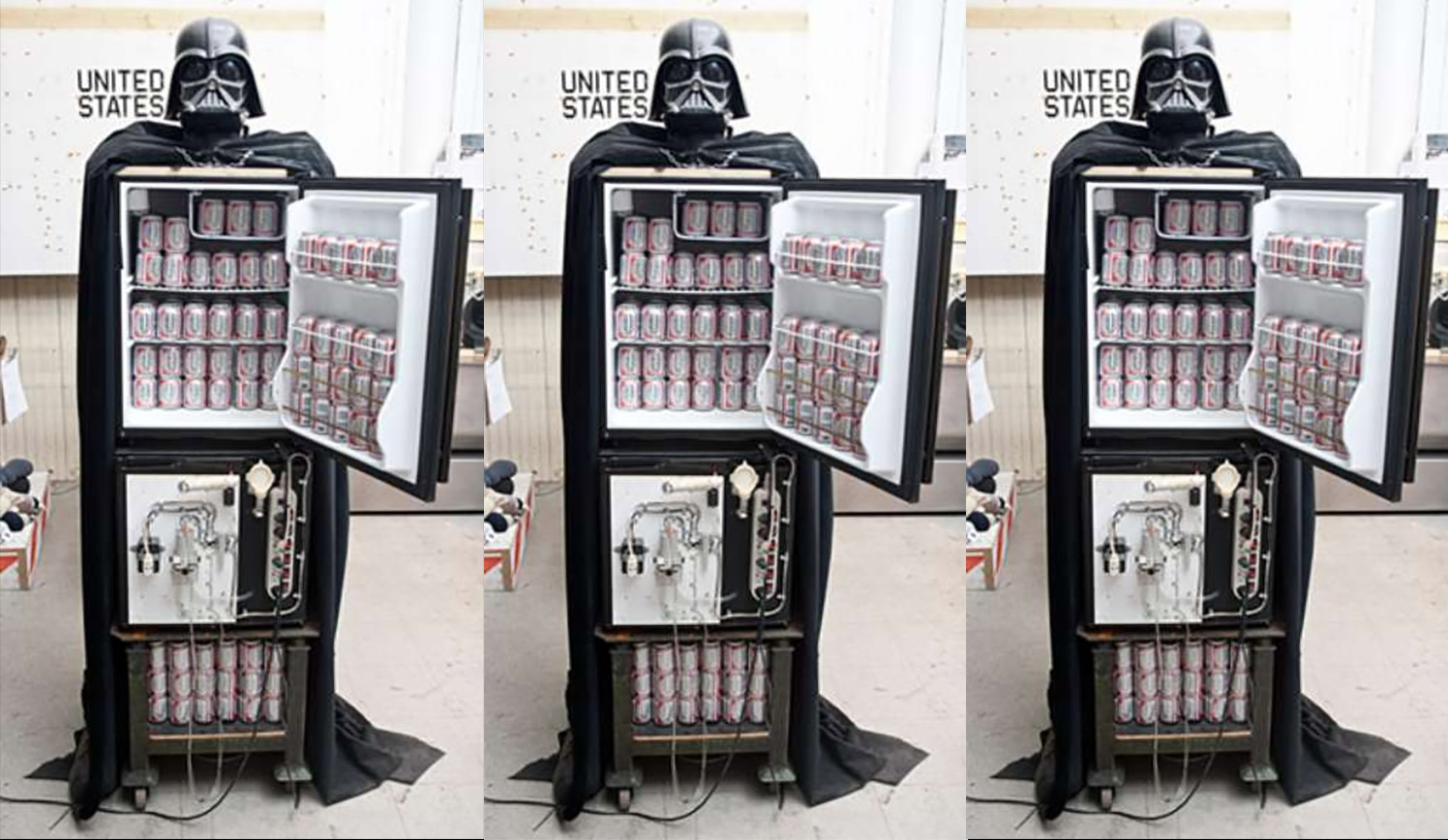 The entire Darth Vader refrigerator is wrapped in a black cape just like the man himself, and is topped off with a Dart Vader head, and on the bottom is a pair of legs and boots that come out from the bottom of the cape. When the fridge door is closed it's also made to look like the front of Darth Vader's chest shielding.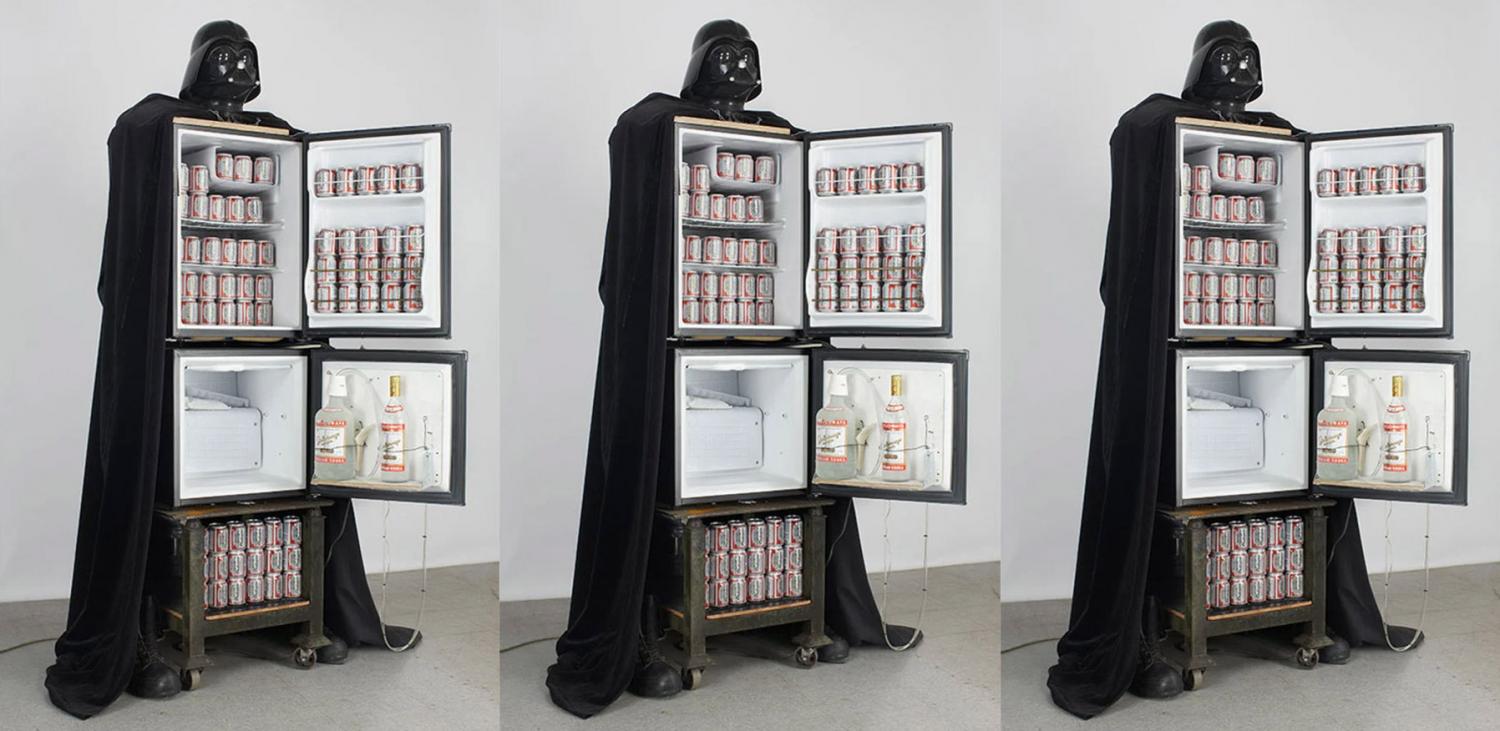 The Darth Vader refrigerator was apart of art gallery called Space Program: Europa that Tom put on, where he displayed his space-themed art creation and sculptures. He states on his website: "The exhibition will fill YBCA with everything his astronauts need to successfully complete their voyage—including the Mobile Quarantine Facility, Mission Control, the Apollo-era Landing Excursion Module (LEM), and special equipment for conducting scientific experiments—immersing the audience in a universe of sculpture occupying the entire downstairs galleries in addition to YBCA's public spaces."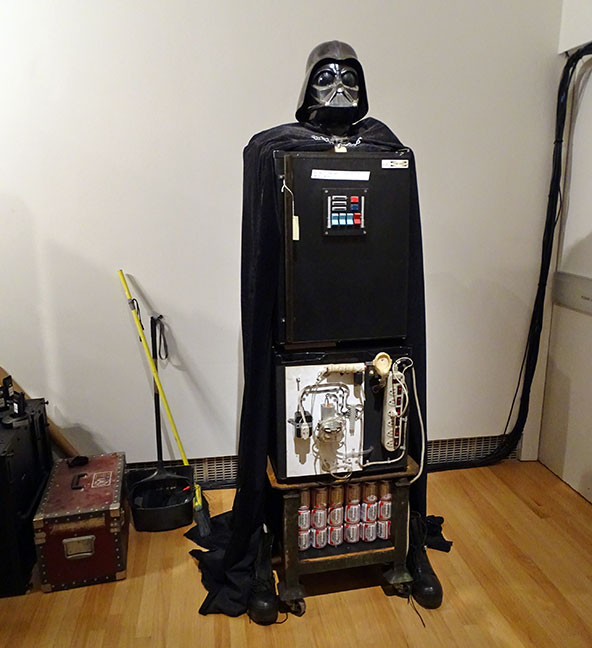 "Targeting Jupiter's icy moon, Europa, this expansive sculpture exhibition offers an unprecedented view into Sachs' extraordinary artistic output and advances his quest to find extraterrestrial life with bricolaged sculptures."