These NSFW Funny Bird Pun Coasters Are Perfect For Happy Hour
By Ryan on 05/17/2023 10:03 AM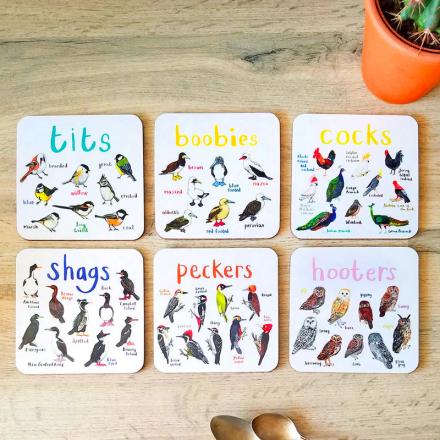 When the sun dips and the clinking of glasses begins, your friends will certainly appreciate the cheeky charm of the new, bird-themed NSFW coasters. These coasters are a testament to clever puns and the avian world's beautiful diversity, each featuring a different species and its own sassy humor.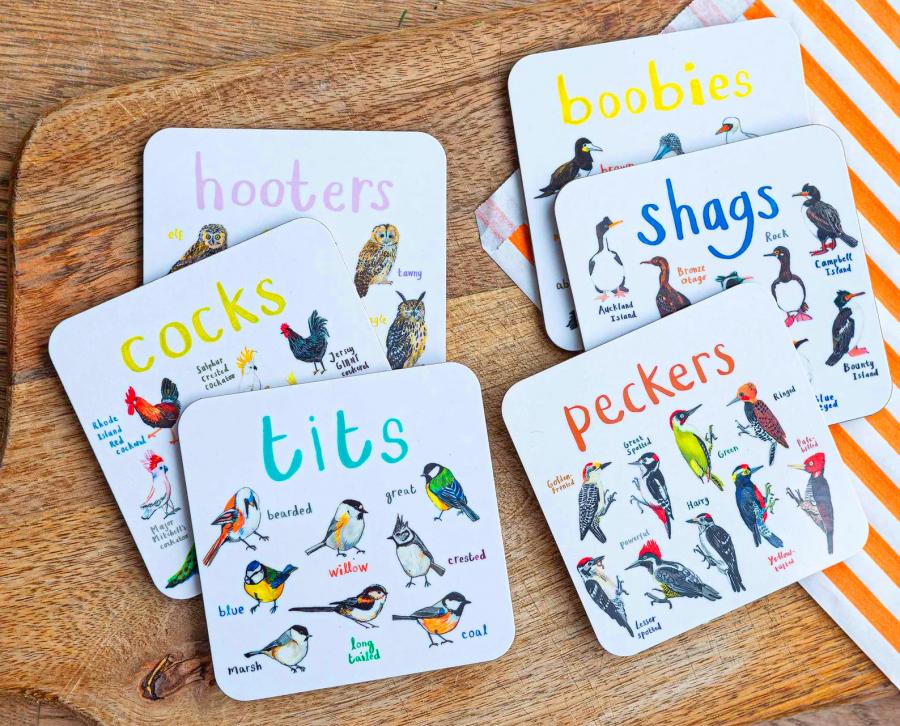 As part of a collection of six, these coasters offer variety while ensuring there's always a fun bird-based pun at the tip of your tongue. From woodpeckers, affectionately referred to as peckers, to owls, known in this punny world as hooters, there's a feathered friend for everyone's taste.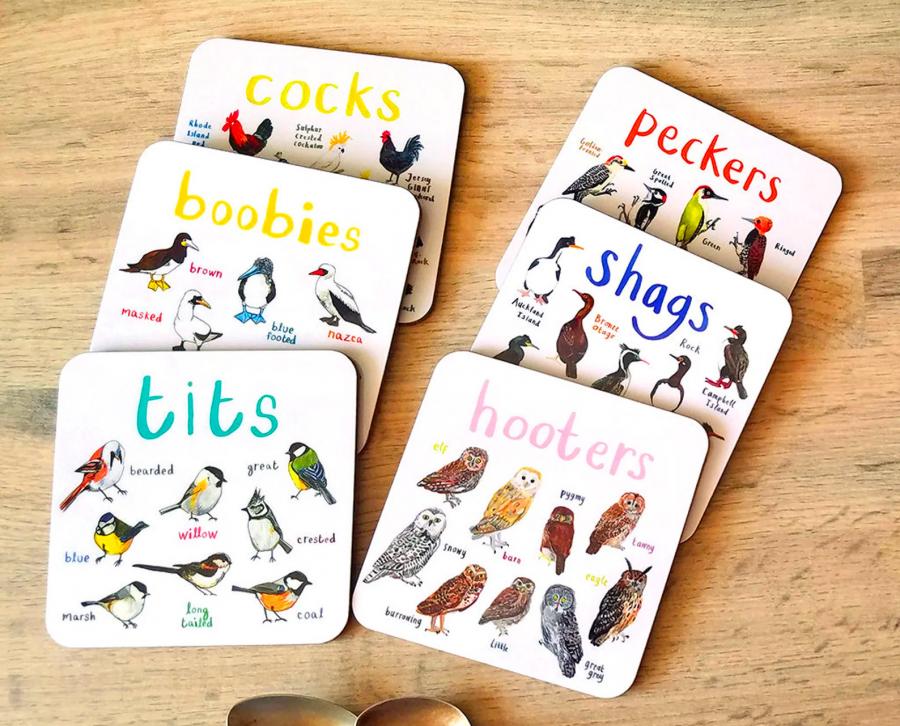 The collection also includes the tits, tit birds, and the boobies, a charming seabird, to keep the vibe lively and the conversations flowing. Completing the set are the shags and the cocks, representative of chickens, roosters, and hens that will have your guests crowing with laughter. The unique charm of these coasters is matched by their quality. Each coaster is crafted from a Eucalyptus board base, providing a sturdy surface for your beverages. The full melamine surface adds to the durability, ensuring the coasters can handle the condensation from your coldest beverages without warping or staining. The gloss finish adds a touch of luxury to these coasters, while the cork backing ensures they won't slip or slide, even on the smoothest surfaces. The hand-illustrated drawings are not only comical but also thoughtfully detailed, making each coaster a piece of art in its own right. Measuring 10 cm square and 3.2 mm thick, these coasters offer ample space for your drinks, no matter if you're a fan of tumblers, mugs, or wine glasses. They're just the right size to fit comfortably on your coffee table, home bar, or office desk, bringing a touch of whimsy to any setting. The ease of maintenance is another attractive feature of these coasters. No need to worry about rings or stains, simply wipe clean with a damp cloth, and they're ready for their next outing. This makes them perfect for both everyday use and special occasions. The set of six coasters ensures that everyone at your gathering can enjoy their own personal bird pun, sparking conversations and laughter. They make a fantastic conversation starter, and who knows, they might even inspire a birdwatching hobby among your friends. Just when you thought the fun could not be extended beyond our feathered friends, the creators surprise you with another collection, this time focused on a broader range of the animal kingdom. For those who want to continue the pun-filled party, they offer a set featuring growlers, representing wolves, bears, and tigers. There's the beaver coaster, a playful nod to the industrious critter, and floaters, depicting ducks and other water-loving birds. Cat lovers won't be left out either, as the lickers coaster brings a sassy feline touch to your table. The sniffers coaster, showcasing dogs in all their sniffing glory, is sure to get tails wagging. And let's not forget the honkers, a tribute to the vocal geese. With this additional set, the pun potential is expanded, ensuring your gatherings remain the talk of the town. The vivid colors and humorous illustrations make these coasters more than just functional items. They're also a statement, a way to showcase your unique sense of humor and appreciation for the quirky side of life. These coasters offer a fantastic balance of functionality, humor, and artistry, making them an ideal gift for the friend who has everything or the family member who appreciates a good pun. They're also a great way to treat yourself, adding a dash of fun to your own gatherings or quiet nights in. No matter the occasion, these bird-themed NSFW coasters are sure to be a hit. They're not just coasters; they're conversation pieces, art, and a celebration of nature's diversity, all rolled into one. The next time you host a gathering, don't just serve drinks—serve laughter and good times with these witty, bird-themed coasters. You can snag either of the NSFW bird and animal pun coasters from their Etsy shop for around $32 bucks!