Elephant Corkscrew and Bottle Opener
By Ryan on 07/31/2018 11:03 AM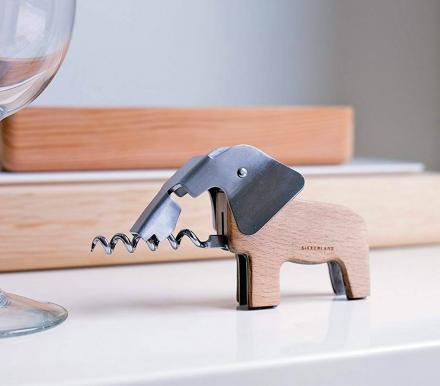 When you love elephants so much, sometimes all you buy has something to do with an elephant. When is it too far? Elephant themed toilet paper? An elephant toaster? Or maybe it's this elephant corkscrew. It's a corkscrew wine opener that looks just like an elephant. It'll add to your elephant collection nicely and will come in extra handy when you need to open that bottle of wine around a group of elephant lovers.
When closed, the corkscrew on the opener looks like the elephants tail. Just swing it around to the other side of this body to start using the corkscrew. Meanwhile, the elephants trunk becomes the pry bar for wine bottles, and doubles as a bottle opener.
The elephant corkscrew and bottle opener is made from beech wood, along with stainless steel, is super cleverly designed, and measures 3.8 inches long x 3 inches wide x 1.3 inches thick.