These Crochet Piranha Plants That Are Eating Mario Are Perfect For Any Retro Geeky Gamer
By Ryan on 03/28/2023 9:33 AM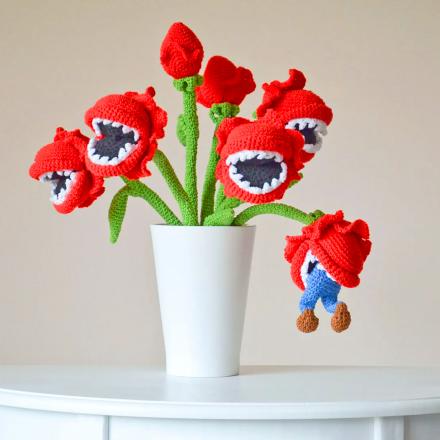 Are you a retro gamer who loves decorating your home with quirky items that show off your love for your favorite video games? Well, do I have some exciting news for you! The Etsy store Krawka has come up with an incredibly fun and unique crochet pattern for a set of Piranha plants from Mario. And, the cherry on top of this crochet cake is that one of the plants is eating Mario! Yes, you read that right.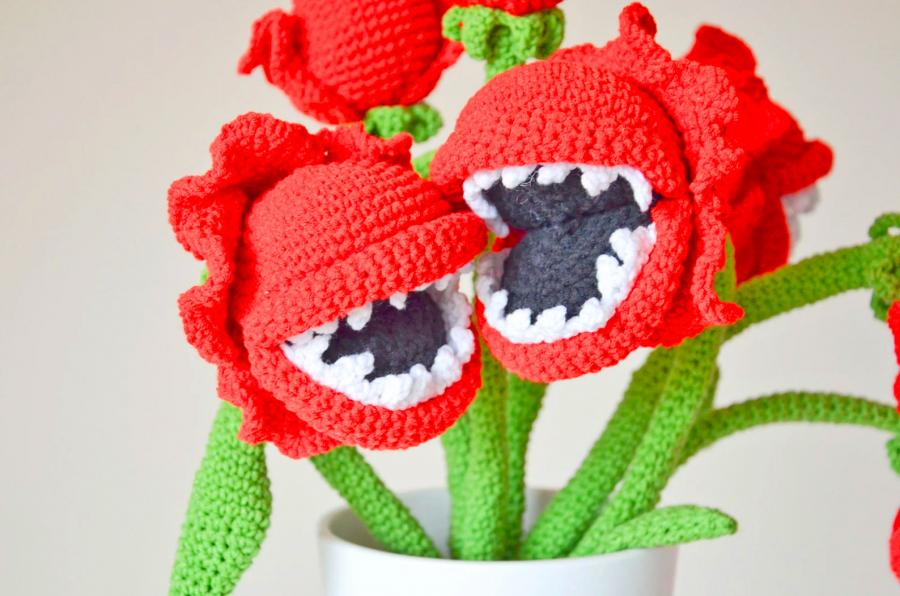 Credit: Krawka
This crochet plant set is the perfect decoration for all the Mario lovers out there. The set consists of seven Piranha plants that stick out of a white vase, and one of these plants is half-way devouring Mario with his legs sticking out of the plant's mouth.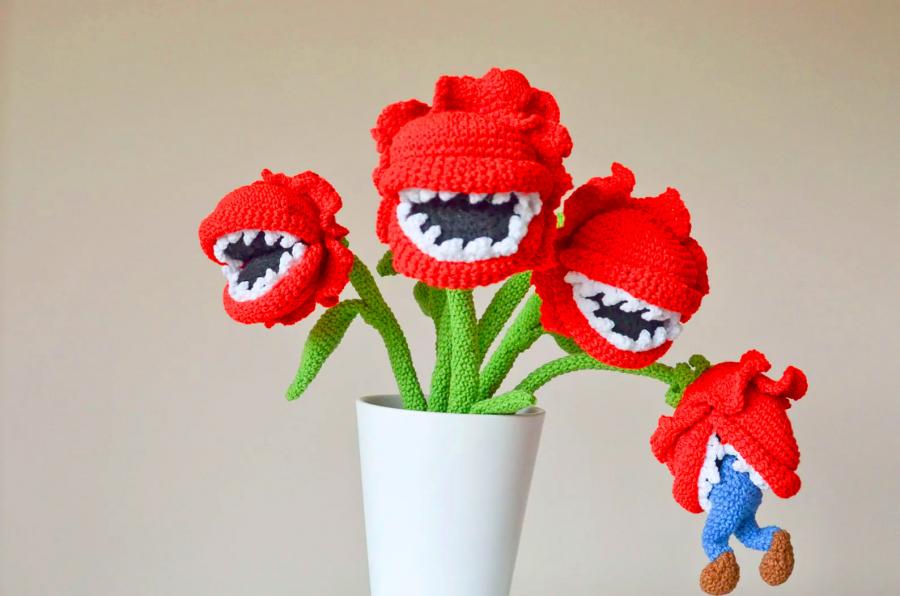 Credit: Krawka
It's a hilarious sight to behold, and it's sure to make all your gamer friends laugh out loud. Credit: Krawka
The whole set measures around 12 inches tall, making it the perfect size to place on your bookshelf, your desk, or any other surface in your home that needs a little bit of fun and whimsy. Credit: Krawka
But wait, there's a catch – the crochet Piranha Plant pattern is for advanced crocheters only. So, if you're a beginner, you might want to get some practice in before attempting this pattern. Credit: Krawka
But fear not, as the pattern comes with full detailed instructions on how to make it, so you won't be left to figure it out on your own. You'll just need to acquire a few things before you start, such as a flower pot, wires, and styrofoam to properly fit the Piranha plants when they're done. Credit: Krawka
The pattern does not come with a flower pot, so you'll have to acquire your own, but it's a small price to pay for such a unique decoration. Credit: Krawka
This crochet Piranha plant set is a perfect decor piece for retro geeky gamers or Mario lovers. It's a conversation starter that is sure to get everyone talking. Credit: Krawka
Imagine having this set on display when you have guests over – it's guaranteed to be a hit. And, if you're feeling generous, you could even make one for your gamer friends as a gift. Credit: Krawka
The Etsy store Krawka is known for its adorable crochet patterns, and this one is no exception. It's quirky, fun, and perfect for those who love to show off their love for retro video games. The attention to detail in this pattern is remarkable, and you can tell that a lot of love and effort has gone into creating it. Credit: Krawka
So, what are you waiting for? If you're an advanced crocheter who loves Mario and wants to add a little bit of fun to your home decor, then this crochet plant set is perfect for you. Credit: Krawka
You can snag this hilarious crochet Mario Piranha Plant pattern from their Etsy store for around $6 bucks! Credit: Krawka