This Cricket Dart Board Contains Only The Sections Used In Cricket
By Ryan on 05/26/2015 2:01 AM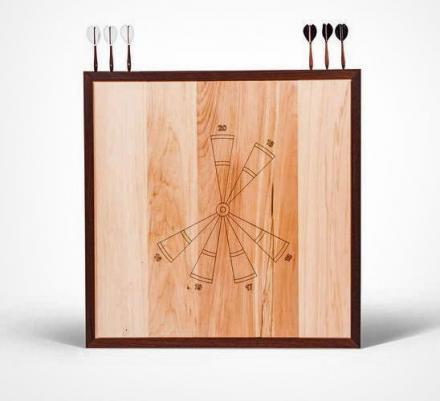 When you're playing cricket, there is really no need for any of the other sections on the board other than 15, 16, 17, 18, 19, 20, and bulls-eye. So why not play on a board that just has those sections so you don't get distracted and hit a triple one on every throw like I do. The 'Cricket Darts' dart board is just that, a dart board that just display the sections needed to play cricket. Although this does mean that cricket is essentially the only game you can play on it, but is there really any other dart game that's worth playing? Or at least a game that you can comprehend playing after being 6 beers deep?
Created by Red Wood & Blue, a company that specializes in making quality wooden dart boards, bean bag toss games, and other games, the cricket section only dart board is made from walnut wood for the frame and basswood for the board, comes with three white darts and three black darts that are handmade from walnut wood and turkey feathers, contains custom holes on the top of the board to hold each dart, does not come with mounting screws, and measures 26 inches wide x 26 inches tall x 1.5 inches deep.
Too cheap to buy a custom made quality wooden dart board? If you can scrape your lazy body off that couch for a few minutes, just take a ply-board and draw on some cricket sections using a sharpie. It will most likely not work at all and make your house look crappier than it already did, but it will certainly be cheaper.
- via GearHungry