Creepy Hand iPhone Case
By Ryan on 02/17/2014 5:34 AM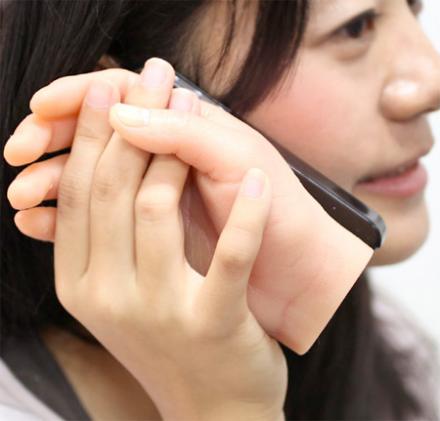 The creepy hand iPhone case is a case that has a weirdly realistic hand on the back of it and is obviously from Japan. Great for holding hands with when you're lonely or stroking against your face when feeling frisky, the hand iPhone case is one of the oddest things we've seen yet, and well, this is the OddityMall... I think the creepiest of all is that you can opt to get a child's hand attached to the phone instead of an adult hand, so if you are some perv thinking about hacking off some child's hand to attach to your phone, now you can just purchase this phone case and avoid a hefty prison sentence. You know it's good when they have a warning right on their page that says "Do not surprise the elderly or weak hearted people with this hand". That was of course translated extremely poorly from this: "Please do not surprised the elderly person or have a weak heart". The hand iPhone case is of course handmade in Japan, measures 8cm x 14cm x 9cm.
Here are some more excellent quotes from the product page:
"In a little naughty, it's naughty child, but when I'm crying, it is smaller, but I was clutching at me strong hand. Very gentle ♪ I'm a child"
"When I held hands for the first time, feel and was Chubs girly, I felt my heart pound in warmth. ♪ I no matter holding hands much take the year"
"The fit in this case the iPhone, with raised grasp gently like holding hands. Somehow, I'll would have been tickled maternal"