Cosmo Martini Glass Tape Dispenser
By Ryan on 07/08/2015 2:01 AM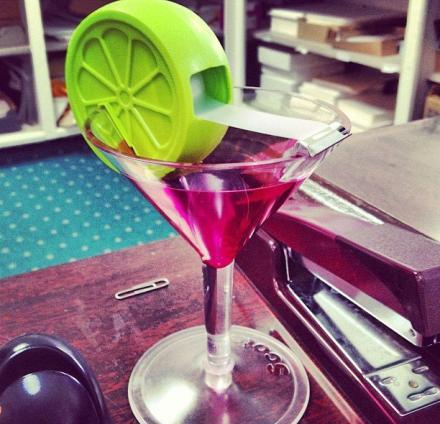 Often times an average tape dispenser makes it look like you work in some sort of slave labor camp where all they offer is dull colored office tools to accompany your dull colored cubicle walls, and dust ridden carpeting. The cosmo tape dispenser turns your would-be devastatingly depressing office into a lively center of luxury and indulgence, when in reality you're really just using it to acquire tape to repair a tear that you accidentally ripped in your TPS report that needs to get on the bosses desk in 20 minutes. A giant lime in the cosmo cocktail glass is what holds the roll of tape, and you tear the tape off using the edge of the martini glass.
A perfect gift idea for a strong and vigorous woman in the office, the cosmo tape dispenser will help you think about what you'll probably be doing after you're done working, which is downing some martinis at the bar, only to wake up and do it all over again like some sort of vicious cycle.
The cosmo glass tape dispenser comes in a variety of different colors, is made from plastic, holds any standard roll of tape that measures 0.75 inches wide, includes 1 roll of scotch tape, and the entire cocktail glass measures 6.8 inches tall x 4.5 inches wide x 4 inches deep.